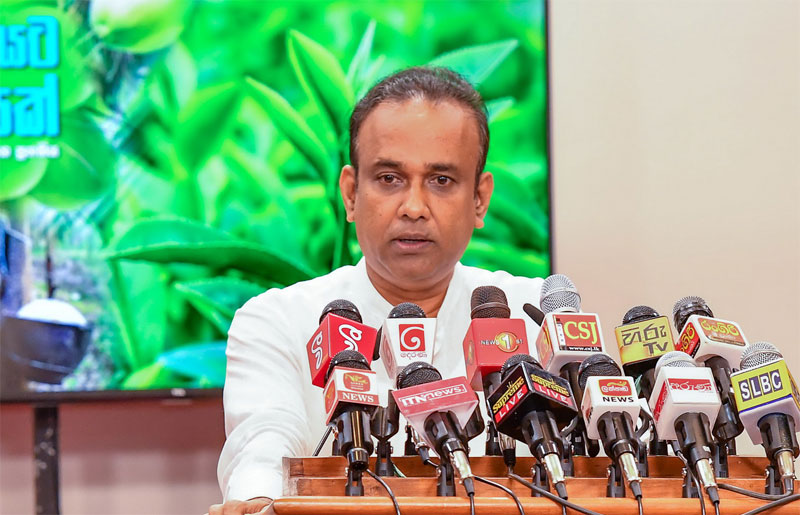 Plantation Industries Minister Dr. Ramesh Pathirana
---
Plantation Industries Minister Dr. Ramesh Pathirana's revised prediction comes amid global economic challenges
Says Govt. remains committed to fostering conducive environment for trade, economic growth export
Explains ability to respond dynamically to market fluctuations, initiatives will determine trajectory of export performance in remainder of 2023
---
By Charumini de Silva
---
Sri Lanka's export earnings this year will plunge by 22% to around $ 12.5 billion from the original forecast of $15.93 billion given the ongoing economic recession experienced by key markets.

"Last year we recorded the highest export earnings of $ 13.01 billion amidst multiple challenges. However, with apparel exports most impacted, our entire export portfolio this year will likely drop to about $ 12 -12.5 billion," Plantation Industries Minister Dr. Ramesh Pathirana yesterday told journalists at a briefing held at the Presidential Media Centre yesterday.

For 2023 the Export Development Board (EDB) targets to achieve over $ 15.93 billion from merchandise exports, up from $ 13.01 billion achieved in 2022. However, as per the latest data from the Central Bank, cumulative export earnings from January to June 2023 registered a 10% decrease year-on-year (YoY) to $5.87 billion. In June, export earnings declined by 19.5% YoY to just over $ 1 billion.

He cited the continued economic slowdown in important economies, particularly the European Union (EU) and the United States (US), as the primary causes. "These regions, which traditionally hold significant importance for Sri Lanka's trade, are currently grappling with economic uncertainties that have reverberates across the global market," he added.

Considering the current pace and statistics the Minister said exports are on track to reach around $ 11.5 billion. "Economists and experts are cautiously optimistic that there will be a potential turnaround in the third and fourth quarters of the year. If that boost happens it could elevate Sri Lanka's export performance to the range of $ 12-12.5 billion to $12.5 billion. But the figure would still be below 2022," he explained.

Highlighting the resilience and adaptability of Sri Lanka's export sector, Dr. Pathirana recalled that the country achieved the highest-ever export figure of $ 13.01 billion in 2022, showcasing the industry's capacity to navigate challenges and seize opportunities.

He assured the Government remains committed to fostering an environment conducive to trade and economic growth. "As Sri Lanka continues to navigate a complex and evolving global economic landscape. However, the ability to respond dynamically to market fluctuations, coupled with strategic initiatives, will play a pivotal role in determining the trajectory of Sri Lanka's export performance for the remainder of the year," he added.

EDB is currently in the process to complete formulating its comprehensive 5-year National Export Strategy 2023-2027 this month, to chart the course for Sri Lanka's export capabilities to $ 31.3 billion and boost economic growth.