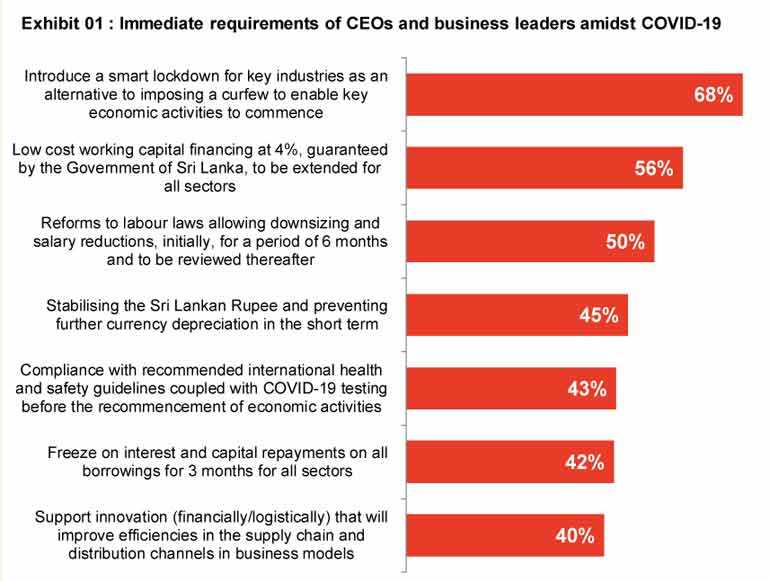 Unique and valuable insights from PwC-Daily FT survey of over 200 corporate captains
Insist on decisive action towards business recovery; smart lockdown as opposed to curfew a key need
Grant from Govt. to pay wages, additional debt relief and subsidised working capital among other recommendations
Say crisis often presents best time for undertaking urgently-required sweeping changes
Govt. should undertake bold reforms previously side-lined
Over 200 top CEOs this week prioritised what steps are needed at business and Government level if Sri Lanka is to emerge stronger in the post-COVID-19 phase.

The game-changing and honest as well as objective wish-list was shared when PwC and Daily FT spoke to business leaders in Sri Lanka about their priorities.

The basis for the PwC and Daily FT initiative was that the novel coronavirus (COVID-19) pandemic is bringing the world into uncharted waters. It is causing widespread concern and economic hardship for consumers, businesses and communities across the globe.Business leaders are on the corporate frontlines helping their companies navigate a health and economic crisis with an uncertain duration. But the situation is changing quickly, with widespread impacts.

Most companies already have business continuity plans, but those may not fully address the fast-moving and unknown variables of an outbreak like COVID-19.

Typical contingency plans don't generally take into account the widespread quarantines, business and community disruptions, and added travel restrictions that may occur in the case of a health emergency.

To facilitate economic recovery, the Central Bank lowered interest rates amidst the outbreak and the Government has taken many additional steps to provide economic relief.

The decisive steps taken by the health authorities and armed forces has helped to contain the spread.

PwC and Daily FT were able to track the sentiment and priorities related to the COVID-19 outbreak from business leaders in Sri Lanka. We asked them about their immediate requirements (within three months) and medium-term requirements (three to 12 months). By delving into the real-world experiences of organisations, we uncovered some surprising findings.

Over 200 business leaders from a variety of industries – including Banking and Finance, IT/BPM, Manufacturing, Consumer and Retail, Real Estate and Property – weighed in during the week ending 19 April.

It is evident that business leaders see the urgency of resuming some form of economic activity speedily and hence the option of a smart lockdown as opposed to curfew came out as a strong choice. Undoubtedly the easing of curfew and phased out opening of workplaces should provide much-needed economic relief to wage earners and businesses.

The other two key areas of attention were related to labour laws and wage costs and additional relief on debt servicing beyond what has been already offered.

The importance of extending the debt moratorium and subsidised working capital facility beyond the affected sectors to all sectors was indicated; whilst the preference for a Government guarantee on these facilities was perhaps prompted by the inability of most businesses to furnish collateral that was expected by the financial institutions when granting these loans.

The need for a grant from the Government to pay wages is indicative of the difficulties currently faced by companies in meeting their total wages obligations.

An overwhelming 61% of business leaders articulated the need to reform labour laws and regulations to make enterprises more agile and competitive. These included the enablement of new forms of work such as part time work, contract work and flexible hours. Benchmarking against best practices elsewhere, Sri Lanka too could become more competitive, cost effective and responsive to challenges by having more flexible and modern labour laws.
Reforms of loss-making State-Owned Enterprises by improving their efficiency and productivity was also seen as a priority to conserve State finances (e.g. SriLankan Airlines recorded a loss of Rs. 42 billion in 2019).

The safety of the financial system was also highlighted by ensuring they do not have to bear the full burden of the economic stimulus packages being granted.

Encouraging investment through tax holidays and the urgency of promoting exports by granting tax-free status to all exporters, regardless of size, once again underlines the priorities for the country

Focusing on what's important for CEOs and corporates, as per the feedback received the subsidised working capital facility is a useful measure and it would be beneficial if all sectors could have access to it and it could be granted without the need for furnishing additional collateral which most businesses would find difficult to do at this juncture. Therefore, it is essential that the Government provides a guarantee on the capital lent to ensure ease of access to relief measures via the banking and finance institutions.

Further, the debt moratorium could be extended to a wider range of sectors affected by the closure of businesses during the last several weeks. Some form of wage support for the affected sectors until such time as they regain their normal activity levels, would also be appropriate in order to alleviate the need for job cuts and heavy pay cuts.

Innovations to support supply chain and distribution stability which featured as a high priority, points towards greater opportunities in technology usage by businesses and the State, e.g. strengthening agricultural value chains.

Surprisingly, only 45% of the CEOs and business leaders were supportive of defending and stabilising the Sri Lankan Rupee. Of the business leaders, only 29% said that Sri Lanka should focus on seeking foreign funding from different agencies.

It is clear that business leaders expect some decisive action towards a business recovery. A crisis often presents the best time for undertaking sweeping changes that are urgently required.

Reforming labour laws to make our industries more agile and competitive in global markets is urgently felt. These reforms can lead to greater job creation and labour force participation rates, including among females; and thus help families supplement their incomes going forward.

Encouraging investments also featured high on the list as the country moves towards a recovery and comments by respondents included encouraging Foreign Direct Investment which will help strengthen the balance of payments. This is a good time for the country to attract investment from global multinationals looking to diversify their manufacturing bases; as well as to kick-start large-scale infrastructure projects that are on hold by mobilising private capital.

Reform and productivity improvement in loss making State-Owned Enterprises such as SriLankan Airlines will help to channel scarce resources for more intensive healthcare measures and modernising education, which form the basis for future value creation and competitiveness in the economy.

This crisis in fact may actually give Sri Lanka that opportunity to boldly address the most pressing economic concerns we face as a country today.