Acknowledges many initial measures have taken off but urges for faster implementation given challenge of recovery
Yet to see full fruition of SLTPB 'Recovery Plan' be approved by Cabinet
Delay in roll out of announced aggressive PR campaign is key concern
Drop in rates hasn't triggered demand; greater tourist confidence in security, safety, value enhancements listed as key drivers for revival
Fears sense of complacency after arrivals gained in June as against May though credible upturn is far off
The multibillion dollar critical tourism industry hit by the Easter Sunday tragedy is concerned over the slow progress of the previously announced measures to fast-track a quicker revival.

There is a fear that a false sense of complacency has arisen on the basis of a pickup in tourist arrivals in June compared with May though the sector is far from credible initial recovery.

The industry is also yet to see the full fruition of the 'Recovery Plan' proposed by the Sri Lanka Tourism Promotion Bureau (SLTPB) and approved by the Cabinet. The delay in the roll out of the announced aggressive PR campaign is another concern.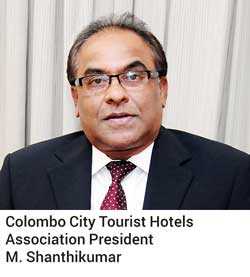 The initial move to reduce rates hasn't triggered the desired results too with the industry divided on its merits with some noting that Sri Lanka could have enhanced value or add-ons than opting to drop rates.

Colombo City Tourist Hotels Association (CCTHA) President M. Shanthikumar who is also the Vice Chairman of the broader Tourist Hotels Association of Sri Lanka (THASL) yesterday whilst acknowledging that many initial measures have taken off the echoed industry sentiments of wanting faster implementation given the challenge of recovery. Following are views expressed on the status of the industry by Shanthikumar during an interview with the Daily FT. The tourism industry came to a virtual standstill post attack on 21 April as the hotels attacked included the top most five-star hotels in Colombo city, including a global super brand. Weeks down the line we are seeing a very marginal growth in terms of guest arrivals and occupancy across the destination with some hotels recording slightly higher occupancy and some lower. This is nothing to talk about as the growth is from a low base in May. This is still a single digit growth.

Recoveries of Tourism Arrivals in other countries after similar incidents for e.g. 9/11 took almost a year to recover, the Bali bombings in 2002 also took one year, Kenya which faced two major incidents in two consecutive years, 2014/15 took two years, and Turkey took one and a half years.

Even in India the Mumbai hotel attacks sent ripple effects for months in that destination. When considering and comparing with other countries, I believe it will take 12 to 14 months for a complete recovery of tourist arrivals.

The challenge for the industry is to reduce the recovery period to bounce back as early as possible and to build on external positive factors to reduce the impact on external negative factors. This could be achieved if only policymakers pay attention and assist the industry to surface with confidence.

At present tourist arrivals are far below the desired figures. We are confident business will pick up to normalcy but will take a couple of months as per the preliminary assessments we have made when such attacks took place in other regional destinations.

The private sector in the industry continues to remain focused and very proactive to handle the challenges. THASL has taken a result-oriented role since the disaster by working with the Government to assist the entire industry with a financial package consisting of moratoriums on interest and capital and support to the employees on the same terms.

Majority have benefited from these initiatives, however there are some issues with some of the industry members and the employees. Further THASL is working on obtaining a soft loan for the industry stakeholders with a low interest as a working capital to sustain the products during this difficult period, which has not only caused a financial stagnation but also added stress and concerns for the future.

Apart from this there are other positive signs we have seen post-April, with guests who remain loyal towards Sri Lanka extending a helping hand to uplift and sustain the image of our vibrant destination. We are yet to see the light of a 'Recovery Plan' executed by the SLTPB amidst receiving immediate Cabinet Approval.

Hence, some of us in the private sector have decided to explore the possibility of creating our own recovery initiatives wherever possible to create consumer demand in key source markets as early as possible and dazzle guests with value-added packages.

There are some stakeholders who feel that a drop in prices during this period is the only way to stimulate demand towards a recovery. However our past experience shows that price plays a very limited role when a tourist destination is perceived to be under threat by potential visitors who worry about their personal security and safety when making a reservation.

Having said this, for survival, special prices to attract the domestic Sri Lankan market has paid off for some hotels but the target market is not big enough to make a difference to the entire industry.

Hence, it is imperative that even at this stage we must launch an aggressive PR campaign in the key source markets where potential visitors will once again reconsider visiting our resplendent island for their next trip. It is encouraging to see Lonely Planet faithfully continuing to endorse Sri Lanka as the 'No. One Best Travel' for 2019.

As for business in Colombo, we need to first create demand for Sri Lanka as a secure travel destination. Once this is established, business in Colombo will come back to a double digit growth.

It is during this period we will begin to see a resurgence in room reservations and F&B revenue for Colombo. Having said this, post the launch of the special offer together with the national carrier and the inbound travel agents association in the Indian market. The visit of the Prime Minister of India was a great display of solidarity and understanding which would present a good image to the Asian region, and the rest of the world.

Another main focus of THASL was to strengthen the entire security and safety of the hospitality sector. Initiatives were taken to enhance the knowledge of industry members with seminars attended by eminent speakers such as Dr. Rohan Gunaratne, an expert on counterterrorism and industry specialists with practical hands on experience in handling issues pertaining to violent extremism.

The lobbying to get duty-free concessions for security and safety equipment was another successful initiative that has enriched the process of moving forward since Black Sunday. THASL together with the British High Commission invited the UK Metropolitan Police to educate people to share best practices adopted in those countries and to fine-tune our learnings.

We are working with the High Commissions and Embassies to ease the adverse travel advisories in place. Some nations have thankfully softened their travel advisories. We regret that the Middle Eastern nations have still enforced travel advisories to Sri Lanka. We are confident that this will change in the months ahead.

If you remember we were to host the largest wildlife convention at the BMICH in May. The CITES convention would have got down 4,000 foreign delegates from many nations. We are happy to say we had passed their security audit, but due to the Black Sunday incident they have now canceled this premier event.

Another positive sign came from the Airport and Aviation Authority who have decided to reduce aircraft handling charges. We welcome this move. The idea of granting visa on arrival is also a positive sign to encourage tourist arrivals to Colombo, but proper screening must be done in order to maintain border security.

City hotels have also noticed a drop in banquet bookings. Wedding receptions do happen but with less number of guests. Another grey area for the Colombo hotels is the drop in monthly service charge. This will lead our staff to seek new jobs overseas (as they have financial commitments and families who depend on them) in places like the Middle East. So when we do bounce back we will have a shortage of trained and experienced hotel staff.

We also call upon the Government and policy makers to stand by us and help us. Tourism makes a massive contribution to the foreign exchange and overall economy. Last year we proudly recorded $ 4.5 billion. Practical answers are the important factor at this crucial moment of recovery.

Further initiatives are on the way. The Sri Lankan tourist industry has faced many adverse situations in the past. We are a resilient people and together I am confident we will overcome. We will relish the rewards of prosperity as we march forward.