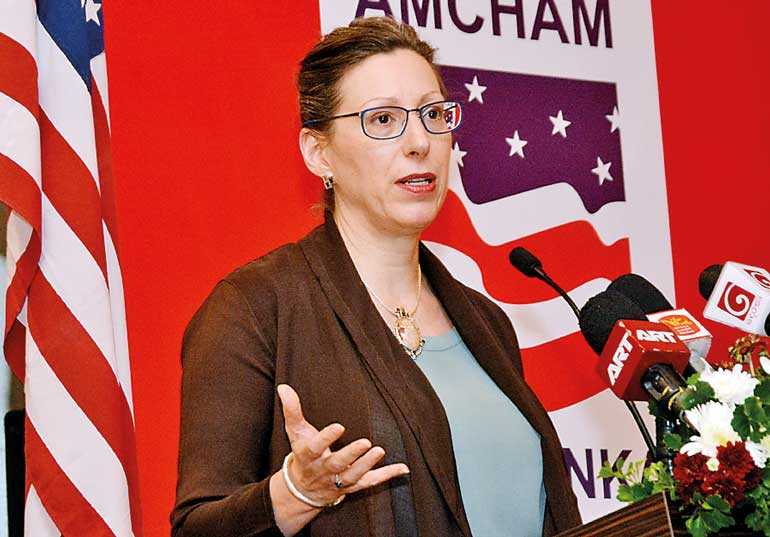 US Ambassador to Sri Lanka and Maldives Alaina Teplitz - Pic by Upul Abayasekara
---
Says pure grant assistance highly beneficial for poverty reducing sustainable economic growth

5-year program aims at improving transportation infrastructure and land administration – two key bottlenecks for socio-economic prosperity

Laments over misinformation in public domain; says program conceptualised after extensive consultation with all stakeholders and based on 'solid academic, economic analysis'

Stresses oversight rests with SL Govt., and US will not own or control, or in any way administer any of the areas coming under the two programs

US has invested $ 14 billion in 37 Compacts or Agreements with 29 countries since 2004, spurring economic growth and freeing people of poverty
By Nisthar Cassim

Ambassador Alaina B. Teplitz last week allayed fears over Sri Lanka's move to sign up for the US Government's Millennium Challenge Corporation (MCC) Compact entailing $ 480 million of grant assistance, saying it was highly beneficial for poverty reduction via sustainable economic growth.

"The MCC's purpose is to catalyse economic growth. It is a five-year program funded with $ 480 million grant aid from the people of US to the people of Sri Lanka. This is not a loan and not a single rupee of debt will be added to the balance sheet of Sri Lanka as a result of this program," Teplitz told the American Chamber of Commerce (AMCHAM) Sri Lanka Annual General Meeting.

The MCC Compact aims at improving Sri Lanka's transportation infrastructure and land administration, two issues identified as significant binding constraints for economic growth in Sri Lanka.

"I want to emphasise that these are existing initiatives of the Government, and no new programs are envisioned under the MCC development assistance program. It is to help fund existing programs with complete implementation on the part of the Government," she said.

Lamenting over much disinformation in the public domain over the MCC, the Ambassador said the program was conceptualised after extensive consultation with the Government, private sector, civil society, and academia, and is based on "solid academic, economic analysis" that highlighted the constraints."

Teplitz reassured that under the agreement, the Government will retain oversight and control of all aspects of the proposed projects. "US will not own, not control, or in any way administer any of the areas coming under the two programs," she added.

The Ambassador said that with regard to the first aspect of transportation infrastructure development under the MCC, there will be improvements made to 205 kilometres of roads in greater Colombo, roads over which two million people travel daily. "This will significantly reduce traffic congestion during peak hours and improve public bus services, which are relied upon by the people," she said, adding that fast traffic management system is a key element of this program.

The agreement also covers provincial roadsin the Central, Sabaragamuwa, and Uva Provinces,which the Ambassador said as being among the poorer regions in the country but are productive as they supply tea, rubber, fruits, and vegetables, especially by SMEs. "They need modern and reliable road networks to get their produce to markets and ports," Teplitz pointed out.

With regard to the land administration aspect, she said the MCC will fund the Government's existing programs that improve documentation and mapping of State lands, and help citizens gain title to their land, making their deeds into digital form which will protect their paper work/documents from loss, damage, or theft.

"MCC has a fixed implementation of five years with about two years of advance preparatory work at the front-end. We want to be ready for a rapid implementation as five years is a small window. So total lifespan of the MCC project is no more than seven years. This is not an enduring agreement for a one-time program," the US Ambassador emphasised.

She said another feature of the MCC is transparent partnering with the private sector, and she encouraged the private sector to look at the procurement, partnership, and investment opportunities under the MCC.

Highlighting the global impact of MCC, the Ambassador said through this initiative, the US has invested $ 14 billion in 37 Compacts or Agreements with 29 countries since 2004.

"This is a significant volume of development aid from the US for countries around the world to move at various economic growths and help people rise out of poverty," she stressed.

She cited that in Georgia, via the MCC, the US is helpingto increase the number of internationally accredited degrees in science, technology, engineering, and medicine; and in Senegal, MCC is helping the country strengthen the power sector to meet the growing demands for reliable electricity.In Nepal, where the Ambassador served prior to coming to Sri Lanka –the MCC which she signed,making it the first in South Asia – the US is helpingto address the low energy supplies and high energy transportation costs.

"We believe all of these MCC Compacts or Agreements deliver for the countries which they are implemented and deliver globally to help growth everywhere.

"With24 Compacts completed, globally millions of people have been empowered with connected businesses markets to fuel domestic and international trade; additionally, over 300,000 households, businesses, and community organisations now have legal rights to their land, and increased individual access to credit, and reduced land-related conflicts," she said.

"I am confident similar results can be obtained from an MCC development program in Sri Lanka," Ambassador Teplitz said, adding that improvements via the MCC project will help Sri Lanka attract more investments from other parts of the worldas more companies are trying to de-risk their investments from China.