---
Strength of Nettipattam to PM from India
---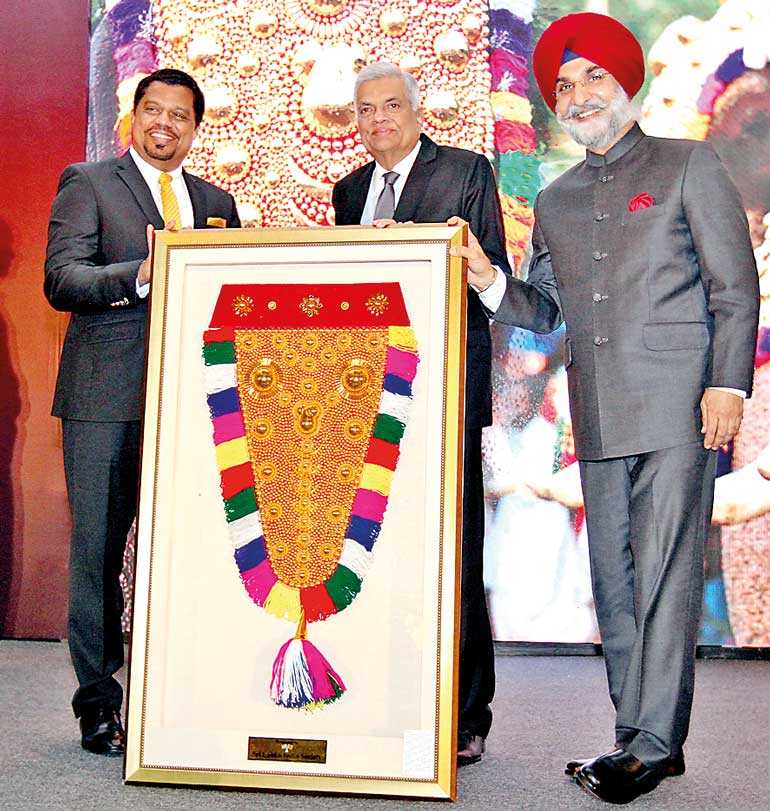 The Sri Lanka India Society on Sunday presented a Nettipattam (Caparison), the traditional headgear worn by elephants during Hindu festivals as decoration, to Prime Minister Ranil Wickremesinghe at the ceremony marking the 70th Republic Day of India and 71st Independence Day of Sri Lanka. Nettipattam is also a symbol of prosperity and strength. Indian High Commissioner Taranjit Singh Sandhu and SLIS President T.S. Prakash are also present

- Pic by Chamila Karunaratne
---
Stresses future development of bilateral relations is dependent on enhancing trading ties
By Nisthar Cassim

Reinforcing the importance of stronger ties, especially economic Prime Minister Ranil Wickremesinghe on Sunday described Sri Lanka and India as "two sides of the same coin."

Speaking at the a reception to commemorate the 70th Republic Day of India and 71st Independence Day of Sri Lanka on Sunday at Taj Samudra, Wickremesinghe recalled that it was trade between the two countries which led to religious and culturallinks. "The future development of bilateral relations is also dependent on enhancing trading ties,"he added at the ceremony, at which Indian High Commissioner Taranjit Singh Sandhu was the Guest of Honour.
It was organised by the Sri Lanka India Society (SLIS).

Wickremesinghe told the gathering at the ceremony that as per an article by HSBC, which looked at the world in 2030 and 75 most important countries, amongst which ofcourse is India, which is said to become the third largest in the world, what was most interesting that South Asia and Southeast Asia had nine countries among them.

"How we manage our relationship will determine the pace of our development and there is great opportunity," the Prime Minister said making a strong case for more closer cooperation between Sri Lanka and India and allaying concerns expressed by anti-Indian sentiments.

"Sri Lanka and India must and can be an example for rest on trade integration. Let go forward much closer and faster and be an example for our part of the world," he emphasised.

Referring to commonalities, he said cultural links are manifested by the fact that the national anthem of both countries emanates from Shantiniketan, one a composition by Rabindranath Tagore himself, and the other by his disciple Ananda Samarakoon.

He reiterated that there are many ways in which Sri Lanka and India have common links, and that it is not surprising because the favourite son of India, Lord Buddha, is "our inspiration and guide." "This makes us that much more close. There are much more that I can say of who and what we are. We are two sides of the same coin," the Premier stressed.

Post-independence, he said, Sri Lanka and India share cricket and are part of the largest whisky-drinking region in the world, and enjoy Bollywood. "Both have been the strongest democracies in Asia. Of course we have our own failures, and disruptions weigh in both our legislations. But fortunately for you (India), you don't consume much chillie in North India, in comparison to what we have to go through in Sri Lankan Parliament," quipped Wickremesingheerupting laughter and applause from the audience.

"Our Supreme Courts have been a strength and a beacon to democracy. Maybe we have taken those traditions from England and ensured they take roots," the Prime Minister added.

Taranjit tells Sri Lanka "only country joined by destiny" is India