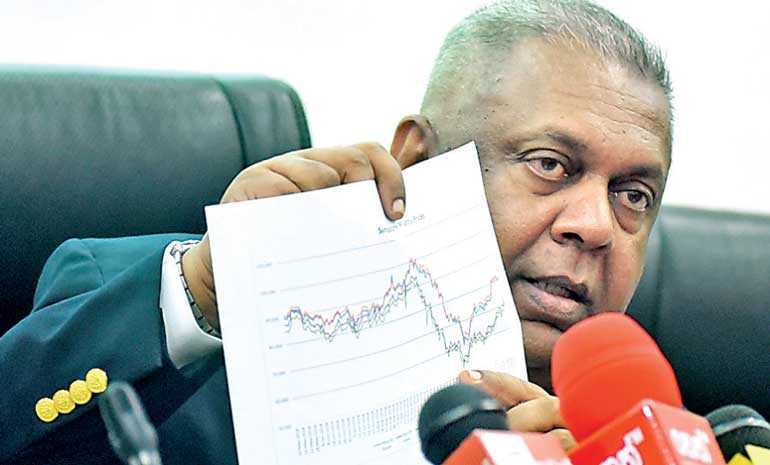 Finance Minister Mangala Samaraweera
---
Finance Minister insists Budget has not increased tax burden on people

Taxes only to create level playing field for local biz

SriLankan to be given to Eran for tinkering 

VAT on condominiums to be imposed from 1 April, legally-binding agreement needed 

Says fuel prices were kept low because festive season is around the corner
By Uditha Jayasinghe 
Deflecting criticisms of tax changes in Budget 2018, Finance Minister Mangala Samaraweera yesterday contended that proposals were focused on creating a level playing field for local businesses and that six committees would be appointed to monitor implementation.

Samaraweera conceded that implementation would be challenging as the Government had about seven months once it is passed in April and said he planned to appoint six committees to oversee different aspects of the Budget. The committees are yet to be named. 

SriLankan Airlines, which was recently gazetted under the Finance Ministry, will be handed over to State Minister of Finance Eran Wickramaratne, Samaraweera said. 

VAT on condominiums is expected to come online from 1 April, Samaraweera said, explaining that a legally-binding agreement would need to be in place ahead of the deadline to avoid tax. He also said that the 3% Nation Building Tax (NBT) replaces the 2% stamp duty for transactions on foreign ecommerce platforms and justified it on the grounds of giving local platforms a boost.

The Finance Ministry announced fuel price increases on Tuesday but Minister Samaraweera said that under the fuel price policy, the petrol price should be Rs. 137 rather than the current Rs. 132 and the Government had decided to raise prices minimally as the April Sinhala and Tamil New Year was a few weeks away. 

"We only increased diesel prices by Re. 1 and we have given a Rs. 5 subsidy for petrol. This is because we don't want fuel prices to spill over into other goods ahead of the New Year. This was a decision taken to aid the people. International fuel prices have increased since December by about 30.8% but prices have not changed by the same amount," he said. 

The Government has also taken steps to increase plantation worker salaries by Rs. 50, which would allow the daily wage to increase to Rs. 800. Funds for the increase will be found from the Tea Fund under the Plantation Ministry. 

Minister Samaraweera said this decision was taken after discussions with hill country parliamentarians of the UNP and was the first step in a large effort to restructure the industry to create better working conditions for workers. 

The Minister also defended steps to tax savings accounts of children, arguing that the 5% Withholding Tax was only charged on the first Rs. 5,000 earned as interest. He pointed out that for an account to earn Rs. 5,000 as interest it needed to have savings of at least Rs. 1.2 million or above and therefore the accusation that the Government was taxing poor children was unwarranted. 

"This is a misleading statement. We are not charging tax from small savings for children. We believe that rich babies should learn to pay taxes from a young age because they need to grow up and become responsible adults. It is rich adults who don't have to pay taxes who complain when they have to do so," he quipped, referring to Opposition parliamentarians.

The Minister also referred to the Budget as a "fishing rod" Budget that strives to create opportunities for hardworking Sri Lankans and noted that the first vote on the Budget in Parliament on Tuesday was a win for the people who shared this view. 

Finance Ministry Advisor Economist Deshal de Mel said the Finance Ministry was upbeat about the revenue generation measures outlined in the Budget and stressed that it was possible for the Government to meet the 4.4% deficit target set for 2019. He pointed out that the full year revenues of the Inland Revenue Act together with VAT on condominiums and new taxes would improve revenue.  

"We have attempted to bridge the skills gap that the private sector needs by providing financing for training. We are also hoping that encouraging the agriculture sector to move up the value chain would also free up labour from the sector to other areas of the economy," de Mel said.