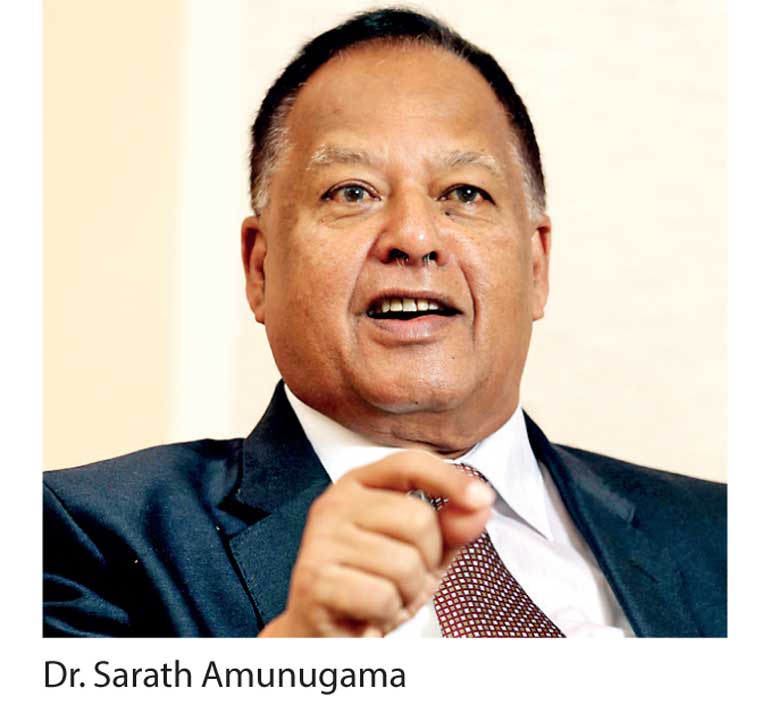 Amunugama backs Trinco oil tank investment, says CPC unions unreasonable
Wastage of SOE assets a national tragedy, wants more public awareness of how SOE losses affect Govt. finance management
Wants better regulations for privately-owned fuel stations
By Uditha Jayasinghe

Special Assignments Minister Dr. Sarath Amunugama yesterday threw a "searchlight" on loss-making state-owned enterprises (SOEs), urging officials to utilise the assets under institutions more effectively and called on the public to understand how their losses affected State balance sheets.

The Minister, who rarely addresses the press, announced that he would hold media briefings every Thursday to create awareness of how billions of losses made by SOEs were affecting the economy and the Government's policymaking. Dr. Amunugama, who was also appointed to head a Cabinet subcommittee on the recent fuel shortage, dwelt extensively on the shortcomings of the Ceylon Petroleum Corporation (CPC) and slammed efforts to stymie investment to the Trincomalee oil tanks.

"The Trincomalee tanks were built by the British during the Second World War and were subsequently handed over to the Sri Lankan Government. They do not belong to the CPC. The facility has about 80 tanks and a dry dock, which is worth a huge amount of money. These assets have been left to rot and that is a national tragedy. It is possible for about 10 tanks to be given for the use of the CPC and the rest are used to attract investment," he said.
In the Cabinet Subcommittee report on the recent fuel shortage, one cause highlighted for the shortfall was the failure of officials to resolve issues on the usage of the tanks and it recommended that the tanks be speedily released to increase the CPC's storage capacity.

Dr. Amunugama slammed SOEs for "wasting valuable assets under their charge", pointing out that major institutions such as the CPC, Ceylon Electricity Board (CEB) and others were sitting on resources that could be used to improve the country's economy and foster development.

Not stopping at the Trincomalee oil tanks, Dr. Amunugama also went on to highlight how repeated delays in implementing power plants had driven up the cost of electricity, which the Government was now attempting to resolve by introducing new LNG power plants.

"We must build public discourse on this issue because most people do not understand how these losses affected them. The private sector is being crowded out because State banks have lent excessively to these loss-making SOEs. This is credit that could foster entrepreneurship and exports but they are tied up in unproductive areas," he added.

The Minister also called for 600-odd fuel stations that are currently under private ownership to be better regulated, pointing out that they are less consumer-friendly.

Moody's Investors Service earlier this year put Sri Lanka's public enterprise debt at a whopping 14% of Gross Domestic Product (GDP) and warned the Government of additional risks to its finances should such debt require any State support, which is likely to become the case as most cannot support the repayment of their debt.

This translates into a massive debt pile of little under $ 12 billion or Rs. 1,848 billion which has accumulated due to continuous annual losses. According to Moody's, the total liabilities include Government guarantees, outstanding SOE debt to the banking system and outstanding SOE foreign borrowings.