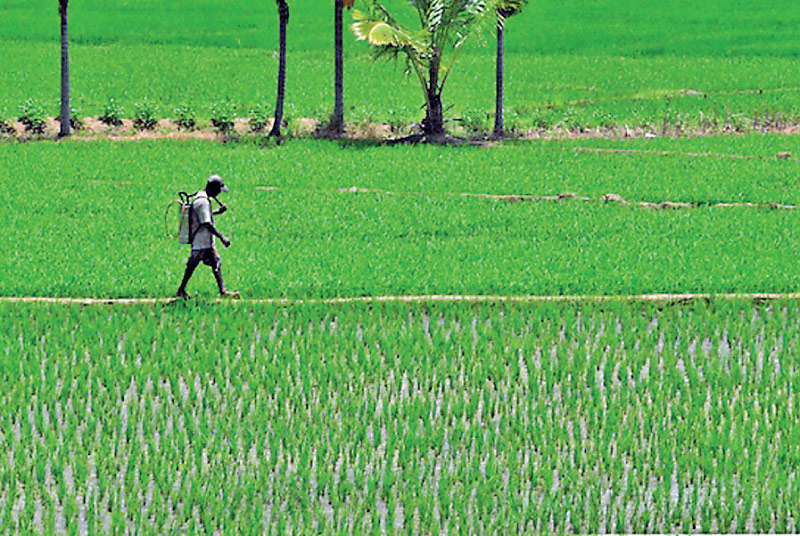 ---
30 scientists and agriculture specialists write to President Rajapaksa listing concerns over sudden and aggressive shift towards 100% organic fertiliser
Warn move would pose serious issues and challenges with far-reaching economic, social and political implications and ramifications
Insist 'prudent and balanced' approach would be to move towards a more eco-friendly and sustainable food system using a judicious combination of organic and inorganic plant nutrients with a progressive reduction in the use of inorganic fertiliser over time
Explain what can be done without banning but instead regulate import and use of fertilisers and other agrochemicals
List potential impact of the ban on overall agriculture sector
Suggest practical ways to promote eco-friendly sustainable agriculture in place of conventional agriculture
---
Thirty scientists and agriculture specialists have written to President Gotabaya Rajapaksa warning that a sudden and aggressive shift towards 100% organic fertiliser-based agriculture would pose serious issues and challenges with far-reaching economic, social and political implications and ramifications.

They have submitted their considered opinion, observations and recommendations based on scientific evidence, experience and expertise gained over many years with a view to minimising the potential implications of and deriving the envisaged benefits from the shift.

"Our recommendations, we believe, fully reflect the ecological and other ideals that inspire this policy intervention, but serve as well to minimise the harmful effects of too rapid a departure from the use of agrochemicals which farmers have got used to for a period of over 50 years," the group has informed the President.

The group includes National Science Foundation Chairman Emeritus Prof. Ranjith Senaratne, Council for Agricultural Research Policy Chairman Emeritus Prof. Gamini Senanayake, Sri Lanka Association for the Advancement of Science (SLASS) General President Prof. Sumedha Jayanetti, Directors General of Department of Agriculture, Directors of Tea Research Institute, Coconut Research Institute and Rubber Research Institute, and Professors from the Faculties of Agriculture of the Universities of Peradeniya, Ruhuna, Jaffna, Sabaragmuawa, Wayamba, Uva Wellassa, etc.

In their letter, they have listed what can be done without banning but instead regulating and restricting the import and use of fertilisers and other agrochemicals in agriculture to substantially reduce their undesirable consequences on health and environment.

The President has also been warned of the potential impact the ban can have on agriculture and the need for promoting eco-friendly sustainable agriculture in place of conventional agriculture.
"A prudent approach would be to move towards a more eco-friendly and sustainable food system using a judicious combination of organic and inorganic plant nutrients with a progressive reduction in the use of inorganic fertiliser over time," they have told the President.

"The aim should be to strike the right balance between inorganic and organic fertilisers, while at the same time stringently regulating and restricting the import and use of agrochemicals as done in many developed countries in the world. The aim, in other words, should be optimum production with minimal harmful effects on people and the environment. A gradual approach will be wise to avert short-term crises," they emphasised.

The submission by the group of experts comes after President Rajapaksa has confidently said he will lead Sri Lanka to become the world's first country to 100% organic in the interest of the future generation as well as ensure sustainable agriculture and save foreign exchange over import of hazardous fertiliser. He also said the Government will compensate farmers for any loss over drop in yield, crop or higher produce price whilst a pilot project of Government-funded organic fertiliser manufacturing initiative in North Central province was approved by Cabinet recently.

However the as members of the community of senior agricultural scientists, academics and professionals in the country representing a significant section of the community, the group of experts in their submission they have assured their resolute and unwavering commitment to promoting eco-friendly sustainable agriculture in Sri Lanka.

"We are also fully aware and conscious of our bounden duty and moral obligation to the country and its people at this crucial juncture exacerbated by the current pandemic and declare our commitment to mobilising and channelling to the fullest the scientific and intellectual resources and assets to formulate a pragmatic and realistic road map and an actionable strategic plan to achieve the above objective," they assured the President.

"Therefore, while reiterating our fullest support and cooperation to Your Excellency to build an eco-friendly sustainable agriculture in Sri Lanka, we wish to discuss with Your Excellency about how agricultural scientists and professionals could more effectively contribute to the above objective in keeping with the national policy and would appreciate it very much if we are granted an early opportunity for such discussion," the letter by 30 scientists and professionals said.

It was pointed out that over 70% of the people of the country were directly and indirectly dependent on agriculture. Agriculture occupies around 40% (2.3 million hectares) of its land and consumes over 80% of its freshwater resources, while 27% (over two million) of the country's workforce is engaged in farming. There are over 3.3 million holdings in agriculture of which 45% is less than 0.1 ha (quarter of an acre) and over 90% of production units are less than two ha (five acres).

The group of experts has told the President to immediately stop the fertiliser subsidy under which fertilisers are imported mainly based on low price, rather than on quality, thus with harmful impurities. The farmers tend to use fertiliser indiscriminately and excessively when they are highly subsidised or given free.

Another suggestion is to introduce stringent quality control measures in the import of essential fertilisers as is done in many other countries and offer them to farmers at the market price.

This, besides minimising the overuse of fertilisers, will prompt unproductive and marginal farmers to leave agriculture and secure gainful employment in other sectors. This should be facilitated and supported through introduction of appropriate reskilling and retooling programs.

It has been recommended to apply fertilisers based on the nutrient status of the soil rather than on the blanket recommendations made by the relevant institutions. Universities and R&D institutions should be drawn in to fulfil such analytical needs by establishing service laboratories.

The President has been told to introduce second and third generation fertilisers for a gradual phase-out of first-generation fertilisers, which have a very low fertiliser use efficiency, c. 20‒ 25%, as opposed to over 60‒70% for others. Though the former fertilisers are more expensive than the latter, 350 grams of the former will have the effect of one kg of the latter, which will therefore considerably reduce the undesirable environmental consequences and reduce import costs.

Encouragement of production of phosphatic fertiliser locally using the huge, high quality reserve of Eppawala apatite by providing the requisite financial support is another suggestion.

Regulation of the import and sale of agrochemicals such as pesticides, weedicides, fungicides, etc. with appropriate interventions has been urged as well. Experts pointed out though one cannot buy even a commonly used antibiotic without a valid prescription and only a qualified pharmacist can run a pharmacy, no such regulation and control are in place for the sale of even highly hazardous agrochemicals. Therefore, even a child can buy any quantity of the most hazardous pesticides without restriction and no qualification is required to run an agrochemicals stall.

Among several other suggestions are improving the extension service enhanced by ICT.

Experts said presently, the farmer mainly depends on the retailers of agrochemicals for advice on what and how much to apply for a given pest or disease, and they often "overprescribe" a cocktail of pesticides for obvious reasons. This alarming situation, which has prevailed for several decades, demands immediate intervention through appropriate regulation and proper monitoring.

Some of the other recommendations are:

Regulation of commercial crop production based on soil and agroclimatic suitability, taking into account seasonal variations in demand and supply at provincial and national levels. This, besides reducing gluts and scarcities of food and attendant heavy postharvest losses and drastic price fluctuations, will ensure food production under the best available conditions with a considerably reduced extent of land, thereby markedly reducing the ecological footprint as well.

To intensify and manage home gardens for improved food security and human nutrition In Sri Lanka, there are nearly 4.5 million home gardens occupying 839,124 ha, which constitute 18% of the total land area.

Identify outstanding model farmers following the good agricultural practices (GAPs) in the country for the major crops, provide them with more resources and support to expand their cultivation, and use them as 'ambassadors' to promote eco-friendly agriculture and train other promising farmers.

Identify promising framers engaged in organic farming and establish 'Organic Islands' in suitable areas of the country and provide them with more support and incentives for augmenting organic farming. Facilitate the production of organic manures by providing necessary training, incentives and resources and taking steps to regulate and monitor their quality. Here, the quality parameters should be clearly laid down.

The Group has also copied their submissions to Prime Minister Mahinda Rajapaksa, Agriculture Minister Mahindananda Aluthgamage, Plantation Minister Ramesh Pathirana, State Ministers Shasheendra Rajapaksa, Mohan Priyadarshana de Silva, D.B. Herath, Seetha Arambepola and the Ministry of Agriculture Secretary.