Pledges to uphold law and order, and ensure judicial independence
Says Fonseka will be tasked with ensuring national security if elected 
Promises no political appointments, corruption-free governance 
Pledges to draft new policies on labour, empower youth and women
Samurdhi to be boosted with broader poverty alleviation package
Pledges to introduce higher paddy price, new agri and fisheries policies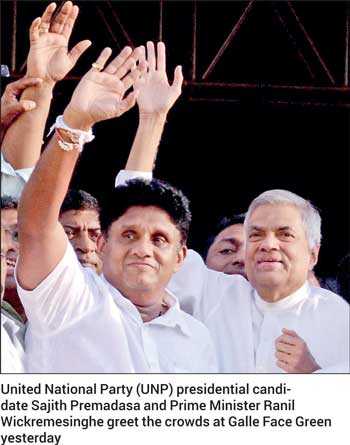 United National Party (UNP) presidential candidate Sajith Premadasa yesterday sought to spotlight promoting judicial Independence, maintaining law and order and reforming the public service, underpinned by economic plans for regional industrialisation, youth empowerment, stronger entrepreneurship and the expansion of the Samurdhi program, as his key policies.  

Addressing his inaugural rally at Galle Face Green, Premadasa pledged to build a safe and progressive nation where prosperity reached all, with reconciliation and industrialisation that will be guided by core Buddhist principles of governance. 

"What do you want? You have to ask yourselves this. Do you want a lawless country or a prosperous country with justice and freedom?" 

Responding to comments by Sri Lanka Podujana Peramuna (SLPP) presidential candidate Gotabaya Rajapaksa that he would release members of the Armed Forces held in remand custody on a range of charges, Premadasa said that it was "the duty of the Judiciary to decide who wears the jumper and not politicians." 

Premadasa said that if elected, he would place former army commander Field Marshal Sarath Fonseka in charge of national security. 

"National security must be handled by a person who has experience and is a veteran," he said, pointing out that Fonseka would be put in charge of formulating a national security strategy to counter new and emerging terrorist threats. Fonseka will also be tasked with eradicating drug smuggling, Premadasa said. 

The presidential hopeful emphasised that the public sector existed to serve the public and claimed that if elected, a Government under his preview would appoint capable and competent individuals to State institutions and would not resort to political appointments. 

The Deputy Leader of the UNP said that a Government led by him would not permit corruption and would ensure that public funds were not misused. 

"We who serve the public must be prepared to make sacrifices," he declared, stressing that the waste of public funds and excessive spending on State officials must be halted. 

He pledged that State assets would not be "sold off" and claimed that once his Government was appointed, it would be transparent and corruption-free. 

He said that industrialisation would be brought in to more districts and emphasised the need to empower women and youth with skills and technology. A new policy on promoting entrepreneurship would be introduced if he was elected, he said, adding that a new policy was needed to ensure women's rights and safety. He stressed the need to further include the youth of the country in policymaking and called on them to step forwards as "stakeholders of the future". 

Premadasa pledged to legislate a higher paddy purchase price to aid troubled farming communities and promised to establish a presidential taskforce to oversee a new agriculture policy which his future Government was planning to introduce. He also pointed out that the fisheries industry was in need of a national policy and that would become a reality if he was elected. 

"Where is the labour policy that our opponents promised you and didn't deliver for 11 years?" he asked his assembled supporters, pointing out that the current Government had increased public sector wages and removed wage discrepancies that existed for years. Premadasa promised to deliver a labour policy that would aid the common working man, if elected. 

Prime Minister and United National Party (UNP) Leader Ranil Wickremesinghe, speaking at the same rally, called on the public to protect the power gained in 2015 and to make a wise decision to elect the right leader for the betterment of the country.

Addressing the inaugural rally in Galle Face Green, Wickremesinghe said the current Government had been able to fulfil the needs of the public and commence numerous development project to lift living standards. He requested the public to protect the Government to continue all the positive steps taken by the Government.

"We will develop the village and introduce new industries at the village level. These industries will create new jobs and lift the living standard of the youth in those areas. We will introduce a 10,000-acre industrial zone in Hambantota, which will create thousands of jobs, therefore the public should decide what is best for the country and them," he said.

He pointed out that the UNP Government had already taken initiatives to build a new Sri Lanka through various development projects throughout the country. Wickremesinghe said the public should choose wisely between the policies of the UNP and those of the other candidates that, in his view, were aimed at gaining personal benefits.

Referring to the UNP's presidential candidate, Wickremesinghe noted that Premadasa had chosen to move to the Hambantota District to develop its rural areas. He pointed out that Premadasa was a leader who had always been with the public and was committed to developing rural regions and underprivileged communities.

"Sajith Premadasa chose Hambantota instead of Colombo. He intended to serve the underprivileged people. He has been able to stand against the family rule that dominated in Hambantota. He has spoken on behalf of them and taken steps to lift their living standard."

He argued that the upcoming Presidential Election would be a major turning point in Sri Lankan politics and that the election would afford the public a chance to end family rule.