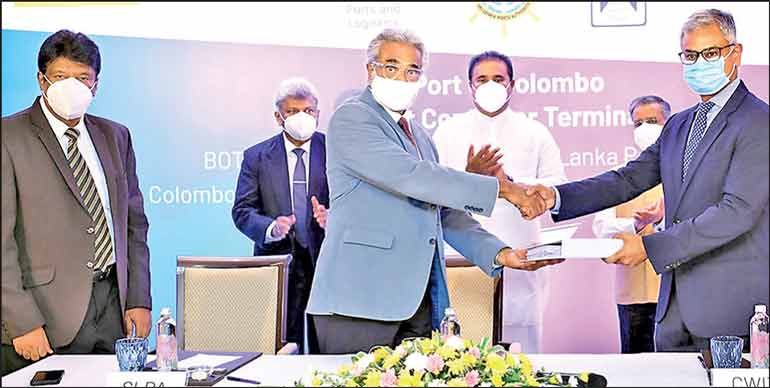 SLPA Chairman Capt. Nihal Keppetipola and JKH Chairman Krishan Balendra exchange the BOT agreement signed for the Colombo West Container Terminal as Ports and Shipping Minister Rohitha Abeygunawardena and Indian High Commissioner to Sri Lanka Gopal Bagley applaud. Ports and Shipping Secretary U.D.C. Jayalal and SLPA Managing Director Upul Jayatissa are also present
---
Adani-JKH sign 35-year BOT deal with SLPA for Colombo West International Terminal
Project to trigger $ 650 m investment with 70:30 debt-to-equity mix; debt funding already secured
JKH to have 34% equity stake and invest $ 70 m on a staggered basis over project construction
India's port giant Adani to have 51% stake and SLPA 15% stake
New deep-water terminal will have annual handling capacity of 3.2 m TEUs
Construction to start early next year; Phase 1 to be operational within 24 months and balance in 2 years
---
Sri Lanka yesterday sealed the biggest-ever investment in to the port sector worth $ 650 million with joint project promoters – India's giant Adani, local blue chip John Keells Holdings (JKH) and the State-owned SLPA signing the Build, Own and Transfer (BOT) deal for the Colombo West International Terminal (CWIT).

The BOT agreement is for 35 years and the move will see brand new deep-water terminal with a quay length of 1,400 metres and an alongside depth of 20 metres and has an annual handling capacity of approximately 3.2 million TEUs. Current capacity of Colombo port is 7 million TEUs.

CWIT expects to commence construction of the terminal in early CY2022 with Phase 1 of the terminal, comprising of a quay length of 600 metres, slated to be operational within a period of approximately 24 months. The remainder of the terminal is expected to be completed within a further period of approximately 24 months.

JKH said the total project cost is envisaged to be approximately $ 650 million with a debt-to-equity mix of approximately 70:30. The debt funding for the project has been secured, subject to the closure of the related financing documents which will be completed prior to project commencement.

JKH will have an equity stake of 34% in CWIT, while Adani Ports and SEZ (APSEZ) and the Sri Lanka Ports Authority (SLPA) will hold 51% and 15% respectively.

SLPA, which estimated the project to trigger an investment of over $ 700 million, said CWIT will further enhance Colombo's global reputation as an international hub port. SLPA also believes the venture will strengthen cooperation between regional economies.

"The port sector and the strengthening of the country›s national economy will also benefit from this investment," SLPA Chairman Capt. Nihal Keppetipola said.

JKH said its 34% equity commitment is estimated to be $ 70 million, which will be infused into CWIT on a staggered basis over the project construction period. JKH share, which has been steadily gaining in recent weeks, was up Rs. 3.25 or 2% to close at Rs. 149.75 yesterday.

For JKH, it will be the second part-owned terminal at Colombo Port in addition to the pioneering Public Private Partnership – the South Asia Gateway Terminal Ltd (SAGT). Colombo Port also has the Chinese-owned and most modern and biggest Colombo International Container Terminal (CICT) for which China Merchant originally invested $ 500 million, and the SLPA-owned Jaye Container Terminals (JCT).

Last year, volume handled at Colombo port dropped by 5% to 6.8 million TEUs. In the first seven months of this year, volume has grown by 7.6% to 4.2 million TEUs in comparison to the corresponding year of 2020.

Given the significance, Ports and Shipping Minister Rohitha Abeygunawardena and Indian High Commissioner to Sri Lanka Gopal Bagley witnessed the BOT signing ceremony in person, whilst Sri Lanka High Commissioner in India Milinda Moragoda watched it live online.

For SLPA, Chairman Capt. Keppetipola and Managing Director Upul Jayatissa were the signatories, whilst APSEZ President Capt. Sandeep Mehta and JKH Chairman Krishan Balendra were the other signatories.

Ports and Shipping Secretary U.D.C. Jayalal, SLPA Vice Chairman Dr. Prasantha Jayamanna, Additional Secretary – Development Kumari Somarathna, SLPA Additional Managing Director – Technical Susantha Abeysiriwardena, Director – Finance Shirani Wanniararachchi, Chief Law Officer Aparna Thilakarathne, Chief Engineer – Planning and Development F.N. Hussain, and APSEZ Chief Executive Officer Karan Adani as well as senior executives of JKH were present at the signing ceremony.

Pursuant to the receipt of the said LOI on 15 March from the Ministry of Ports and Shipping and the SLPA, CWIT the project company, incorporated to undertake this investment, has worked towards the criteria to enable the entering into of the BOT Agreement.

The development and operation of the WCT-1 has been identified as a Strategic Development Project with the requisite Gazette being issued on 30 July.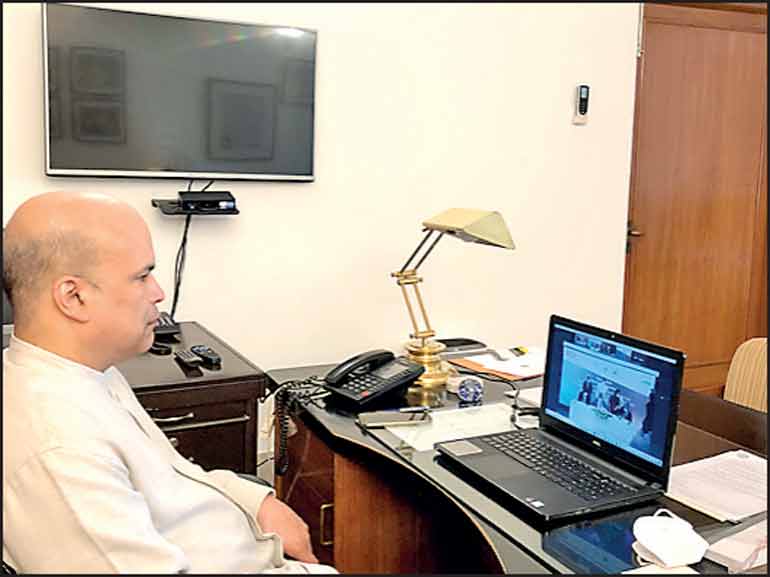 Sri Lanka High Commissioner in India Milinda Moragoda witnesses the signing ceremony online from New Delhi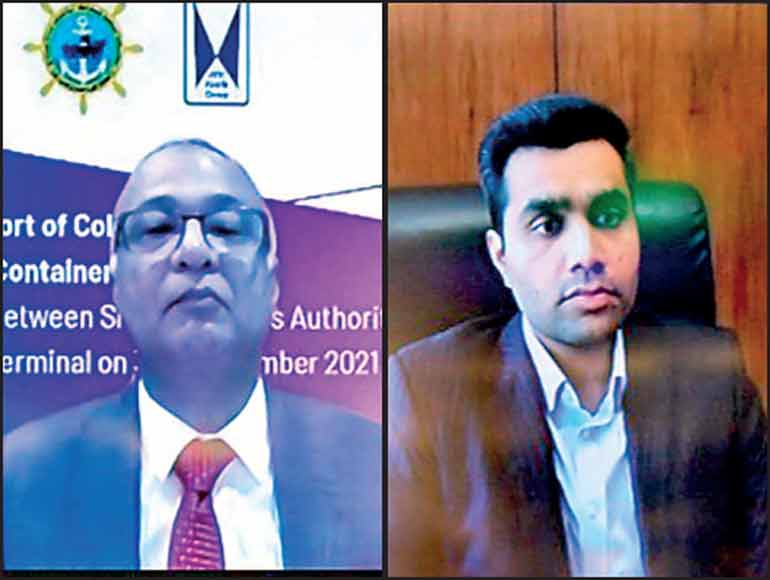 Adani Ports/SEZ President Capt. Sandeep Mehta (left) and CEO Karan Adani
---