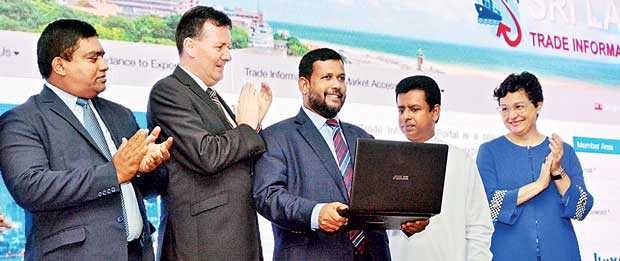 Sri Lanka Trade Information Portal was launched yesterday by Industry and Commerce Minister Rishad Bathiudeen (3rd from left). Others from left: Industry and Commerce Ministry Secretary K. D. N. Ranjit Ashoka, Australian High Commissioner Bryce Hutchesson, Ministry of Industry and Commerce Deputy Minister Buddhika Pathirana, and ITC Executive Director Arancha Gonzales - Pic by Upul Abayasekara
Sri Lanka clinches a major WTO milestone in TFA country plan
Integrates 43 SL institutions with World Bank's global TIP platform
Rishad vows SL will achieve TFA National Single Window next
SL now WTO TFA Art. 1.2 compliant, says SL DG Commerce Sonali
SLTIP a repository, packs more than 1000 pages of info, says PM Group's Chris
Completing a major milestone in its WTO Trade Facilitation Plan and kicking off one of the biggest projects in its international trade history, Sri Lanka officially unveiled its Trade Information Portal (TIP) yesterday.

"Sri Lanka Trade Information Portal (SLTIP) is prioritised for implementation in the WTO TFA plan for the country, and it is also an integral part of the trade policy and export promotion strategy at the national level. With the official launch and operation of this SLTIP today, our business community and stakeholders will be provided with a useful tool to find the information necessary to facilitate their import-export activities," said the Minister of Industry and Commerce Rishad Bathiudeen.

He was addressing the launch event of World Bank-supported and Department of Commerce-operated SLTIP on 20 July in Colombo. Joining the session were Ministry of Industry and Commerce Secretary K.D.N. Ranjith Asoka, Director General of Commerce Sonali Wijeratne, Australian High Commissioner to Sri Lanka and Maldives Bryce Hutchesson, International Trade Centre (ITC) Executive Director Arancha Gonzalez, and TIP Team Leader of PM Group Chris Lewis Jones, among others.

SLTIP is the repository of trade-related regulations and other updated information, combining 43 Sri Lankan Ministries and government agencies related to international trade, such as the Customs, DoC, Ministry of Agriculture, Finance Ministry, Central Bank, the Department of Foreign Exchange, Department of Import and Export Control, National Medicines Regulatory Authority (NMRA) and the Tea Board, etc., into one single web platform at www.srilankatradeportal.gov.lk

SLTIP has more than 1000 web pages of information and even GSP Automation. As a result, it reduces time and costs of traders in their trading activities since the need to visit 43 organisations for trade information is reduced to a click of a button on the computer. "This would facilitate our SMEs in expanding their trading opportunities at a lower cost and shorter time. My Ministry is concerned with the SMEs just as global trade. However, SMEs would find it difficult if they cannot access and know about the process and measures that they need to follow. Not only SMEs but even other potential importers, exporters and international businesses need to know what steps to follow when trading with Sri Lanka. This portal gives the needed information. Some of the trade procedures and requirements are being duplicated in many organisations. Therefore, it is time for us to evaluate the real need of many of those regulatory frameworks which do not add value to trade but affects the ease of doing business rankings, which the Government is keen to improve. Some of these could be integrated through a National Single Window, which is the next trade facilitation initiative originating from this Trade Information Portal. The Trade Information Portal is one among the many projects that have been successfully completed by the Department of Commerce, including the successful GSP plus application, removal of EU fish ban, finalisation of Anti-dumping and Countervailing Bill, and Safeguards Bill (Trade Remedy Bills), completion of the 4th Trade Policy Review in the WTO, securing a grant of EUR 8 million from the EU under the EU-SL Trade Related Assistance project, and successful reduction of the US countervailing duty on Off the Road tyres to zero. It is with great pride that I recall the enormous contribution of DoC officers towards promoting Sri Lanka's exports in international markets. I thank both the World Bank and Australian Aid for the support extended to us in this."

The World Bank Group has supported TIPs in more than a dozen countries (Vietnam was the last country to join prior to Sri Lanka's joining on 20 July) using a custom-built software platform, which is also used in Sri Lanka.

Department of Commerce DG Sonali Wijeratne, too, praised both the World Bank and Australian Aid for the SLTIP support, and said: "DoC is delighted to host SLTIP. This is the first tangible deliverable of the TFA implementation plan in Sri Lanka. With SLTIP, Sri Lanka complies with Article 1.2 of the TFA agreement of WTO. DoC has been thoroughly engaged in TIP for the last six months with PM Group. DoC undertook the TIP needs assessment as far back as 2014 with WTO technical assistance followed by World Bank support." The WTO TFA's Article 1.2 titled 'Internet Publication of Key Information' stipulates that the TFA would require all WTO Members to publish online the basic information for import, export and transit, and also their customs forms and documents. Internet publication provides timely and relevant information and avoids the delays or cost of printing paper-based publications."

TIP Team Leader of PM Group Chris Lewis Jones stressed on the vast effort made on SLTIP. "We have identified and analysed 204 Non-Tariff Measures and explained 207 related procedures. We have also identified 252 forms related to procedures and 269 legal documents, which provide details of the legislative background to the Measures. We have also added over 30 general information pages. This is a total of over 1,000 pages of information which are linked to each other to help users find what they are looking for."

Some of SLTIP's other features include: an overview of Sri Lanka's economy, business start-up processes, import and export guides, as well as information on special economic areas, export processing zones, cross-border trade and GSP automation; international, regional and bi-lateral trade agreements to which Sri Lanka is a party, including applicable rules and requirements as well as associated benefits.