Prem Watsa, Chairman and CEO of one of the largest general insurance groups in the world, expresses confidence in Sri Lanka bouncing back
Lists business-friendly environment for private sector, encouraging foreign direct investments, reforming State-owned enterprises along with privatisation and fast-tracking tourism recovery as key to early revival of Sri Lanka
Stresses to use crisis as opportunity to become stronger and smarter
Says latest $ 75 m investment in premier blue chip JKH reinforces Fairfax' optimism in SL and JKH
Fairfax investment to help JKH investment and financing obligations and significantly strengthen financial position
At present owns 13% stake in JKH, 15% in NTB and 80% in general insurer Fairfirst
Watsa held telephone conversation with new PM recently, says will look for more opportunities to invest in Sri Lanka and play a part in economic recovery and transformation
---
By Nisthar Cassim
---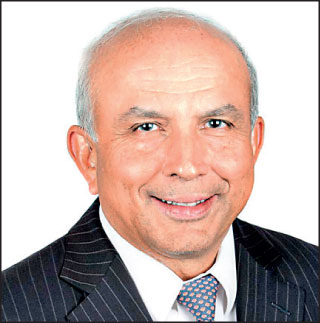 Fairfax Financial Holdings Founder, Chairman and CEO Prem Watsa
---
Toronto-based Fairfax Financial Holdings Founder, Chairman and CEO Prem Watsa yesterday expressed confidence in Sri Lanka coming out of its worst crisis sooner than later provided the country does the right things.

"Sri Lanka is a country with great potential though at present going through tough times. I am confident Sri Lanka will make a strong comeback given its resilience and on the strength of on-going efforts including with the IMF to bring stability," Watsa told the Daily FT.

He said that creating a business-friendly environment for the private sector, encouraging foreign direct investments, reforming State-owned enterprises along with privatisation and fast-tracking tourism revival are among the right things that Sri Lanka must focus on.

Fairfax's optimism was manifested on Tuesday when it announced the agreement on a $ 75 million investment by way of a private placement of rupee denominated unlisted convertible debentures in top Lankan blue chip John Keells Holdings (JKH). At present Fairfax Group owns a 13% stake in JKH having invested around $ 120 million.
Watsa said Fairfax remains a long-term investor in Sri Lanka due to its high potential and the latest investment reflects its own confidence. "Sri Lanka will bounce back," he emphasised. Fairfax Group also owns 15% in JKH Group entity Nations Trust Bank and 80% stake in general insurer Fairfirst.

Globally, Fairfax is one of the largest general insurance groups in the world specialising in insurance, reinsurance, and investment management with operations in over 100 countries. Fairfax also has stakes in many Fortune 500 companies in its investment portfolio.

The Fairfax founder, who had a telephone conversation with the new Prime Minister Ranil Wickremesinghe recently, said that whenever a country goes through a crisis history is replete with examples of how they have bounced back. He cited India's case in the 1990s and Ireland and Greece in the recent past.

"In Chinese language both crisis and opportunity have the same characters, hence Sri Lanka can and should use the crisis as the best opportunity to become smarter, resilient and stronger," he said adding, Fairfax will look for more opportunities to invest in Sri Lanka and play a part in its economic recovery and transformation.

Describing himself as an ardent fan of Sri Lanka as well as JKH, Watsa said: "The latest investment commitment reflects Fairfax' highest confidence in the JKH management, the transparent governance practices of the Group and the growth prospects of the businesses."

The transaction announced on Tuesday amounts to a value of Rs. 27.06 billion. The debentures will be issued at a price of Rs. 130 each, resulting in the issue of 208,125,000 debentures to Fairfax with a maturity period of three years.

The debentures will accrue interest at a nominal interest rate of 3% per annum. Fairfax can convert each debenture to one new ordinary share of JKH after 18 months from the date of issue until maturity. The maximum post-conversion dilution as a result of the issue amounts to 13.06% if all debentures are converted into new ordinary shares of JKH.

Yesterday JKH share price gained by Rs. 3.25 or nearly 3% to close at Rs. 125.

The investment by Fairfax is viewed as a major breakthrough for Sri Lanka as well as JKH as the country grapples with plummeting foreign reserves and severe dollar shortage. In that context JKH said the inflow of foreign exchange through this transaction will augment Sri Lanka's foreign currency liquidity position and boost investor confidence in the country, particularly given the profile of the investor.

JKH said the proceeds from the issue will be used to support the company's investment and financing obligations, particularly in terms of managing the foreign currency linked funding requirements in investments such the West Container Terminal in the Port of Colombo and will significantly strengthen the financial position of the Group during these volatile times.

It also said the recent steep depreciation of the rupee together with the significant increase in LKR interest rates has resulted in an increase of the funding commitments of the Group. The transaction will enable the Group to support this investment pipeline and match its foreign currency linked project costs whilst reducing the need to fund some of its requirements through the local banking sector given the stresses on capital and interest rates.

The steep depreciation of the Rupee saw JKH gross debt rising significantly, particularly given the exposure of the $ 175 million long-term loan facility at the Holding Company and the $ 225 million long-term loan facility and a six-month bridging facility of $ 100 million at Waterfront Properties Ltd.

Late last year JKH Board resolved to raise funds through a private placement of ordinary shares, in two phases, for a maximum cumulative amount of the rupee equivalent of $ 80 million to Asian Development Bank (ADB).

In January 2022, Phase 1 of this transaction was completed for a consideration of the LKR equivalent of $ 50 million. The proceeds from the transaction will be utilised by JKH for the purpose of balance sheet strength and agility to support its investments in an optimal manner.

JKH in FY22 witnessed a strong recovery momentum with the recurring performance of most of its businesses reaching pre-COVID-19 levels. Group revenue increased by 71% to Rs. 218.07 billion while recurring Group EBITDA increased by 152% to Rs. 39.26 billion.