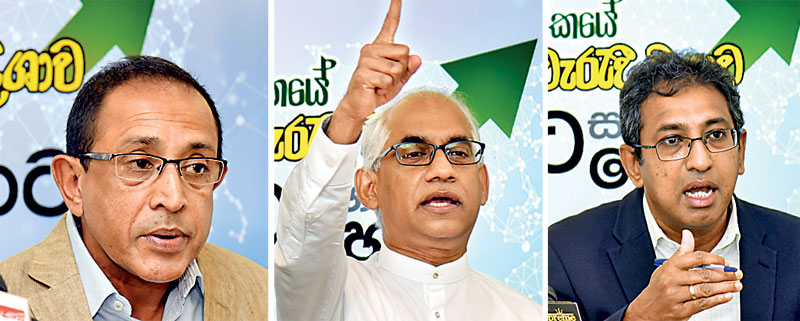 Trio of SJB economics experts MPs Kabir Hashim, Eran Wickramaratne and Dr. Harsha de Silva at the media briefing yesterday at the Opposition Leader's Office – Pix by Ruwan Walpola
---
SJB economics and financial maestros Kabeer, Harsha and Eran, with collective knowledge of over 100 years, reveal where Govt. slipped to avert an unprecedented economic crisis
Opines $ 12 b spent in debt servicing in 2 years benefitting foreigners, in fact deprived poor farmers of fertiliser and livelihood, and people of essential goods at affordable prices
Insists debt restructuring or rescheduling 2 years ago could have averted current forex and economic morass
Govt.'s paralysis forced pawning SL's sovereignty via bilateral deals and sale of State assets
Alleges Govt. and CBSL are only making migrant workers paupers with twin exchange rates; claims Govt. at fault and should not victimise hard-earned savings of workers
Flags off ban of fertiliser imports, excessive money printing and loss of confidence of global investor confidence and credibility with successive downgrading as key causes for the crisis
Call upon independent and career central bankers to stand up and do what is right to ensure financial system and price stability, safeguarding national interest than of political appointees
Says a SJB Govt. will reschedule debt with lenders from a position of strength; ensure realistic exchange rate and quick relief to people
---
By Nisthar Cassim
---
The main Opposition SJB's vocal experts on the economy yesterday exposed the key causes for what they described as an unprecedented socio-economic crisis in the country reinforcing the failure on the part of the Government.

Samagi Jana Balawegaya MPs Kabir Hashim, Dr. Harsha de Silva and Eran Wickramaratne, who form the nucleus of the party's Centre for Economic Policy, in a joint briefing to the media listed several policy fiascos of the Government and its failure to heed warnings fired as way back as 2020 by the Opposition.

Commanding a collective qualified economics and finance knowledge and expertise of over 100 years, the trio also suggested what the Government could have done to avoid the current crisis engulfing the country. They also came up with SJB's strategies to save the country from a further morass. They stressed that their views and recommendations are made in the national interest and as a responsible Opposition.

Hashim, blamed the banning of fertiliser imports, more on account of lack of reserves than love for organic farming, as the root cause of the food crisis and warned vegetable prices will continue to skyrocket in the upcoming months. He also faulted excessive money printing by the Government, akin to living beyond its means, as the key reason for rising inflation. Thirdly he said by mismanaging the economy via wrong policies and initiatives, Sri Lanka lost international confidence and credibility with successive downgrading of Sovereign ratings. He recalled that it was during Mahinda Rajapaksa's presidency that international rating agencies such as Fitch and Standard's & Poor set up offices in Sri Lanka, and the issuance of the first International Sovereign Bond of $ 500 million in 2007. However, Kabir regretted that the very leadership and their supporters were faulting these agencies today with various accusations, when ratings were downgraded for credible reasons. "When you have no choice but to go for bilateral and unsolicited funding arrangements and other deals, the Government pawns Sri Lanka's sovereignty," he claimed.

Hashim also said that since independence the country had withstood multiple crises, including economic shocks, but never was there a dire situation like today, where Sri Lanka is faced with the risk of insolvency, debt default and unprecedented shortage of dollar liquidity or availability. "All these have a domino effect on the entire economy and the people plummeting further into the abyss," Hashim opined. "The root of the current crisis is beyond COVID, as the President Gotabaya Rajapaksa regime soon after assuming office took several wrong decisions long before the pandemic struck the country," he said, referring to sharp reduction in VAT and income taxes among others. Hashim also argued that what followed was a government spending more than what it was earning, and a country consuming more than what it was producing.

He also said repaying debt somehow versus a more credible and sustainable way via boosting non-debt reserves were two different things and that Sri Lanka did not need a government to do piecemeal efforts. "This is cheap politics," he added.

MP Eran Wickramaratne pointed out that agencies rate, not only Sri Lanka but all other countries, on a well-defined criterion. He likened the Government's refusal to admit reasons for the rating downgrades by three independent agencies – S&P, Fitch and Moody's – to a cricketer insisting to bat on even after the third umpire has ruled him out. "What stupidity is that?" he queried.

Wickramaratne also came hard on the Central Bank's strong-arm tactics to prevent migrant workers from benefiting from the true value of the rupee, by setting unrealistic artificial maximum rates on the US Dollar. "The Government is insisting that hard earned money remitted by migrant workers to their poor families should only get Rs. 200 for the US Dollar, whereas in the black market it fetches Rs. 250. If one remits $ 100, the disparity is Rs. 5,000. Who is at fault, the Government or the migrant workers?" queried Wickramaratne, alleging that the CBSL and Rajapaksa regime have only made migrant workers paupers.

He said a future Government of SJB would ensure a fair and realistic exchange rate.

The SJB MP also faulted the Government for giving priority to use reserves to repay $ 12 billion debt owned by foreigners (in 2020 and 2021) and avert a loss for them, whilst depriving poor farmers of their fertiliser to secure their livelihood. Likewise, people are deprived of an opportunity to buy essential commodities, LPG, cement and fuel at affordable prices.

Wickramaratne was emphatic when he said, that with the onset of the pandemic in March 2020, the Government sensing the debt service challenge should have immediately spoken to lenders and gone for a debt restructuring or rescheduling. "However, its failure has only pushed Sri Lanka and the people up against the wall with no other recourse but to go for highly questionable and unfavourable deals such as with US New Fortress Energy for Yugadanavi, handover of oil tank farms to Indian Oil Company and submit to plethora of conditions for swap facilities from India and China," he claimed.

Wickramaratne assured that a future Government by the SJB would ensure Sri Lanka would renegotiate and restructure debt from a position of strength than weakness, whilst at present the Government by refusing to approach the IMF, is in a far worse situation.

The former banker also said that part of the problem was the politicisation of the Central Bank with its staff losing independence. Wickramaratne said that CBSL has a duty by the people and by its Act of Parliament to ensure financial system stability and price stability. Compromising these two core objectives could threaten the stability of a host of important financial institutions, he said, and then called upon independent and career central bankers to stand up and do what is right safeguarding national interest rather than political appointees.

Dr. Harsha de Silva promised a dynamism of market economy with effective regulation ensuring social justice from the Government of the SJB. He also blasted the Government for looking to send more Lankans for overseas jobs, whereas he said it could have retained them home earning the same dollar in a dignified manner. These and export boosting measures would have ensured a reserves mountain as opposed to a debt hill. He highlighted successful measures by countries such as Bangladesh and Vietnam who have boosted their reserves via exports by drawing foreign direct investments. He also said a SJB Government would not end subsidies but make it more efficient and targeted using successful models implemented by India.

Dr. de Silva said only a SJB government could restore international investor and donor confidence.