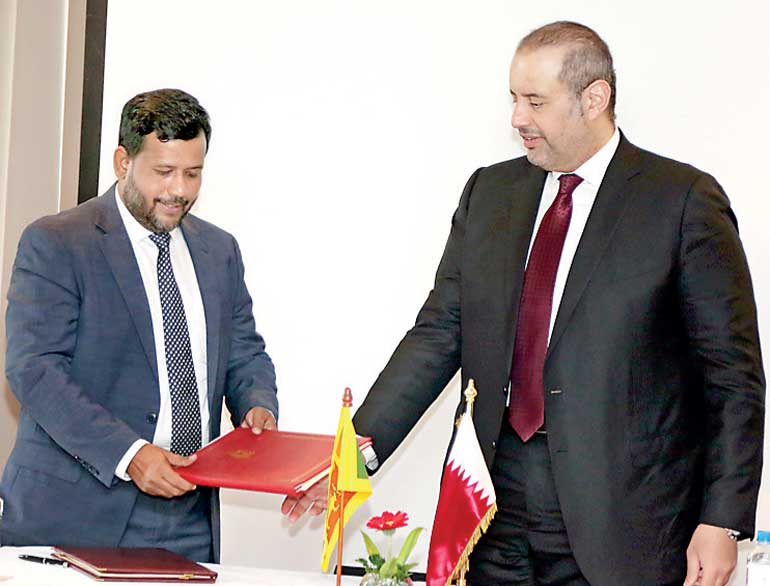 Second Qatar-SL trade talks wrap up in Colombo
Both Qatar and Sri Lanka refocused on breaking their present low trade threshold yesterday and looked to move towards crucial trade engagement in agriculture, power and investment.

Industry and Commerce Minister Rishad Bathiudeen led the Sri Lankan side participating in the second Qatar-Sri Lanka Joint Committee for Economic, Commercial and Technical Cooperation. The Qatari delegation was led by Qatari Minister of Economy and Commerce Sheikh Ahmad Bin Jassim Bin Mohammed Al Thani. Both ministers also signed on the agreed minutes of the in-depth two-day discussions in Colombo.

"Following the conclusion of last week's high-level bilateral meetings in Doha, the time has come for us to have a fresh look at our trade relations and to widen it. The discussions have had positive outcomes in a number of mutual areas of cooperation including power and energy, aviation, hospitality industry, and agriculture. Especially discussions on using Qatari LNG gas for cleaner energy in Sri Lanka are a new aspect at this session. I am sure that the two-day discussions in Colombo will help enhance our bilateral trade, which is only $ 45 million at present," Bathiudeen said.

Qatari Commerce Minister Jassim Al Thani, addressing the closing session, said that through this joint trade mechanism, Qatar looks forward to enhancing bilateral trade.

Qatar...

"The volume of trade exchange between the two countries reached Qatari Riyal 223 million in 2016. In addition, there are 210 Lankan companies established in partnership with the Qatari side with a capital of Qatari Riyal 45.5 million. Also the agreement and MoU signed between the two countries played an important role in strengthening our economic relations. Therefore Qatar considers Sri Lanka an important investment and trade partner in light of the economic potential which will lead us to put a number of vital sectors on the map of joint cooperation in the next phase, notably the agricultural sector," he said.

"We also look forward to further activating relations between the private sector and businessmen from both sides and enabling them to play a bigger role. Qatar, through the Port of Hamad, has succeeded in developing direct commercial lines with a number of strategic ports and shipping services provided by the national carrier to more than 150 destinations around the world."

According to the Department of Commerce of Sri Lanka, two-way trade between Sri Lanka and Qatar averaged around $ 45 million in 2016. While Sri Lanka's exports to Qatar were worth $ 15 million, Qatar's exports to Sri Lanka remained at $ 30 million. As much as 37% of Sri Lanka's exports to Qatar were bananas followed by food preparations, tea, tires and vegetables. Meanwhile, Sri Lanka's imports from Qatar have primarily been polymers of ethylene.

The Department of Commerce has noted that the limited export baskets of the two countries have been a major barrier to trade development between both countries.