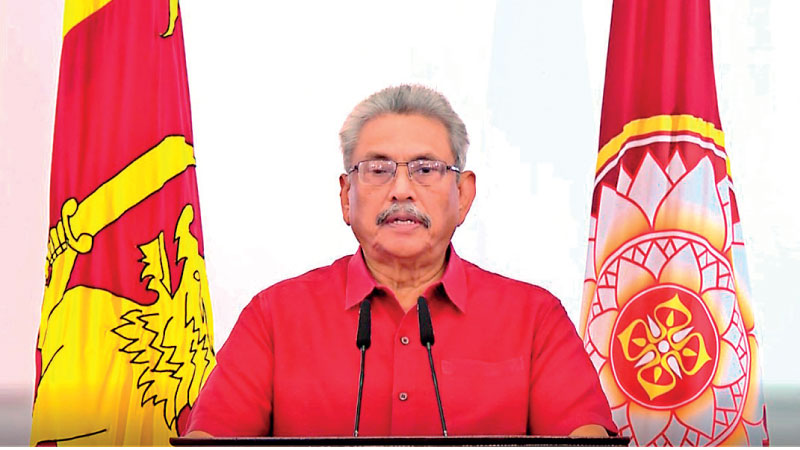 President Gotabaya Rajapaksa ( I am taking steps to prevent country from falling into anarchy. Full text of President's address - I am taking steps to prevent country from falling into anarchy: President)
---
Says PM will be someone who commands majority in Parliament and can secure confidence of people
Assures to re-enact 19A and initiate talks to abolish Executive Presidency
Says new Govt. can initiate its own program to stabilise country
Condemns unfortunate incidents of 9 May
Says his primary responsibility to ensure safety of all citizens
Requests assistance in maintaining State machinery uninterrupted to protect lives and property and provide essentials
Calls on people to be restrained and act prudently
---
President Gotabaya Rajapaksa last night announced that he will appoint a new Prime Minister and Cabinet of Ministers this week and take steps to reintroduce the 19th Amendment to the Constitution.

He did not say who would be picked to replace Mahinda Rajapaksa as Prime Minister but said it would be someone who commands the majority in Parliament and can secure the confidence of the people.

"I am taking steps to form a new Government to control the current situation, to prevent the country from falling into anarchy and to maintain the affairs of the Government that have been halted," the beleaguered President said in a televised address to the nation.

He said the new Prime Minister and Government will be given the opportunity to present a new program to take the country forward and promised to initiate discussions to abolish the Executive Presidency after the Government stabilises the country.

The President said he has had discussions with different political parties and groups on how to get the country out of the present economic crisis and accepted that some difficult and tough decisions have to be made.

The President also referred to the attacks on peaceful protests on 9 May, calling it a very unfortunate situation which subsequently led to violence across the country.
"At this juncture, the primary responsibility of the Government is to ensure the safety of all citizens. Therefore, the three Armed Forces and the Police have been ordered to strictly enforce the law against the rioters. Steps will be taken to strictly enforce the law against all those who planned, supported, and promoted this incident. Therefore, I urge everyone to refrain from such acts of sabotage," he said.

He also requested assistance in maintaining the State machinery uninterrupted to protect the lives of the people as well as their property and to provide the essentials to the people without allowing the country to collapse at this critical juncture and used all Sri Lankans to act with restraint and prudently.