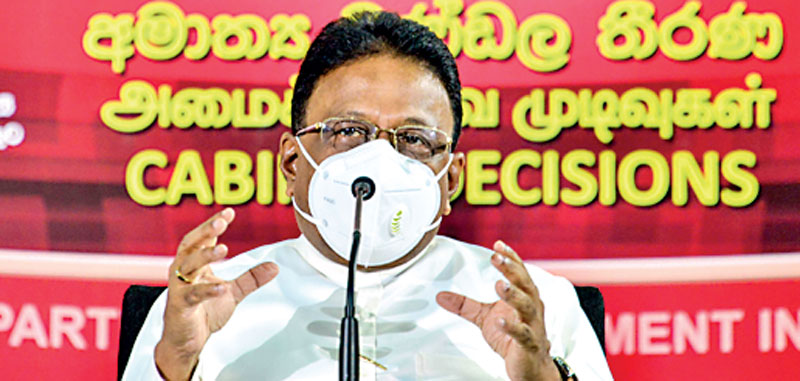 Cabinet Co-Spokesman and Mass Media Minister Dullas Alahapperuma
---
Presidential Secretariat Legal Affairs Director General Attorney-at-Law Harigupta Rohanadeera writes to Commission to Investigate Allegations of Bribery or Corruption, communicating Presidential order to launch immediate probe
Cites media reports on Sri Lankan citizen or citizens maintaining large cash deposits
Cabinet Co-Spokesman Media Minister Dullas Alahapperuma claims nobody from Govt. is named
Cabinet Co-Spokesman Plantations Minister Dr. Pathirana says timeline of alleged financial transactions will be looked into
---
By Charumini de Silva
---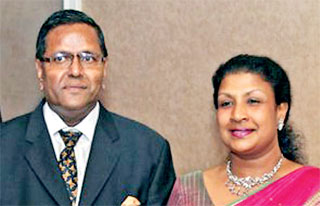 Former Deputy Minister Nirupama Rajapaksa and her husband Thiru Nadesan have been exposed in Pandora Papers
---
President Gotabaya Rajapaksa has ordered the Bribery Commission to probe into Sri Lankans named in the Pandora Papers, which exposed financial fraud globally.

"The President issued directives to the Bribery Commission Director General to submit a comprehensive report on the matter within a month," Cabinet Co-Spokesman and Mass Media Minister Dullas Alahapperuma said at the post-Cabinet meeting media briefing yesterday.

Separately, a statement from the President's Media Office said Presidential Secretariat Director General of Legal Affairs Attorney-at-Law Harigupta Rohanadeera had informed the Director General of the Commission to Investigate Allegations of Bribery or Corruption in this regard, in writing as per the order of the President. The statement cited media reports stating that, according to the Pandora Papers, "information has come to light of a Sri Lankan citizen or citizens in relation to maintaining large cash deposits".

President's move follows rumpus in Parliament on Tuesday when Opposition benches demanded immediate probe.

Former Deputy Minister Nirupama Rajapaksa's name along with her husband Thirukumar Nadesan was mentioned in the Pandora Papers and the revelations have stirred much controversy since then.

The documents revealed that the duo are the actual economic beneficiaries of an offshore company managed by a Singapore trust firm and used ill-gotten funds to purchase luxury residences in London and Sydney, Australia. Their unaccounted wealth was put at $ 161 million as per the Pandora Papers.

Their names and dealings were among 12 million documents and files exposed in the Pandora Papers detailing secret offshore affairs of 35 world leaders, including current and former presidents, prime ministers and heads of state. The expose follows an investigation led by the International Consortium of Investigative Journalists (ICIJ) involving 600 journalists from 150 media outlets in 117 countries.

"It should be noted that nobody from the Government is named in these papers," Alahapperuma said, adding that two Cabinet Ministers of Pakistan were prominent in the leaks.

Nirupama is a relative of the President and Prime Minister and was a Member of Parliament and served as the Water Supply and Drainage Deputy Minister from 2010 to 2015.

Alahapperuma also cited that such revelations had come into the limelight from time to time which included Offshore Leaks in 2013, Panama Papers in 2016 and Paradise Papers in 2017.

When asked if the duo could bring the undeclared money through the Finance Act (latest tax amnesty), Cabinet Co-Spokesman and Plantation Industries Minister Dr. Ramesh Pathirana said he was unable to confirm if it could be accepted.

"Now that this has come to the limelight, we have to check and see if it is available through the special Finance Act. I cannot say offhand whether it can be accepted or not," he said.

Under the new Act, upon payment of 1% Tax on Voluntary Disclosure such repatriation of funds will be free from investigation or prosecution.

In terms of the investigation process, Dr. Pathirana said the timeline when the alleged financial transactions took place would also be looked into, noting that it was the main allegation levelled by the Opposition.