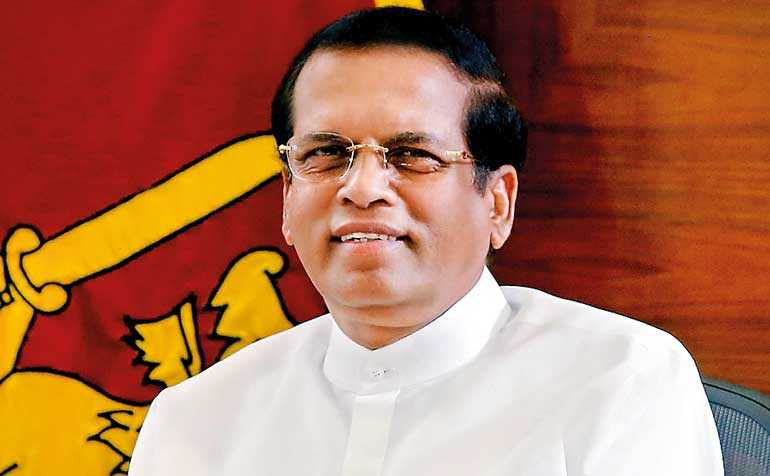 President Maithripala Sirisena
---
Industry leaders hold 2-hour-long discussion
A Cabinet Sub-Committee to be appointed today to look into tourism industry
President directs moratoriums on capital and interest payments for loans granted to hotels
Hotels to get concessionary working capital loans to pay staff salaries
JWT to be awarded global publicity campaign to rebuild image of Sri Lanka
Tourism industry to meet with Prime Minister today
By Charumini de Silva

President Maithripala Sirisena yesterday assured the tourism industry immediate relief for a quicker revival post the Easter Sunday terrorist attacks.

This assurance was given at a high-level meeting held with the hoteliers, tourism and travel companies and other industry stakeholders along with Tourism Development Minister John Amaratunga, Transport and Civil Aviation Minister Arjuna Ranatunga, State Finance Minister Eran Wickramaratne, Development Strategies and International Trade Minister Malik Samarawickrama, Ministry Secretaries and Central Bank Governor Dr. Indrajit Coomaraswamy at the Presidential Secretariat yesterday.

The meeting which took place for nearly two hours yesterday saw key outcomes including the appointment of a Cabinet Sub-Committee to look into the early recovery of the tourism industry, concessionary loans for hotels to meet working capital, stepped up security, lifting of travel advisories, improving facilities at the Bandaranaike International Airport (BIA), and fast-track appointment of a PR company to build Sri Lanka's image in the international arena.
Representatives of the Tourist Hotels Association of Sri Lanka (THASL) and Sri Lanka Association of Inbound Tour Operators (SLAITO) also highlighted key concerns of the industry.

"We requested the Government for financial relief for hotels and an immediate image building PR campaign to be conducted more effectively. President Sirisena was very accommodative towards all our proposals," THASL President Sanath Ukwatte told the Daily FT.

He said that President also gave an assurance to appoint a Cabinet Sub-Committee at today's Cabinet meeting that will look into the tourism industry and award the publicity campaign to J. Walter Thompson (JWT) to carry out a global publicity campaign to rebuild the image of Sri Lanka.

Accordingly, JWT submitted a proposal to the Sri Lanka Tourism Promotion Bureau (SLTPB) and it was approved by SLTPB Board members last week. JWT was responsible for developing Sri Lanka's latest tourism brand and tagline 'So Sri Lanka,' which was launched at World Travel Mart in London last year.

Ukwatte also noted that President directed the Central Bank Governor to expedite the financial relief for hotel industry.

"The President directed moratoriums on capital and interest payments for loans granted to hotels. In addition directions were also given to provide soft loans at reduced interest rates to meeting working capital for the hoteliers in this dark period. Most of these soft loans will be used to maintain the livelihood of our hotel employees," he added.

Pointing out that the Government provided tourism industry concessionary loans at 2% when the LTTE attacked BIA, he hoped that they would get a similar grant this time around as this was the first time ever that the terrorist attacked hotels, killing over 40 foreigners.

THASL had also flagged concerns on cancellations, which Ukwatte said right now was quite heavy.

"Our business is at the lowest end. We need to get back the tourists and therefore we urged the Government to expedite the implementation of the global publicity campaign to rebuild the image of Sri Lanka in one voice," he stressed.

Sri Lanka Tourism Development Authority (SLTDA) Chairman Kishu Gomes, who is currently participating in Arabian Travel Mart in Dubai, had told foreign media that they expected a 50% drop in arrivals to Colombo following the Easter Sunday terror attacks, while expecting a 30% dip in arrivals outside Colombo.

SLAITO President Harith Perera insisted it was critical to streamline facilities at the BIA, something that the industry had been pushing for a long time that authorities had ignored.

In terms of monetary support assured by the Government, he said the Central Bank and industry had to work on the terms of those facilities.

"We also requested the Government to talk to the foreign envoys in Sri Lanka to lift the travel advisories, which is hampering our industry," Perera said.

The President in response to concerns raised by the industry stakeholders had agreed to provide monetary and other necessary assistance to revive this crucial sector immediately. Further he had also assured to provide any additional security required for the hotels to step up all security measures at hotels.

Finance Minister Mangala Samaraweera on Friday said tourist arrivals were likely to decline by 30% in 2019 with a foreign exchange earning loss of $ 1.5 billion. However he said the country and the industry would bounce back with ongoing new measures implemented by the Government.
The Tourism industry is to meet with Prime Minister Ranil Wickremesinghe today at 4 p.m.