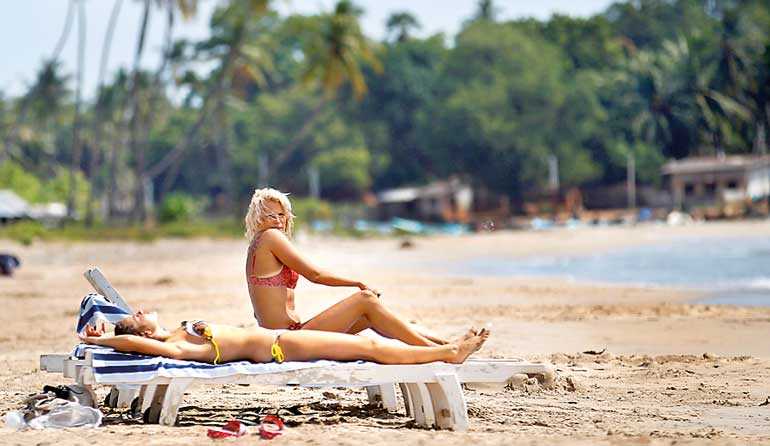 Tourists sunbathe on a beach in Trincomalee
---
Exercise likely to go for proper re-tender after AG's Department raises queries on original award;

Stalemate to come up at crucial meeting with PM this week for resolution


By Charumini de Silva

The crucial yet short-term global public relations and marketing campaign to revive Sri Lanka's image and tourism post Easter Sunday attacks could go for a fresh and proper tender process, according to analysts, though the industry is racing against time.

The original PR and global marketing exercise (emergency recovery promotional campaign) with nearly Rs. 1 billion spend, was awarded to JWT as an extended business to the broader 'So Sri Lanka' campaign. However, the agency itself had wanted due formalisation of the contract though Cabinet had previously approved it. Industry sources said that when the draft agreement was referred to the Attorney General's Department, it had opined that proper procedure hadn't been followed.

With certain sections of the advertising industry complaining of lack of transparency in the award to JWT, the Board of Sri Lanka Tourism Promotion, at its last meeting, is said to have recommended a re-tender or a proper competitive bidding.
Analysts said a fresh process, including a proper and transparent tender and the appointment of a Cabinet-appointed procurement committee,would take a longer time, hence a rollout of the short-term two-month PR and six-month global marketing campaign during the winter season of 2019 would be of no use.

"Ideally, we should have gone to the market within a few months of the Easter Sunday attacks. Such a move is critical, especially when it comes to PR. Rolling out both initiatives in a few months' time will be ineffective," they opined. Others said given the urgency, there is provision within procurement rules to fast track provided the process is transparent.

Tourism Minister John Amaratunga last week stressed that the Government will expedite the rollout with relevant approvals. Last week's Cabinet did discuss the matter but decided not to take a decision until AG's Department gives clearance.The stalemate is expected to be discussed with Prime Minister Ranil Wickremesinghe this week along with officials of the AG's Department.

Tourist arrivals plunged by 50% and 70% soon after the 21 April Easter Sunday terror attacks on three churches and an equal number of five-star hotels, killing 250 people, including 50 foreigners.

On Friday (2 August), the Sri Lanka Tourism Development Authority (SLTDA) said that there were 115,701 tourist arrivals in July, up 83% as against 63,072 in June, but 47% lower in comparison to 217,829 in July last year. In May, arrivals were as low as 37,802.

SLTDA Director General Upali Ratnayake said: "There is a gradual growth in the number of tourist arrivals since the Easter Sunday attacks."

"The market has significantly shown progress over the past few weeks, and we are happy to notice that the occupancy rates are increasing in hotels across Sri Lanka. Further, we are hopeful that the industry will have a satisfactory season from October onwards," Ratnayake added.

Last year, Sri Lanka welcomed 2.33 million tourists and earned $ 4.4 billion in foreign exchange.