Candidates wind up campaigning
GR pledges to implement entire manifesto in one term
Says he is best person to deliver on national security, economic growth
SP pledges to categorise tourism as export industry within 48 hours if elected
Insists will provide better welfare, limit perks of officials including president
AKD insists he is cleanest candidate in fray, committed to democracy
Backs social protections, inclusive development
MS promises to roll back immunity for President, PM and Cabinet
Unsolicited proposals to be scrapped, MCC to be reviewed


By the News Desk

Clean governance, boosting economic growth, and ensuring national security were at the forefront of key messages delivered by the main presidential contenders yesterday, as they wound up their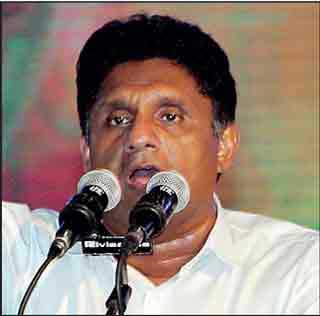 New Democratic Front (NDF) presidential candidate Sajith Premadasa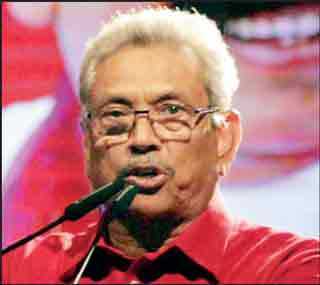 Sri Lanka Podujana Peramuna (SLPP) presidential candidate Gotabaya Rajapaksa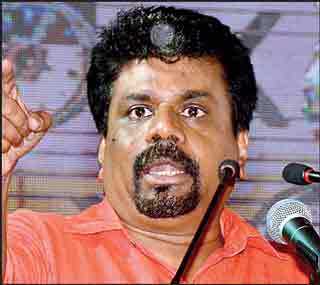 National People's Power (NPP) presidential candidate Anura Kumara Dissanayake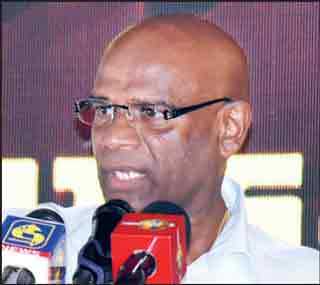 National People's Movement (NPM) presidential candidate Mahesh Senanayake
campaigns and sought to set their credentials in the minds of voters as being the best option to be the next president of Sri Lanka, ahead of the vote on Saturday.

Sri Lanka Podujana Peramuna (SLPP) presidential candidate Gotabaya Rajapaksa, New Democratic Front (NDF) presidential candidate Sajith Premadasa, National People's Power (NPP) presidential candidate Anura Kumara Dissanayake, and National People's Movement (NPM) presidential candidate Mahesh Senanayake gave a synopsis of their key policies and targets to their supporters as campaigning came to a close on Wednesday.

Pix by Pradeep Dilrukshana, Ruwan Walpola, Chamila Karunaratne and Upul Abayasekera

Rajapaksa, who addressed his final rally in Homagama, paid attention to burnishing his credentials when he was former Defence Secretary, and insisted that his track record for competence and dedication spoke for itself.

"I pledge to complete everything in my manifesto during my term as President. We are people who have taken up challenges and delivered. Please carry out your duty and I will ensure that I do my duty," he told cheering supporters.

Rajapaksa invited all citizens to join in the challenge of rebuilding the country. Recalling his manifesto, he stressed that the priority of his presidency, if he is elected, would be to protect national security. "We ended the war and ensured that there would be no return of terror, but this government rolled that back, supported by various organisations that did not have the best interests of our nation at heart. Priority was not given to national security. They signed agreements to discredit our war heroes, they started making unfounded accusations against our top military officials. That is why when they apprised the government on the dangers to national security, they were told that they were creating war-like sentiments and told to keep quiet. But we will reinforce national security and ensure that you are all protected. I will personally take on the responsibility of protecting your children."

Rajapaksa also stressed that he would ensure clean governance. According to the presidential hopeful, plans already published to turn around the economy will be implemented speedily. Agriculture, fisheries, and other industries were suffering because the government did not pay any attention to their issues, he claimed. He also contended that the tea industry is facing major issues, from the plantation worker to the largest company, and these problems will be given solutions by him. Tea prices needed to be resorted, he argued, and pledged to work on these problems. Local businesses will be protected and taxes will be simplified with VAT being reduced to just 8% from the current 15%, he reiterated.

"Tourism is also struggling, this is largely because there is little security. Today there is a growing middle class in India and China, these are the people who are travelling the most. Sri Lanka needs to have more promotional activities, we have to increase immigration and emigration facilities so it is easier for people to travel to Sri Lanka. We will aim to increase arrivals to 7 million per annum. Technology is driving economies in East Asian countries. We will use technology to create new jobs and provide employment that meets the aspirations of youth. The IT industry can provide high salaries but for that we also have to improve the education system. We will take steps to reform the education sector and give every student who has passed the A/Ls to enter university," he said.

New Democratic Front (NDF) presidential candidate Sajith Premadasa, addressing his rally, concentrated on social safety nets to be provided if he is elected, support for local businesses, and strengthening national security.

"For the first time in Sri Lanka's history, within 48 hours of winning the election on 16 November, I will categorise the tourism industry as an export industry, and make available to it all relief provided to the export sector," he said.

"We will provide citizens with relief packages. We will combine the Samurdhi Program and Janasaviya and within a short time alleviate poverty."

"For decades, no one had a proper understanding of poverty. I have this understanding. According to the Statistics and Census Department, for a family of four, the monthly income should be between Rs. 50,000 and Rs. 55,000. This was said over a year ago … in my view, all families that don't meet this requirement can be considered to be poor. In my presidency, I will increase the quality of life of such families. I will provide two sets of school uniforms, shoes, and lunch to 4.4 million school children. Pre-school education will be free of charge and assistant teachers will receive a better pay."

Premadasa also strove to concentrate on his pro-poor policies, insisting that perks for Ministers and other top officials of his Government would be minimised. He also stressed that he would live with and among the common man, and ensure his security at the same standard as usually given to dignitaries. Premadasa was also insistent that he would not afford himself security details and bulletproof vehicles as previous presidents have done, and would work to ensure to collective security of all citizens, rather than just the Head of State.

"I will assure the people that starting from the President, we will no longer purchase duty-free vehicles. We won't bring down luxury vehicles for Ministries with every change of Government. We won't waste taxpayers' money on renovating the offices and official residences of the President, Prime Minister, and Ministers.

"For decades, Parliament has presented a budget to bring down a bulletproof vehicle for the President. I will not use this vehicle, and will instead travel in my personal vehicle. I will not bring down bulletproof vehicles, because I have confidence in myself."

National People's Power (NPP) presidential aspirant Anura Kumara Dissanayake, speaking in Maharagama pledged, if elected, to uphold democratic rights and create a country free from corruption and extremism, declaring himself as the cleanest candidate.

Addressing his final rally in Maharagama, Dissanayake said the country needs a new vision that is capable of leading the nation towards a prosperous future. He reiterated that only a group that was not accused of corruption would be able to take the lead to develop the country.

"We pledge to create a country that everyone can live peacefully. At this time there are three camps. The United National Party (UNP) camp, Rajapaksa camp and NPP camp. But if you consider all three, we are the only camp that is capable of developing the country. We are the only camp that is free from corruption," he stressed.

He said the NPP would introduce a new vision to address long-lasting economic challenges such as the debt burden and slow economic growth, with approaches that will include youth actively participating in the country's economic activities.

He noted the NPP policies would encourage youth to involve themselves in economic activities, and will provide safe passage for start-ups, which will attract younger generation towards entrepreneurship. He noted NPP policies would provide assurance to the country that the economy will remain steady and less risky for investment.

National People's Movement (NPM) presidential candidate General (Rtd.) Mahesh Senanayake pledged to remove the legal immunity that prevents the President, Prime Minister, and Cabinet Ministers from being held accountable for any actions that could lead to corruption, if elected this weekend.

The former Army Commander made the comments yesterday at the NPM's final rally, held at the New Town Hall in Colombo. Addressing followers, he stressed the need to hold every Sri Lankan accountable under one law. "Everyone from the President down to the average citizen will be held accountable under one law," he said, pointing out that 16 November was not the end of their efforts but the beginning of a movement towards change.

The acceptance of unsolicited tenders will be stopped, and if any Cabinet-appointed tender committee is proven to be complicit in corruption, legal action will be taken, NPM founder and former Auditor General Gamini Wijesinghe told supporters. He argued that the current Government came to power claiming to do away with these controversial practices, but ended up using them in-spite of warnings to the contrary. All foreign agreements, including the Millennium Challenge Corporation (MCC) pact, will be reviewed.

Stressing the need to maintain judicial independence, Senanayake claimed if elected he will seek to empower and equip the Judiciary and will not allow anyone to interfere. The country will be put on a track towards a secure and prosperous nation only if the law can only be applied equally to all citizens, he emphasised.