Salgado's evidence under microscope
PC Indratissa argues all transactions were reflected in RTGS
Says code name 'Car' was in fact a vehicle
Stresses Salgado's document does not prove payments made were
gratifications to third parties
Salgado agrees, but reiterates his reasons for testimonyBy Himal Kotelawala


Counsel for Perpetual Treasuries (Pvt) Ltd (PTL) yesterday challenged the evidence given by Chief Dealer Nuwan Salgado before the Presidential Commission of Inquiry on the controversial bond issuance that three individuals code-named Charlie, Car and Tango had received payments from the company in exchange for price sensitive information.

President's Counsel Kalinga Indratissa, appearing on behalf of PTL, suggested to the witness that he had given false evidence to the Commission, noting that the 'Car' referred to in his testimony was not a third party but, rather, a vehicle purchased on 21 August 2014.

Indratissa pointed to a request for funds for the purchase of a Toyota Cruiser FJ7 SUV valued at Rs. 11 million - a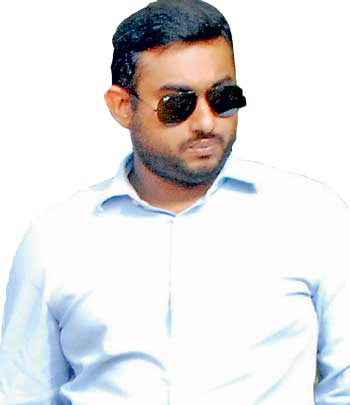 transaction, it was revealed, reflected in the Real Time Gross Settlement (RTGS) of the Central Bank. Asked if this coincided with the Rs. 11 million mentioned under the name Car in his document, Salgado answered in the affirmative.

"Car is not a person that received gratification," said the senior lawyer.

Salgado, responding to questions raised by Commissioner Justice Prasanna Jayawardena, said the term Car had been given to him by PTL CEO Kasun Palisena, under whose instructions he claimed to have maintained the document in question.

Having shown the witness documents pertaining to 10 entries in his submitted document, Indratissa asked if it was correct to say that he was unable to tell the tribunal that payments had been made to third parties as previously testified. Salgado agreed.

The payments, the President's Counsel said, were only payments made by PTL to group company Perpetual Asset Management, adding that all the transactions are reflected in the CBSL system.

Indratissa also suggested, in his cross-examination of the witness, that he was forced to make the statement by the police officers attached to the Commission and to state the version he had taken up in his affidavit.

Salgado testified that the affidavit he had submitted was drafted in his presence based on the statement given by him to the CID, but agreed that not everything was typed in front of him. However, he said, he did read the final version before signing the document and maintained that its contents were correct.

The witness insisted that he was not forced, only questioned and that he answered the officers to the best of his knowledge. His answers, he said, were recorded and put in the affidavit.
Indratissa PC, however, countered that according to evidence given yesterday, Salgado's testimony that the payments had been made to third parties was not correct. The witness conceded, that in the face of the evidence (as reflected in the RTGS) it was indeed not correct.

However, repeating his testimony from Thursday, Salgado said that, though he had not seen any payments being made to third parties, the way the document had been maintained led him to believe that he had the right idea.

"You're not in a position to say the transactions are payments made by PTL to third parties," said Indratissa.

"Yes, I cannot say that," said Salgado.

This document does not reflect a single transaction of PTL making any payment to a third party as gratification, reiterated the President's Counsel.

"The document won't show that," agreed the witness.

President's Counsel Anuja Premeratne also challenged the veracity of Salgado's evidence, suggesting that he knew nothing about the document he himself had submitted – given that, according to his previous testimony, Salgado had maintained and updated the document on the instructions of CEO Palisena, he could not attest to the truth or veracity of document, he said.

"Ideally, [Palisena] would know what exactly this document meant," said Salgado.

Premaratne PC stressed that Salgado, in fact, didn't know anything about it, and added that he really had no idea what Charlie, Car and Tango meant either. The witness agreed.

However, he claimed that he had been asked to update the document under the three tabs mentioned, and that he associated the payments with those tabs, which was why he suspected they could've been onward payments made to them (Charlie, Car and Tango).

Premaratne reiterated that Salgado did not have the knowledge, at the very least, of that point in his affidavit.

The witness agreed.
---
Money from encashed cheques handed to CEO - Senior dealer
Appearing before the Presidential Commission of Inquiry on the controversial bond issuance yesterday Perpetual Treasuries (Pvt) Ltd (PTL) Senior Dealer Kaushitha Ratnaweera testified that cash cheques amounting to "quite a large sum" received from group companies had been encashed and the money handed over to PTL CEO Kasun Palisena in cash.

According to his testimony, cash cheques received from group companies Perpetual Capital Holdings, Perpetual Asset Management and W. M. Mendis were encashed by Ratnaweera and the money subsequently given to Palisena in his office.

Ratnaweera said that on most occasions, he had left the money in Palisena's seat, and added that he had no idea what would become of the money afterward.
Commissioner Justice Prasanna Jayawardena asked the witness if human curiosity had not prompted him to ask Palisena why he was handing him over such substantial amounts in cash. Ratnaweera said: "He's my CEO; I just didn't want to ask."
"I thought it was not my business," he added.
In the cross-examination that followed, President's Counsel Anuja Premaratne pointed out to the witness that W. M. Mendis, Perpetual Asset Management and Perpetual Capital Holding were all private limited liability companies, and therefore each company's directors could draw whatever amount at any time, declaring them as dividends if so desired.
As these were cheques signed by the directors of W. M. Mendis, those directors could take the money and play poker or go to a casino if they had wanted to, said Premaratne, stressing that there was nothing illegal in it.
The senior lawyer then asked the witness if he knew that Palisena hadn't given the money to one of the directors or shareholders to do whatever they wanted with it.
"That I don't know," said Ratnaweera.
"There's nothing illegal in that?"
"I hope so," said the witness, but conceded that in his mind it was not illegal.
The hearing continues on Monday. (HK)