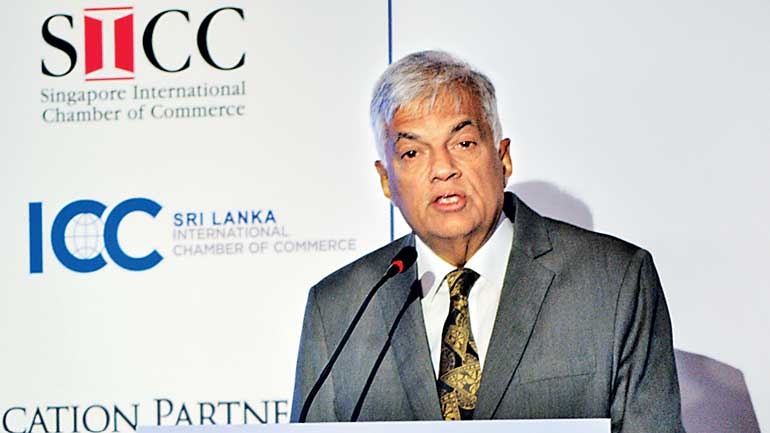 Prime Minister Ranil Wickremesinghe addressing the Invest Sri Lanka Forum in Singapore yesterday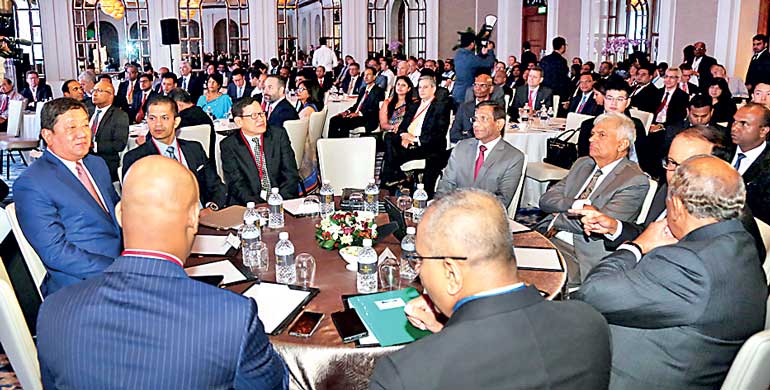 A section of the audience at the Forum
By Nisthar Cassim in Singapore

Prime Minister Ranil Wickremesinghe yesterday urged Singaporeans and fund managers based in the city state to invest in Sri Lanka and be part of the new growth story in the Indian Ocean.

He extended this invitation during his keynote at this year's first-ever Invest Sri Lanka Forum held at the Four Seasons Hotel in Singapore.

"We will make Sri Lanka a strong, stable and resilient economy, and an attractive place to do business. We encourage you to come and invest in Sri Lanka now – as an early mover – and be a part of the new growth story playing out in the Indian Ocean," the Premier told the Forum attended by over 300 fund managers and investors based in Singapore.

He said Sri Lanka is on the path of becoming an attractive place for business in South Asia, one of the fastest growing regions of the world, and the ongoing global economic power rebalancing is resulting in the Indian Ocean becoming a centre of economic gravity.

"This in turn enables us to leverage on our strategic location to become a hub of the Indian Ocean by building on our good relations with the key economies," he added.

The Forum was told that the Sri Lankan Government had taken numerous initiatives to stabilise and reorient the economy and it envisioned becoming a knowledge-based, highly-competitive economy at the hub of the Indian Ocean.

Noting that the Government had realised that attracting foreign investment was a key priority, the Prime Minister said Sri Lanka was undertaking many policy initiatives to incentivise direct private investment, both foreign and local.
Sri Lanka's expanding trade and investment relationships with a diverse set of countries, such as the US, EU, India, China, Singapore, Japan, Malaysia, Thailand, and Indonesia, was also shared by the Premier at the Forum, which was organised by the Colombo Stock Exchange in collaboration with and supported by several other organisations.

A key emphasis of the Premier's speech was the recent signing of the FTA with Singapore.

"This was the first trade agreement that Sri Lanka forged in over 10 years. It is also Sri Lanka's first comprehensive FTA, which goes beyond goods to include services, investment, e-commerce, government procurement, telecommunications, financial services, and economic cooperation," he explained.

According to Wickremesinghe, to have done the first comprehensive agreement with Singapore – one of the most open and liberalised economies in the world having high-quality institutions – is an especially important milestone for Sri Lanka.

"It signals our Government's commitment to ushering in an era of openness for Sri Lanka – an era of close trade integration that enables us to becoming a formidable economic hub in the Indian Ocean," emphasised the Premier at the Forum, which Singapore Minister of Trade and Industry S. Iswaran also addressed.

Wickremesinghe said the Singapore-Sri Lanka FTA was part of a broader strategy of looking East to renew our trade relationships.

"While we focus on growing and sustaining our traditional markets of the US and Europe, we have begun to diversify our markets towards Asia and focus on plugging into Asian supply chains. This FTA is our first agreement with a South East Asian country – and we envisage this as a first step towards closer integration with the Regional Comprehensive Economic Partnership Agreement."

The Invest Sri Lanka Forum in Singapore was also told that Sri Lanka was close to concluding two more bilateral trade agreements – (a) an Economic and Technology Cooperation Agreement with India deepening the existing FTA and (b) a comprehensive FTA with China.

"These agreements are an important part of the new 'National Trade Policy' launched last year, and are a linchpin in the ongoing trade policy reforms. They will add on to the advantage created by our access to the EU's GSP+ facility," Wickremesinghe said.

"This means that through our preferential market access, any business located in Sri Lanka would be able to access nearly three billion people from Spain to China – we are probably one of the very few countries in the world that can claim this! This only adds on to our strategic geographical advantages – we are one hour from five fast-growing South Indian states, have quick access to the Bay of Bengal region, and are only a few hours from South East Asia and the Middle East," he emphasised.

"With our excellent strategic location, we are also attracting Belt and Road projects from China. We expect a lot of investor interest in the new Logistics and Industrial Zones near the southern port of Hambantota, which is being developed with Chinese investment," the Premier added.

Over 60 Sri Lankan business leaders and executives were present at the forum. They were from John Keells Holdings Plc, Commercial Bank Plc, HNB Plc, Hayleys Plc, Hemas Holdings Plc, Sampath Bank Plc, DFCC Plc, NDB Plc, Access Engineering Plc, Tokyo Cement Lanka Plc, Seylan Bank Plc, Lion Brewery Plc, LAUGFS Gas Plc, Singer Sri Lanka Plc, Softlogic Holdings Plc, Sunshine Holdings Plc and Walkers CML and leading stockbroking firms.

The Forum also featured an impressive line-up of international and Lankan experts as speakers and panellists. They included the Central Bank Governor Dr. Indrajit Coomaraswamy, Sri Lanka's High Commissioner in Singapore Nimal Weeraratne, CSE Chairman Ray Abeywardena, CEO Rajeeva Bandaranaike, SEC Director General Vajira Wijegunawardane, Aberdeen Standard Investments Managing Director Hugh Young, CGEC Port City Colombo Chief Sales and Marketing Officer Liang Thow Ming, Kuok (Singapore) Ltd. Chairman Kuok Khoon Ean, DBS Group Research MD and Chief Economist Taimur Baig, Softlogic Holdings Head of Investments Niloo Jayatilake and Singapore-Sri Lanka Business Association President Angelo Perera.

The Securities and Exchange Commission of Sri Lanka and the Sri Lanka-Singapore Business Association were the co-organisers of the event. The Singapore Business Federation was the Strategic Partner.

A host of organisations supported the Forum. The Platinum sponsors were DBS Bank Singapore, Capital Alliance Ltd., Wilmar Holdings and B.P. de Silva Holdings, Singapore. The Gold sponsors were CT CLSA, Acuity, Asia Securities and Ceylon Guardian and the Bronze sponsor was Dwellings Group.

The promotional partners were the Sri Lanka High Commission in Singapore, the Singapore International Chamber of Commerce, the Singapore Chamber of Commerce and Industry and the International Chamber of Commerce Sri Lanka.

The Forum was part of CSE's overseas roadshows which have triggered robust foreign portfolio investments to the Colombo stock market to date. Apart from Singapore, the other cities where previous events have been held include London, New York, Hong Kong, Melbourne, Sydney, Dubai, Switzerland and Mumbai.

A more comprehensive coverage of the Forum will be published next week in the Daily FT.