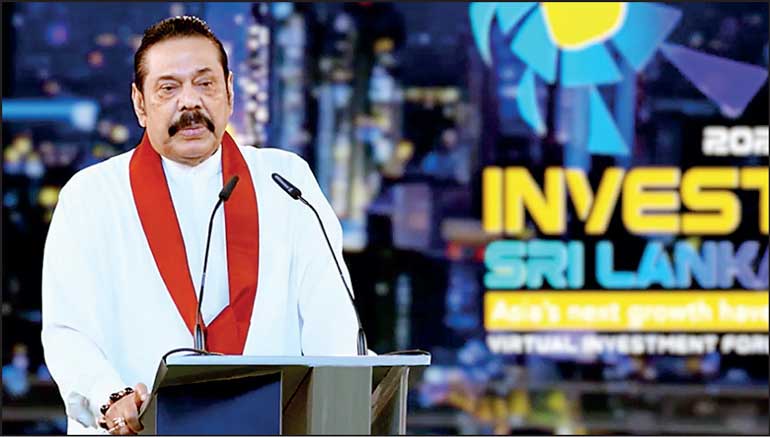 Prime Minister Mahinda Rajapaksa addressing on Day 2 of the Sri Lanka Investment Forum.
---
Watch the Premier's speech on www.ft.lk/ft_tv/Prime-Minister-Mahinda-Rajapaksa-addresses-Day-2-of-Sri-Lanka-Investment-Forum-2021/10520-718976
---
Assures profitable ventures without unnecessary entry barriers
Says SL has shown economic resilience and on path to grow by 6%
Believes Colombo Port City project will be turning point in Sri Lanka's economic history
Commends capital market growth, urges need to prioritise launch of new products
---
By Charumini de Silva
---
Promising lucrative prospects, Prime Minister Mahinda Rajapaksa yesterday invited global companies to select Sri Lanka as their "investment destination of choice" as the Government stepped up efforts to boost its international profile.

"Our Government has already started to put a number of measures in place that would make Sri Lanka an attractive country for investors from all around the world. These measures are aimed at ensuring that both local and foreign investors will be able to establish profitable ventures without unnecessary barriers. In this background, we eagerly invite you to select Sri Lanka as your investment destination of choice," said the Prime Minister, speaking on Day 2 of the virtually-held Sri Lanka Investment Forum.

With measures taken to expedite the implementation of key economic development projects despite the COVID-19 pandemic, Rajapaksa said that the country had shown economic resilience, with Sri Lanka on a path to achieve over 6% GDP growth rate following a 3.6% contraction last year.

The Prime Minister's appeal and outlining of a positive country outlook follows President Gotabaya Rajapaksa on Monday inaugurating the SLIF, inviting global investors to join in Sri Lanka's transformative journey, and stating that a proactive and pro-business Government would do its utmost to create an enabling environment for the success of investments that could have a transformative impact on the economy.

The Prime Minister in his speech listed various reforms undertaken by the Government to make Sri Lanka attractive with sound macroeconomic fundamentals to drive towards a prosperous future.

Termed as Asia's first and largest virtual investor forum, the SLIF, according to organisers, has drawn 4,000 participants, including 1,500 investors and over 100 speakers across 120 sessions.

"The Government recognises the importance of foreign direct investments (FDI) as a game-changer in a post-pandemic era. We have introduced a number of tax exemptions in the 2021 Budget, particularly in boat building, bonded warehouses and renewable energy, as well as financial and non-financial incentives. These measures are aimed at ensuring both local and foreign investors are able to establish profitable ventures without unnecessary barriers," said Rajapaksa, who is also the Finance Minister.

The SLIF, which will conclude today (Wednesday), is organised by the Board of Investment, Colombo Stock Exchange and the Ceylon Chamber of Commerce, with support from multiple private sector companies.

The Prime Minister said new prospects in the industrial zone around Hambantota port, Colombo Port City project, pharmaceuticals manufacturing plants and export processing zones being constructed all around the country, would transform Sri Lanka into an attractive investment destination in the region.

Rajapaksa described the Colombo Port City project as a turning point in Sri Lanka's economic history, with the project expected to attract a minimum of $ 15 billion within the next five years.

"We have already established a legal and business facilitation framework through a new Act, and investors will be able to obtain all the services from a single window. Our expectation is to encourage world-renowned investors to invest in Sri Lanka," he added.

Noting that the country was already on the path of economic reawakening through high-scale projects post-pandemic, he said Sri Lanka needed to transform into an active hub again while confronting serious internal and external challenges as a country.

He said the ongoing projects to build 100,000 km of roads, construction of highways throughout the country, the 'water for all' initiative and increased flow of money among the public, would help rebuild business activities hampered due to COVID-19.

"We all agree that the development rate in the country must be accelerated. We also know more investments are required to develop infrastructure facilities and increase production capacity of the economy. Our capital investments should be increased on a wider scale and we expect to continue the Government capital expenditure program for that. We have taken necessary measures to facilitate the smooth functioning of business," the Prime Minister added.

He also said the Government was pleased with the recent revival of the capital market despite the pandemic and that there was further scope.

"We have to aim for the inflow of non-loan foreign exchange instead of obtaining loans, and for that we need to implement different tools and programs. We need to prioritise programs like private equity sale, development of new listed securities in the stock exchange, and making debt instruments effective," he added.