Seeks Parliamentary approval to increase debt ceiling, supplementary allocation of Rs. 156 b

Rs. 101 b for recurrent expenditure, Rs. 55 b for capital expenditure

Says monies urgently needed to settle former Govt.'s outstanding payments

Rs. 211 b to pay for foreign-funded projects

Tells P'ment Rs. 600 b shortfall in tax collection projections by earlier administration

Warns Budget deficit could be high as 7%, debt high as 80% of GDP

Rs. 1.18 b outstanding from Presidential Poll expenses, Rs. 400 m needed for 2020 elections

Rs. 72 b to be recovered from faulty loans by BoC, People's Bank

700 rice mills closed, 400 tea companies struggling
By Chandani Kirinde

Prime Minister Mahinda Rajapaksa yesterday painted a grim picture of the country's economy, seeking Parliamentary approval to increase the debt ceiling from Rs. 721 billion to Rs. 1.078 billion, and for a supplementary allocation of Rs. 156 billion, in a special statement to Parliament.

Of the Rs. 156 billion allocation, Rs. 101 billion will go towards recurrent expenditure, and Rs. 55 billion for capital expenditure, the PM explained, saying the monies were urgently needed to settle outstanding payments due from expenses incurred by the last Government.

Rajapaksa, who is also the Minister of Finance, also sought an additional sum of Rs. 211 billion to finalise the accounts for expenses borne in implementing projects using foreign loans.

The Prime Minister told the House that the previous Government had obtained both local and foreign loans at high interest, and some projects, carried out using foreign loans, had surpassed estimates.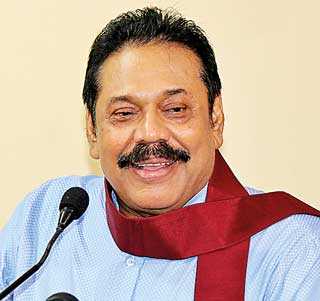 Prime Minister Mahinda Rajapaksa
Therefore, these expenses had not been accounted for, and the monies allocated for the first four months of the year through a Vote on Account last year were inadequate.

"By 20 November, all the money allocated by the Vote on Account had been spent. Because of this, the Treasury cannot give money for the expenses that were incurred during November and December. The previous Government had projected an income of Rs. 2,400 billion for 2019. By November 2019, only Rs. 1,600 billion was collected. Rs. 1,800 billion was collected by December. There is a shortfall of Rs. 600 billion. This shows that increasing taxes and complicating the tax regime had not led to an increase in income," he said.

He said the Government cannot obtain new loans because of the debt ceiling in place. "We have to increase this threshold and obtain new funds," he said.The Prime Minister said the last Government had pledged to keep the Budget deficit below 4%, but today, it has risen to 7%. "When I handed over the Government in 2015, the Budget deficit was 5%. The debt as a percentage of GDP was 70%. Now it's 80%," he said.

Rajapaksa said that the country's economy was growing at 3%, the lowest in the South Asian region.

He said by November last year, the outstanding payments included Rs. 1188 million which were overdue for expenses associated with the 16 November Presidential Election, while an addition Rs. 400 million will be needed for the holding of elections this year.

Outstanding payments of Rs. 25,696 million are due to suppliers of medicine and services obtained for the health sector, while another Rs. 45,856 million is needed to pay banks to settle due for the 15% special interest rate paid to senior citizens.

A sum of Rs. 23,950 million is due to the suppliers of fertiliser, while contractors who were hired for work on highways must be paid another Rs. 18,449 million. Other monies due are for the Gam Peraliya programs that were started by the previous Government, school development projects etc. "To settle these, we need a total of Rs. 101 billion for recurrent expenditure," the Prime Minister said.

"The entire economy is crippled because of this. Fertiliser companies are refusing to supply fertiliser and this is affecting the farmers. All Government hospitals, including the Cancer Hospital, are facing shortages, and instead of importing good quality medicines, sub-standard medicines are being imported. The construction industry too is falling apart, because their dues have not been paid for 3-4 months. Some in the construction industry are auctioning their property to overcome their financial hardships," the Prime Minister said.

He added that around 700 small and medium rice mill owners have been forced to close their businesses, while others are struggling to settle loans, and around 400 tea companies too are facing dire financial problems.

PM Rajapaksa said that the Boards of Directors and Executives of People's Bank and Bank of Ceylon had given loans without obtaining the necessary guarantees, and it has become difficult for the banks to recover these loans. "These loans were given to a few favoured ones. The outstanding loans to be recovered is around Rs. 72 billion."

"The Central Bank says 20 of the 42 licensed financial institutions are facing capital adequacy issues. It is the responsibility of the CB to strengthen the other financial institutions and implement a program so that security of depositors is assured," he said.

The Prime Minister said there had been many recruitments made to the State sector, disregarding the Government's established procedures. 167 new recruitments were made to the Ceylon Petroleum Corporation (CPC), which is suffering losses to the tune of Rs. 10,000 million at present. Another 2,511 had been recruited to the National Housing Development Authority (NHDA), which would cost an additional Rs. 990 million annually. Similar recruitments have been made at the Archaeology Department and the Central Cultural Fund.