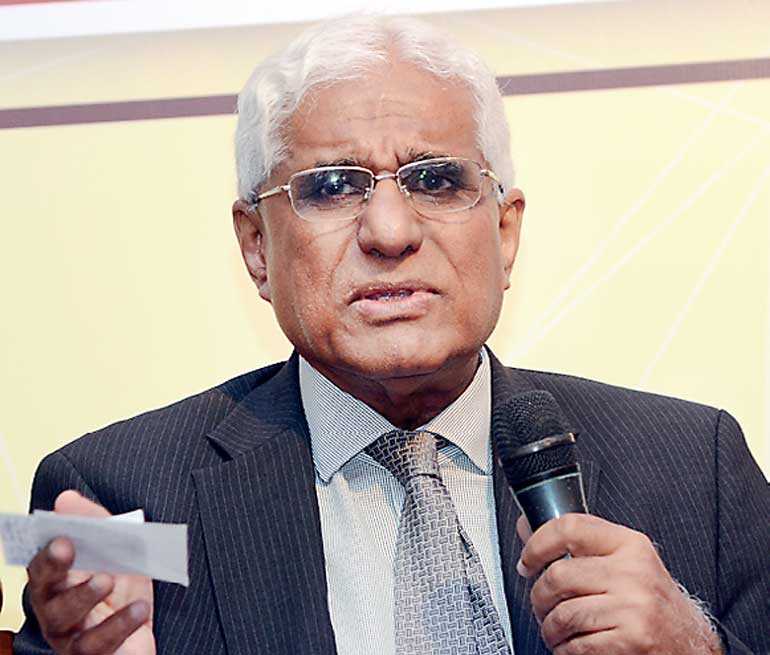 Central Bank Governor Dr. Indrajit Coomaraswamy – Pic by Shehan Gunasekera
---
Backs MLA Amendments to give CB more independence and reduce Govt. power to order money printing

Says best way to ensure macroeconomic fundamentals, gives historic examples

As much as 70% of $ 5.4 b debt for 2019 paid

CB to continue raising money to repay debt till mid-2020 to offset uncertainty created by upcoming elections

Insists no currency peg, CB intervention only to prevent instability

Says reforms too slow, calls on Govt. to nail them down to push economic growth
By Uditha Jayasinghe

Central Bank Governor Dr. Indrajit Coomaraswamy has backed proposed Amendments to the Monetary Law Act as essential to stop governments making the Central Bank print money, which undermines macroeconomic fundamentals essential to strong growth.

Dr. Coomaraswamy stressed on the importance of allowing the Amendments to the Monetary Law Act (MLA) to go through at a panel discussion organised by the Ceylon Chamber of Commerce last week to promote ethnic harmony. He noted that Sri Lanka's economy has historically been undermined by undisciplined Budgets that have prioritised fiscal policy, resulting in high Budget deficits, high interest rates, high inflation and an overvalued currency.

The Governor pointed out that East Asian countries that grew faster than Sri Lanka did the opposite, and the country is still in danger of getting sucked back into this cycle. To prevent this, Amendments to the Monetary Law Act were proposed, which makes the Central Bank more independent.

"The economy remains resilient but growth remains muted. This is what we need to build up. We have to maintain strong macroeconomic fundamentals, and to do this, the Government and the Central Bank are in the process of putting in place four frameworks. First is the flexible inflation targeting for monetary policy. This is essentially the Central Bank and the Government setting an inflation target, and the Central Bank will be tasked with maintaining that target to have an independent, forward, and data-driven monetary policy, unlike the monetary policy of the past, which had essentially been driven by fiscal dominance, whereby the Government gets the Central Bank to print money, which is extremely damaging," the Governor said.

"There is a new Monetary Law Act that is being brought forward which puts this flexible inflation targeting regime in place and gives the Central Bank the autonomy to run a monetary policy that will get the economy out of repeated cycles of macroeconomic stress, and as part of that, if Parliament approves it, the Central Bank will be prevented from printing money. That would be a landmark change and I hope we will be able to go through with it," he added.

However, earlier this month, President Maithripala Sirisena, in a memorandum to the Cabinet, said that before the Amendments to the MLA are submitted to the Legal Draftsperson, it must go through a broader stakeholder dialogue and consultation process. He had also suggested that the flexible inflation targeting system may not be suitable for Sri Lanka.

Giving an update on the economy after the Easter Sunday attacks, the Governor pointed out that macroeconomic fundamentals remain strong and Sri Lanka had seen positive responses to the $2 billion bond issuance. In addition, inflation and interest rates were trending downwards. He also observed that the current account recorded a surplus of $423 million in the first quarter of 2019 as against a deficit of $587 million recorded in the corresponding period of 2018, mainly driven by the significant contraction of the trade deficit.

The Governor also said debt repayment was largely under control with 70% of payments being met for 2019.

"Our reserves are about $8.5 billion, and if you look at the debt situation, we had about $5.4 billion to be paid. We repaid 70% of that and we think we raised enough money and are about to raise a bit more money, I hope, in the coming weeks to be able to settle all of our obligations till about the middle of next year. This is because soon, we are going to get into the election cycle and we won't be able to go to markets to borrow. We have built up enough reserves to meet our obligations."

Dr. Coomaraswamy also denied that a currency peg existed, insisting that the Central Bank only intervened in markets to prevent instability and preserve reserves.

"We will also have a flexible exchange rate; unlike in the past, we will not defend a particular rate. Soft peg, hard peg, we don't have any peg, even though people are constantly writing we have some peg or the other. We have no peg but what we do is intervene in the market from time to time to prevent very disruptive, disorderly adjustments of the exchange rate. Otherwise we broadly let the exchange rate find its own level."

Touching on slow growth, which is the biggest concern, the Governor reiterated his appeal to the Government to fast track structural reforms to bring growth back on track.

"Growth is a problem at the moment, undoubtedly. But several measures have been initiated to strengthen growth but they are moving far too slowly. There are measures to improve capital markets, labour markets, the land markets but they are going too slowly. There are measures to improve the business climate, investment and trade promotion, trade facilitation and trade policy, but we need to go faster; we need to nail down what we are trying to do and take it to a conclusion because if these things are put together and implemented effectively, I think we have the right framework," he noted.