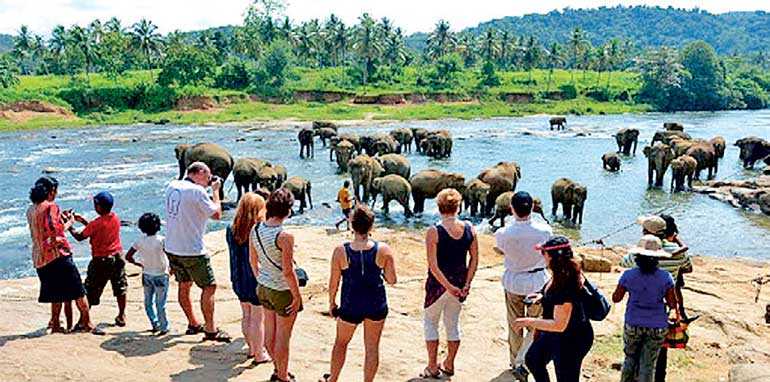 Travel from any country permitted for minimum stay of 14 days
Influx of daily travellers limited to maximum of 300 with priority for citizen repatriation
All international airlines will be allowed with prior approval from COVID-19 Taskforce and CAA
Permit visa for long-stay travellers, dual passport holders, resident permit holders, film tourism and sports tourism
Sri Lanka Tourism proposes to issue visa for 6 month instead of one month
Issuance of 'On Arrival' visas suspended until further notice
All passengers require COVID-19 insurance for minimum period of one month, expenses relating to health not to be borne by Govt. during stay
Travellers will only be allowed in certified hotels, use of public transportation disallowed
Tourist sites will be reopened for travellers
Sri Lanka Tourism Chief says objective is to restart and recover fast, benefits to trickle down
---
By Charumini de Silva
---
To resume international tourism in a COVID-19 safe environment, guidelines are being finalised with a draft strategy document under discussion among key stakeholders.

The Health Ministry's COVID-19 Clinical Management Expert Committee in collaboration with Sri Lanka Tourism has prepared all-inclusive guidelines to resume tourism gradually.

"We have suggested reopening both airports for international guests from all countries with effect from 1 January. A comprehensive set of guidelines for approval by health authorities has been submitted and is eagerly waiting for a favourable response," Sri Lanka Tourism Chairperson Kimarli Fernando told the Daily FT.

She said the protocol will be regularly reviewed by the Ministry of Health.

"A mandatory 14 days stay, with a confirmed itinerary will be a mandatory section as a part of the online visa process via Electronic Travel Authorisation (ETA) system. During the first 14-day quarantine period visitors will be limited to Level 1 hotels and visa will only be granted for visitors with pre-booked and pre-paid booking in Level 1 hotels that are certified," she said.

In the Level 1 accommodation, tourists are permitted to stay within the premises and move around only to isolated areas exclusively for the particular guest, family or group. Tourists staying longer than 14 days are permitted stay in Level 2 accommodation which will be KPMG Certified Safe and Secure accommodation and will be permitted to visit selected tourist sites accompanied by a registered Tourist guide.

The approved tourist sites will be available on the SLTDA website. Tourists staying longer than 28 days are free to book any type of accommodation registered with Sri Lanka Tourism Development Authority (SLTDA).

Long-stay travellers, dual passport holders or Sri Lankan passport holders travelling with international tourists in a group, resident permit holders, film tourism and sports tourism visa types will be considered according to the guidelines.

Sri Lanka Tourism encourages all visitors to download the 'Visit Sri Lanka App' incorporated in the Immigration and Emigration online visa application, which is pending Cabinet approval. All Sri Lanka Tourism Certified Level 1 and Level 2 establishments will be linked to the travel App and Tourism website.

Fernando also said that they have proposed to issue visas for six months instead of the current one month and is awaiting Cabinet approval while noting that the issuance of 'On Arrival' visas are suspended until further notice.

The guidelines include that all passengers should obtain a mandatory COVID-19 insurance online during the visa application process from a local insurance company for a minimum period of one month, as no expenses relating to any health will be borne by the Government during the stay in Sri Lanka.

She said no more than 300 tourists per day in total at both airports Bandaranaike International Airport (BIA) and Mattala International Airport (MIA) will be reopened for tourists in a phased-out manner, with first preference being given to the repatriation of citizens back to Sri Lanka.

In addition, all international airlines will be allowed with prior approval from COVID-19 Taskforce and Civil Aviation Authority of Sri Lanka (CAASL). "We welcome all scheduled flights, charter flights, private jets and all flights that will bring international tourists to Sri Lanka to resume the tourism sector in the country," she added.

A mandatory PCR test report taken 72-hours before arrival along with the Health Declaration Form (HDF) of Sri Lanka should be submitted by all passengers at the port of entry. The HDF will be given to all travellers at the time of the issuance of travel tickets by the airline or on board the airplane. On arrival, Antigen test and/or PCR test will be conducted at the airport by the Ministry of Health and/or private hospitals.

Tourists will not be allowed to use public transportation and the responsibility of travel from airport to certified hotels will be arranged by the certified hotelier or travel agent.

The guidelines highlights that hotels can only opt to either; exclusively have booking for international tourists (Level 1 Hotel) or exclusively have booking for international tourists (Level 2 Hotel) or domestic tourists (Level 3 Hotels) or quarantine hotel facilities for returning Sri Lankan citizens or quarantine hotel for seafarers or hotel hospital (Isolation hotel for PCR positive symptomatic).

"Hotels when opting for one of the above can only function in that particular capacity. In the event the hotel wishes to change type of operation or wishes to withdraw from providing accommodation to international tourists; the management is required to provide prior written notice of their withdrawal or request change to the COVID-19 Task Force, Ministry of Health (Environmental and Occupational Health) and SLTDA," she said, adding that failure to adhere to guidelines and instruction will result in strict penalties including the cancellation of the licence with SLTDA.

Fernando also said that all tourist sites will be reopened for travellers and will be in the SLTDA website. "There will be designated days allocated for international tourists in consultation with the line agencies. All tourist sites and attractions will need to comply with the guidelines and protocols and will be monitored by SLTDA, Tourist Police, Ministry of Health and other relevant authorities. Tourist Police will maintain outposts at popular sites and attractions to ensure adherence to guidelines," she said.

The guidelines include responsibilities of all stakeholders and personal liabilities as well.

"Our objective is to restart the industry and fast-track the recovery of the sector which was hampered by the COVID-19 pandemic. We want the benefits to be trickled down to all levels in the community," Fernando stressed.

She also said that following success initiatives such as 'Couch Safari', Sri Lanka has gained a lot of attraction from international travellers and that the online promotional activities in key tourism markets have been successful.