Cabinet of Ministers with President Gotabaya Rajapaksa and Prime Minister Mahinda Rajapaksa
---
Cabinet shrunk to 16 by President, State Ministers to be appointed next week
Tells new Cabinet they must work to establish new political culture, uphold public interest
PM given 7 portfolios, including Finance, Economic affairs, Policy Development and Housing
President says Cabinet must implement election manifesto
Selection committee to pick heads of Government institutions
Calls on Cabinet to work for a significant victory at Parliamentary Elections
President Gotabaya Rajapaksa appointed a 16-member Cabinet yesterday, establishing an interim government focused on carrying out the manifesto which he presented to the public before the Presidential Election.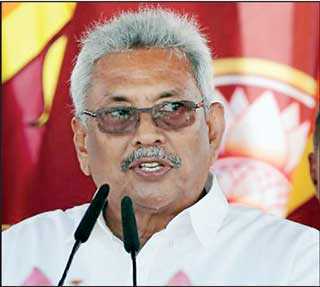 President Gotabaya Rajapaksa


Fifteen Ministers were sworn in before him at the Presidential Secretariat on yesterday morning.

Daily FT yesterday exclusively revealed the names of the new Cabinet Ministers on the front page.

President Rajapaksa stated that the interim government will hold office till the General Elections, expected early next year. "That's why we appointed a Cabinet of 15 Ministers," he said, pointing out that the manifesto indicated a reduced Government if he is elected. There were no Muslim Parliamentarians appointed to the Cabinet.

"We have massive challenges. We need to succeed in those challenges and at the same time, we need to fulfil the aspirations of the public," he told politicians who attended the ceremony, pointing out that recent victory at the ballot box and the public mandate received carried the weight of the nation's expectations. "It is time to enact the manifesto the people voted for," he added.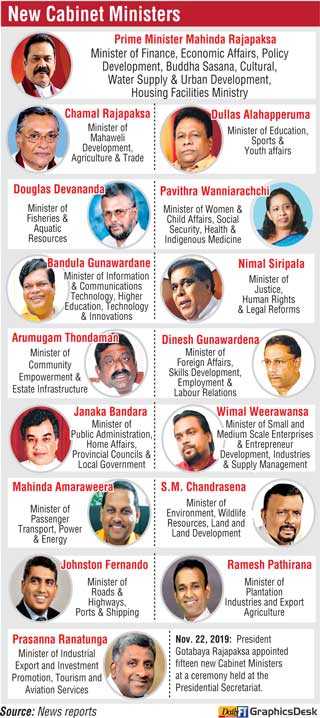 The President recalled that the public had placed their trust in them and asked the new Cabinet to work towards a new political culture.


"In the lead up to the Election, the public rejected the old political culture. I expect you all to work together for change," he added.

President Rajapaksa, addressing the Cabinet and other Parliamentarians, urged them to work with the State Ministers, who will be appointed next week. "We all know that in the past, all that certain State Ministers did all day was practice their signature as they had no powers," he recalled.

Noting that government institutions and agencies required skilled, capable professionals, the President stated that heads and director boards of State institutions and enterprises will be appointed by a selection committee, and instructed newly appointed Ministers to make recommendations on suitable individuals to hold such posts to the committee.

"We hope to have a significant victory in the General Elections," President Rajapaksa said, urging all appointed to work together to enact the election manifesto.

President Gotabaya Rajapaksa made history this week when he appointed his brother, Opposition Leader Mahinda Rajapaksa, as the Prime Minister. Yesterday, he entrusted the Prime Minister with multiple portfolios. They include Minister of Finance, Economic Affairs, Policy Development, Buddha Sasana, Cultural, Water Supply and Urban Development, and Housing Facilities.

The other Cabinet appointments were Nimal Siripala de Silva as Minister of Justice, Human Rights and Legal Reforms, Arumugam Thondaman as Minister of Community Empowerment and Estate Infrastructure, Dinesh Gunawardena as Minister of Foreign Affairs, Skills Development, Employment and Labour Relations, Douglas Devananda as Minister of Fisheries and Aquatic Resources, Pavithra Wanniarachchi as Minister of Women and Child Affairs, Social Security, Health and Indigenous Medicine, Bandula Gunawardene as Minister of Information and Communications Technology, Higher Education, Technology and Innovations, Janaka Bandara Tennakoon as Minister of Public Administration, Home Affairs, Provincial Councils and Local Government, Chamal Rajapaksa as Minister of Mahaweli Development, Agriculture and Trade, Dullas Alahapperuma as Minister of Education, Sports and Youth Affairs, Johnston Fernando as Minister of Roads and Highways, Ports and Shipping, Wimal Weerawansa as Minister of Small Medium Enterprises (SME) and Enterprise Development, Industries and Supply Management, Mahinda Amaraweera as Minister of Passenger Transport, Power and Energy, S.M. Chandrasena as Minister of Environment, Wildlife, Land and Land Development, Ramesh Pathirana as Minister of Plantations and Export Agriculture, and Prasanna Ranatunga as Minister of Industrial Exports and Investment Promotions, Tourism and Aviation.

The President and the Cabinet took time to take the customary group photograph before departing from the Secretariat.

Prominent Sri Lanka Podujana Peramuna (SLPP) MP Udaya Gammanpila was a noticeable absentee from the function, and later released a letter he had addressed to the President, stating that he would not accept a Cabinet portfolio at this stage. Gammanpila pointed out that the President is under pressure to appoint a 15-member Cabinet and that he did not wish to add to the pressure.