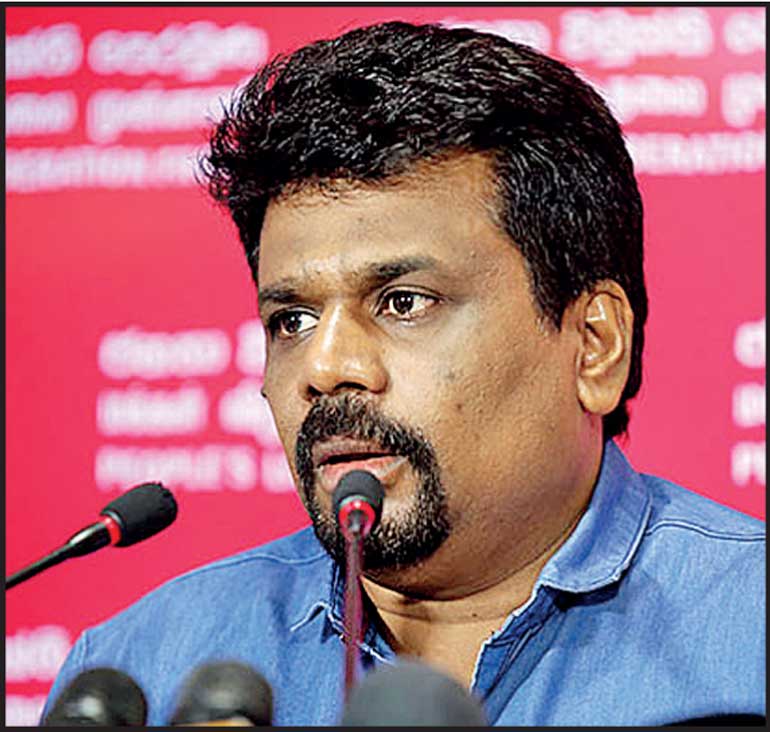 NPP Leader Anura Kumara Dissanayaka
---
Calls for complete crushing of Rajapaksa camp
Party to fight against President if any attempts at suppression
Reiterates political reform key to transform Sri Lanka
---
By Maneshka Borham
---
National People's Power (NPP) Leader Anura Kumara Dissanayaka yesterday said the NPP is ready to lead the most powerful uprising of people seen in Sri Lanka to herald a complete political transformation.

"We are prepared to end corruption, suppression as well as this ruinous political and economic systems along with the destructive Rajapaksa political camp," he said. "We will gather and organise the people to ensure this end," he added.

Dissanayaka said as its first step the party has organised a series of political seminars to present to the public its vision on how to successfully overcome the current challenges faced by the country. The inaugural seminar will take place on Sunday at the National Youth Services Council in Maharagama.

According to the NPP leader, the party will fight against newly appointed President Ranil Wickremesinghe if any attempts are made by him to suppress democracy, the right to dissent, the right to organise and the people's freedom of speech.

Dissanayaka said the party will lead the fight on several fronts. "This political arena of decrepit politics must be cleaned up and the Rajapaksa camp must be fully crushed," he said. According to him, it is also imperative that corruption be stopped and the country is guided down a new economic path. "We must also fight against suppression" he added.

"The NPP is the most strong and capable movement to achieve this," Dissanayaka said. He also lambasted Sri Lanka's constantly wavering policy-less leaders unable to recognise the needs of the hour and unable to save Sri Lanka. "Therefore, the NPP has been taken with a responsibility on behalf of the country and its people. We are ready to accept this challenge," Dissanayaka emphasised.