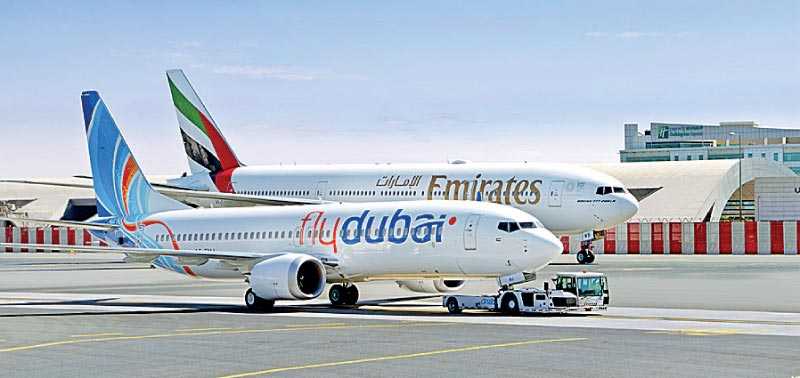 Aircraft of Emirates and flydubai
---
Global giant Emirates boosts services to Colombo, offering customers 6 weekly flights
Fifth weekly flight starts on 18 Feb., and sixth on 27 Feb.
Says two additional services will meet passenger demand, offer customers more flexibility and choice
Bahrain's flag carrier Gulf Air resumes twice weekly flights from 15 Feb.
Flydubai to start its twice-weekly flights from 17 Feb.
---
Leading carriers from the Middle East including global giant Emirates are stepping up flights to Colombo following the opening of borders and resumption of international tourism in Sri Lanka late last month.

Emirates yesterday announced it would increase its services to Colombo from four to six weekly flights – with a fifth weekly flight commencing 18 February (every Thursday) and a sixth weekly flight commencing 27 February (every Saturday).

The two additional services will serve market demand and offer customers enhanced connectivity to/from Colombo, via Dubai.

The added services will operate every Thursday and Saturday. Emirates flight EK650 will depart Dubai at 0235hrs and arrive in Colombo 0825hrs local time. The return flight EK651 will depart Colombo at 0955hrs and arrive in Dubai at 1300hrs, local time.

Gulf Air, the national carrier of the Kingdom of Bahrain, said it will resume its direct operations to and from Colombo's Bandaranaike International Airport with two weekly flights, starting from 15 February, on its new Airbus A320neo aircraft.

Gulf Air has been operating direct flights between the Kingdom of Bahrain and Sri Lanka since 1981 and it is one of the airline's main destinations in the Indian Sub-continent region.

Separately Flydubai announced plans to resume flights to Colombo, Sri Lanka, with a twice-weekly service starting from 17 February. The carrier will operate flights between Terminal 2, Dubai International (DXB) and Colombo International Airport (CMB).

"We are pleased to restart our operations to Colombo, and we look forward to launching more flights to strengthen our reach in the Subcontinent," Flydubai Senior Vice President of Commercial Operations (UAE, GCC, Africa and the Indian Subcontinent) Sudhir Sreedharan said.

Within 11 days of re-opening borders, as well as a pilot project, Sri Lanka in January attracted 1,682 tourists after the main entry point the Bandaranaike International Airport (BIA) closed for 10 months as part of measures to contain the spread of COVID-19 from late March 2020.

Of the tourists who arrived in January, 87% or 1,460 were Ukrainians inspired by the pilot project and deployment of special flights.

Other tourists to come in January were 30 from Belarus, 27 from China, 20 from Russia, 19 from Germany, 18 from Netherlands and 17 each from Canada, India and the Maldives. There were 10 tourists from the US as well.

The Daily FT on Tuesday quoted private sector industry sources as saying that arrival of over 1,600 tourists in the first 11 days of reopening was "very encouraging."

"We believe with improved confidence, tourist arrivals will increase in the coming months," they added.

Sri Lanka Tourism Development Authority (SLTDA), citing the January 2021 World Tourism Barometer, issued by the UNWTO said globally, international tourist arrivals plunged by 74% in 2020 over the previous year with the travel restrictions imposed by almost all the destinations since the month of April.

Presidential Task Force on Economic Recovery and Poverty Alleviation Chairman Basil Rajapaksa on Monday said Sri Lanka should formulate proposals to earn $ 1 billion from tourism in 2021 and provide vaccine priority to industry employees to boost the sector's recovery.

Speaking at a high-level meeting at Temple Trees on tourism development, which included Tourism Minister Prasanna Ranatunga, State Minister D.V. Chanaka and State Minister of Primary Health Services, Pandemics and COVID Prevention Dr. Sudarshani Fernandopulle, Rajapaksa instructed officials to formulate policies targeting $ 1 billion in earnings in 2021.

"We cannot depend only on exports to earn revenue. Therefore, it is imperative that the tourism industry is facilitated to function. Industry employees should also be moved up the priority list to get COVID-19 vaccines," Rajapaksa was quoted as saying in a statement released by the Prime Minister's Office.

He had also said SL cannot fall behind competitive countries that are seeking to resuscitate their tourism industry and should therefore prepare policies to re-attract tourists to the country.

Rajapaksa had also pointed out that in a recent survey SL was placed among the top ten countries travellers would consider, and should leverage on the country's comparative success in containing COVID-19.
An A320 neo of Gulf Air
---