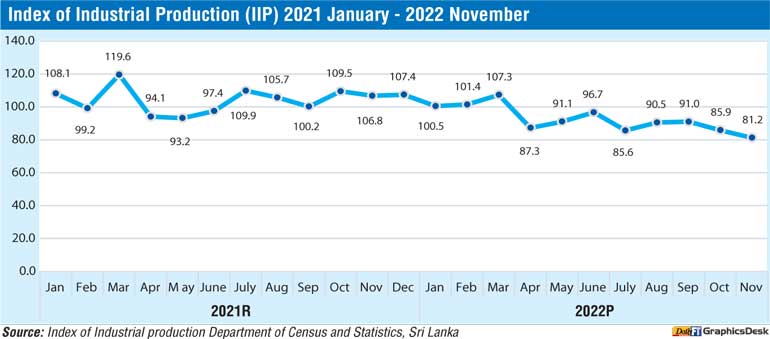 ---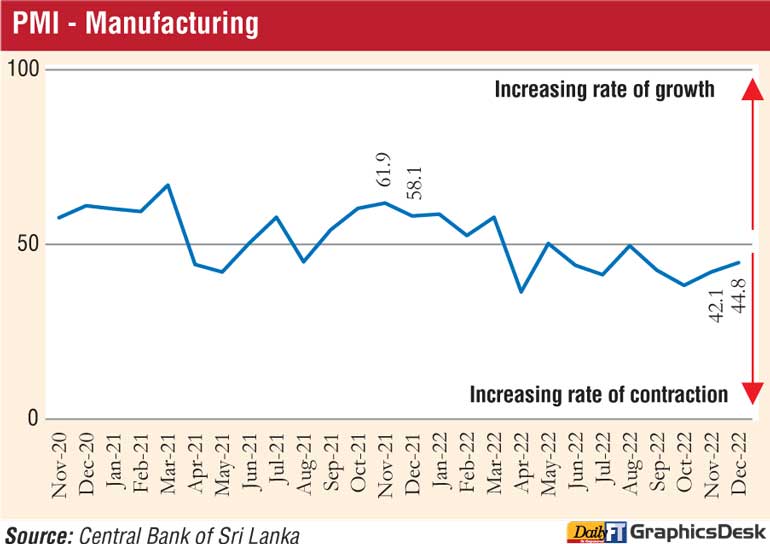 The struggle by industrial and manufacturing persists as proven by two indices compiled separately by the Department of Census and Statistics (DCS) and the Central Bank (CBSL).

The DCS compiled Index of Industrial Production (IIP) for November revealed that the volume of industrial production for the month November 2022 has decreased by 23.9% compared to a year earlier. On a month-on-month basis, the decrease was 2.2% in comparison to October. It was higher in comparison to the 2% decrease between September and October.

The IIP is a key indicator of economic performance in most countries. Index numbers summarise past developments, facilitate forecasting of future trends and assist with evidence based policy decisions. In addition, index numbers facilitate International comparisons.

The IIP also has an important role in the compilation of the Quarterly National Accounts. Analysis of economic changes, IIP has a crucial role because industrial production is one of the more dynamic and fluctuating elements in the economy.

The CBSL's Manufacturing Purchasing Managers Index (PMI) in December recorded an index value of 44.8 in December, indicating a continued setback in manufacturing activities.

This setback was driven by subdued performance observed in all the sub-indices, except Suppliers' Delivery Time.

CBSL said the decline in New Orders and Production was mainly driven by manufacturing of textile and wearing apparel sector. Subdued foreign demand due to seasonal holidays, and economic slowdown experienced in major export destinations was the main reasons for this decline.

Manufacturers mentioned that, although supply-side impediments such as high input cost and shortage of foreign exchange that affected importation of raw materials are yet to be resolved, demand slowdown due to deteriorated purchasing power of the customers was the key issue that restricted them from increasing production.

Furthermore, Employment and Stock of Purchases also declined in line with the decline in New Orders and Production. Suppliers' Delivery Time lengthened in December 2022 compared to the previous month on a month-on month basis.

CBSL said expectations for manufacturing activities for the next three months indicated an improvement in December 2022 anticipating improvements in economic conditions.