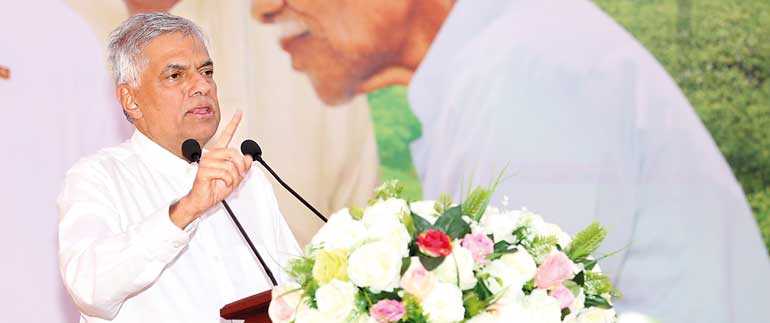 Despite treading a difficult path the Government still managed to reach significant achievements in governance, macroeconomic stabilisation, debt reduction and development, Prime Minister Ranil Wickremesinghe said yesterday, recapping key measures adopted by the Government on its third anniversary.

Speaking at a ceremony in Ratnapura to handover land titles, Wickremesinghe was upbeat of the Government's achievements, describing the journey since August 2015 as one that allowed the nation to "breath" with freedom. Starting with the 100-day program, the Prime Minister recalled how the 19th Amendment returned the two-term limit for presidents and limited the powers of the executive presidency.

He also noted that democracy was reinforced by increasing the powers of Parliament and establishing the Judicial Commission, Audit Commission, Police Commission, Public Services Commission, Public Procurement Commission and Elections Commission.

"Because of these changes, everyone started working according to the law. Ministers, the Prime Minister and even the President saw their powers limited under the measures we introduced. We established the supremacy of the law, of the Judiciary, of Parliament. Now the President has to come to Parliament once every three months, in the first week of Parliament every month the Prime Minister has to answer five questions. We created additional responsibilities in this manner.

"The Right to Information Act was passed, enabling the public to have access to information from Government institutions within a limited period of time, thus increasing transparency. The Government also took steps to improve reconciliation by handing out thousands of acres of land in the north to their original owners and establishing the Office of Missing People. The Audit Act was passed and the policies needed for sustainable development and economic growth were formulated to give the dividends of development to all Sri Lankans.

"In this new democracy that we created, in this new freedom, we now have a free media. It is impossible to find a media organisation that does not criticise me today but that is because of the freedom that we created. When we took power the country was trapped in a vast debt trap. In 2013 and 2014 public revenue exceeded debt but we have managed to reduce this burden bit by bit and reach a point where it is bearable. I do not want to burden the younger generation with this debt. It is my aim to completely pay off this debt in our generation."

Wickremesinghe went onto reiterate that the Government aims to reduce Sri Lanka debt to GDP ratio to 70% by 2020. Sri Lanka's economy hit a balance of payments crisis that required the Government to negotiate a $ 1.5 billion Extended Fund Facility (EFF) with The International Monetary Fund (IMF), which resulted in implementing policies that were challenging including tax reforms.

The Prime Minister stated that the Government also formulated a raft of economic reforms to foster growth and increase Sri Lanka's exports and promote its attractiveness to investors. He remarked that once the IMF program comes to a close this year the Government would have greater freedom on how it controls its finances.

"We had to make difficult decisions but when those tough calls had to be made we did not run away from them. We had to reduce public expenditure and increase revenue. Every dislikes increasing VAT but we had to increase VAT. Many criticised us for these actions. Then we had to face a Local Government Election and fared badly. These were all challenges that we had to tackle during these three years."

The country managed to post growth even when oil prices are rising and the floods and droughts reduced agriculture output, the Prime Minister observed. He pointed out the Government increased Budget allocations to education, healthcare, infrastructure development and public sector salaries. The Government also raised the number of tourists to two million, and increased the number of jobs.

"It is due to our efforts to restore Sri Lanka's international reputation that we regained GSP+. We removed the European Union limits placed on fish exports and allowed the sector to thrive once again. We have increased exports due to these efforts. Many ask what we have done. This is what we have done, even in the midst of an extremely challenging environment, travelling a very hard road. It is because we took these difficult decisions that we are now able to direct our efforts at development. This will be the next chapter of our journey," he said.

The Prime Minister also outlined future development plans, which include new investment zones in Matara and Hambantota, a Kandy-Hambantota highway, development of the Hambantota Port through a joint venture, and a joint venture for the Mattala Airport with India by the end of the year.