Multinational Corporates say SL has great potential, promising future amidst social and economic challenges
Call for stable and predictable operating environment
Say MNCs and Govt. have to embark on journey of dialogue to solve problems and enable prosperity for all Sri Lankans
Stress need for more progressive thinking, speed of implementation of good policies
Reiterate MNCs have added substantial value to Sri Lanka's development over 100 years and goal is to continue
By Nisthar Cassim


Leading Multinational Corporations (MNCs), who have brought substantial value to the country over the past 100 years, on Friday spoke up, highlighting the promising future of Sri Lanka which could be translated into greater socioeconomic development via healthy dialogue with the Government and faster action.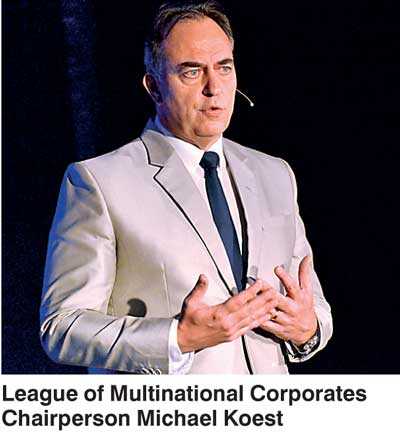 The optimism of MNCs as well as their own ideas for the way forward for Sri Lanka and the private sector were shared at the formal launch of the League of Multinational Corporates (LMNC).


Its Chairman Michael Koest, CEO and Managing Director of Ceylon Tobacco Company Plc of British American Tobacco (BAT), said the purpose of LMNC was to promote the economic development of Sri Lanka, transfer knowledge and best practices and identify and discuss issues and opportunities with the Government .


The launch of LMNC was via a business forum, whose theme was 'Conquering the Impossible' with insights from renowned international keynote speaker and author Jim Lawless, who has inspired people within some of the world's leading companies to take astute risks and adapt to change and high performance via his 'Taming Tigers' framework and bestseller book.



"Sri Lanka has great potential. Not only its strategic location or its people but its sustained growth in the services sector. All these together present a very promising future," said Koest at the event, which also saw the participation of ministers Sagala Ratnayake and Harin Fernando and Deputy Minister Dr. Harsha de Silva as well as representatives of MNCs.


However, Koest noted that Sri Lanka was also facing social and economic challenges, some of which were unique while others were just ripple effects of the global environment.


The LMNC Chief said one significant positive was investor interest and most MNCs have continued to invest in Sri Lanka over 100 years "which demonstrates our belief in the potential of the country."


It was pointed out that particularly exciting for MNCs operating in Sri Lanka was China's 'One Belt One Road' initiative.


"The pivotal question is how can Sri Lanka get a small share of the business that is estimated at over $ 5 trillion? Just imagine the huge boost to Sri Lanka," Koest noted.


In that context, he said the private sector and the Government had to work together to continue creating a friendly and predictable climate to inspire investor confidence in the country.


"In order to move the needle we need more progressive thinking and certainly more substantial enhancement in the speed of implementation," the LMNC Chief emphasised.


He also noted that MNCs had understood their role in making this happen and have made longstanding investment commitments, impacting five million lives, spearheading the transfer of knowledge and technology and introducing world-class governance.


"Our existence also revolves around raising standards and driving continuous improvement," he added.


According to Koest, over the years MNCs have added substantial value to Sri Lanka's development. He added: "LMNC's goal is to continue this."


Some of the major contributions MNCs have made over the years include hundreds of billions of rupees in taxes; touching over one million lives directly and indirectly with sustainable agriculture and farming, etc.


"We are committed to improving farmers' productivity, quality and maximising their profitability. We also provide best-in-class fertiliser, delivering high yields and better revenues for the local rural economy," the CTC boss pointed out.


In terms of world-class standards, he said MNCs brought state-of-the-art manufacturing processes.


"We act according to the highest ethical corporate behaviour abiding by the laws of the countries where MNCs are headquartered. We deliver international quality products and services keeping in mind social wellbeing and the environment."


Koest also said MNCs develop local talent as well, providing career opportunities to the youth and moulding them to face future challenges.


"Through our global best practices and learnings we have forged a number of local leaders who are climbing up the corporate ladder to the top jobs in local companies."


The launch and business forum was told that MNCs were not just about doing business and they had a strong ethic of corporate social responsibility towards the less privileged in Sri Lanka.


He said the key message of the LMNC was that "our work in Sri Lanka will continue so will our commitment and we will continue to be a vocal advocate of Sri Lanka's potential as an investment destination. We cannot do this alone. LMNC and the Government have to embark on a journey of dialogue to solve problems and enable prosperity for all Sri Lankans."


To reinforce his message, the LMNC Chief highlighted a quote by H.E. Luccock: "No one can whistle a symphony. It takes a whole orchestra to play it."


Briefly outlining the origins of LMNC, Koest recalled that a group of like-minded MNCs came together in early 2018 to discuss issues and threats to continuing 100-year-long activities in the country.


"We concluded that the number one success factor for the Sri Lankan economy and corporates within was a stable and predictable operating environment. So LMNC was formed."


According to its chief, the purpose of LMNC is to promote the economic development of Sri Lanka, to transfer knowledge and best practices and identify and discuss issues and opportunities with the Government.


"As a group, LMNC has reaffirmed its values and commitments to empower Sri Lanka. LMNC is an expert advisory panel to promote economic development. We champion policies for strategic investments and we trade synergies to propel growth through innovation," Koest added.


The founder members of LMNC have been part of the Sri Lankan business landscape for decades. They are HSBC (with a global asset base of $ 2.5 trillion and the largest bank in Europe), Mastercard (with over 500 million customers), Unilever (a giant in FMCG and over 10 million customers in Sri Lanka), Heineken (the world's second largest beer manufacturer with a presence in over 190 countries), Lanka IOC (number one brand in India and first listed energy company of Sri Lanka) and British American Tobacco's Ceylon Tobacco Company, which has the highest market capitalisation on the Colombo Stock Exchange.