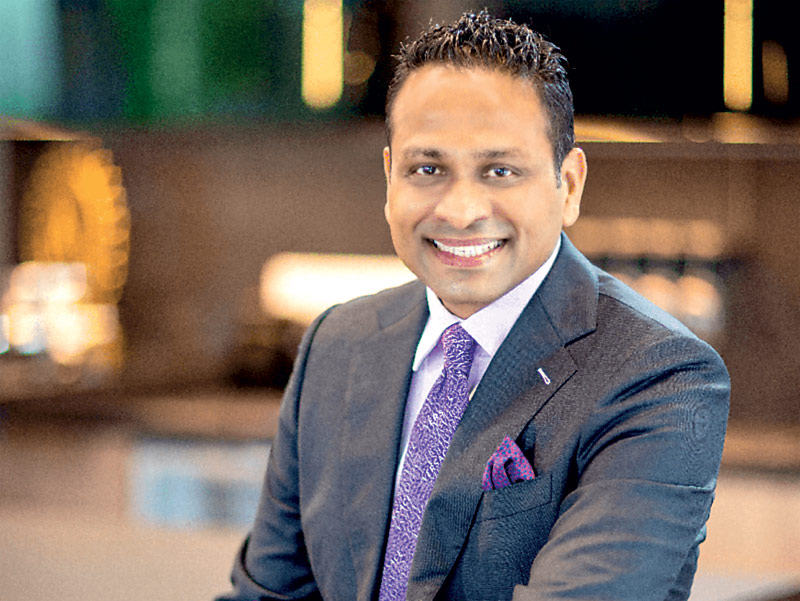 JAT Holdings Founder and Managing Director Aelian Gunawardene
---
First-ever wood coating and paint manufacturer and exporter to list on CSE
IPO's Rs. 2.2 b will fund several key growth initiatives including plant in Bangladesh, expansion into Africa, first-of-its-kind R&D centre, and aggressive foray into Rs. 20 b wall paint market
Founder and Managing Director Aelian Gunawardene confident post-CSE listing and planned listing in Bangladesh, JAT will realise its true value and potential
Some analysts view IPO price at Rs. 27 is expensive; rule out massive oversubscription
Being unique in material sector, Gunawardene claims analysts are wrong in comparing apples versus oranges
Says if compared with regional and global paint companies, JAT's PE is lower and shows the upside hence a discount on future potential
As opposed to JAT's PE 20.5 times, that of Asian Paints is 65.34 times, Berger Paints 76.89 times, Kansai Nerolac is 54.3 times and Akzo Nobel 37.3 times
Managers to the IPO say price is at a 40% discount; offers an immediate upside of 21% to an incoming investor
Despite external-factors-influenced setbacks in FY20 and FY21, JAT performance and earnings has bounced back in 1Q of FY22
Plans to set up its own plant to manufacture resin, a key imported raw material charged with 35% cess at present
JAT aims to become a global player with presence in 16 countries in 3 different continents by FY26 from 7 markets at present earning Rs. 1.8 b
---
By Nisthar Cassim
---
JAT Holdings Ltd. is before the investor community with a colourful statement – the first profit-making and specialist paint and decorative products manufacturer to have an IPO and list on the Colombo Stock Exchange to raise Rs. 2 billion to become more successful.

Market leader and a big exporter, JAT's Initial Public Offering of 16.24% stake or 82.9 million shares at Rs. 27 each will have its official opening tomorrow but it has been up for subscription for several weeks.

The IPO combines an offer for subscription of 55.8 million shares and an offer for sale of 27 million shares.

Like all the recent IPOs despite the pandemic, JAT's issue too is likely to be oversubscribed despite some seeing the price as expensive. The company maintains the IPO price is at a discount given the strong future upside. Optimists estimate JAT IPO will be oversubscribed by three times or more whilst others claim there will be less demand.

However, for its Founder and Managing Director Aelian Gunawardene, the IPO and the listing have far greater significance and value. The cash positive JAT is not raising Rs. 2.23 billion to retire debt but fund several key growth initiatives. The process of listing on the CSE is also to be a forerunner to a similar exercise in the burgeoning Bangladesh where it is the market leader in wood finishing products having entered the South Asian nation nearly two decades ago.

Enjoying 50% share in the Rs. 6 billion water-based, polyurethane wood coating market, JAT is setting sights on the bigger Rs. 20 billion wall paint segment with its innovative 'White by JAT' offering launched in December last year.

To strengthen its market and development initiatives especially of the new product, Rs. 257 million from the IPO will be spent. JAT will step up the conscious strategy of going direct to customers (via an e-commerce driven business model) with an attractive discount bypassing dealers.

What is more significant and certain to bring greater benefit is JAT's emphatic moves in Bangladesh where it commands 30% market share having entered South Asia's and perhaps one of the world's fastest-growing economies Bangladesh way back in 2001.

JAT has started work on a manufacturing facility for which Rs. 515 million from the IPO has been set aside. Bangladesh at end-FY20 accounted for around 30% of JAT's revenue and more importantly it is foreign currency earning export business.

With Rs. 1.8 billion in overseas revenue, JAT also exports to six other markets including the Maldives (where it is the market leader), India, Pakistan and East Africa. JAT aims to become a global player with presence in 16 countries in three different continents by FY26.

Setting up a plant, operational by the third quarter of FY21 and directly serving the growing Bangladesh market will improve its competitiveness and earnings.

Gunawardene believes setting a firm footprint in Bangladesh is better late than never and says the country offers immense growth potential.

It is the prospects in Bangladesh and potential in East Africa where JAT plans to replicate the successful business model in the former, that makes the company bullish. JAT entered East Africa in 2019 and has so far established a presence in Ghana and Kenya. Seeing future potential, it plans to set up a factory there by FY23 eyeing tax-free exports within the African region. Around Rs. 300 million from the IPO will be invested for the East African foray by JAT.

Of the IPO funds, Rs. 433 million will be utilised to enhance the existing R&D facility to a fully-fledged state-of-the-art and first of its kind world-class facility in Sri Lanka. Gunawardene said this move will also improve gross margins.

Gunawardene said JAT also hopes to set up its own plant to manufacture resin, a key imported raw material that is currently drawing a high 35% import cess. "All these initiatives will further enhance our margins," he added.

Some brokers and analysts view the JAT IPO price as expensive and opine that as per some indicators less attractive as against CSE's Material Sector peers. However, JAT maintains being the sole wood coating and decorative paint manufacturer it isn't an apple versus apple comparison. In terms of Price Earnings Ratio (PER), JAT is 20.5 times as against 5.5 times of the sector and below five to 10 times some of the others listed under the same sector.

Gunawardene says if compared with regional and global paint companies, JAT's PER is lower and shows the upside hence a discount on future potential. As opposed to JAT's 20.5 times, according to BloombergQuint, PE of Asian Paints is 65.34 times, Berger Paints 76.89 times, Kansai Nerolac is 54.3 times and Akzo Nobel 37.3 times.

Gunawardene is confident post-CSE listing and a planned listing in Bangladesh, JAT will realise its true value and potential.

Financial advisors and managers to the IPO are NDB Investment Bank and Capital Alliance Ltd. They said IPO price per share of Rs. 27 offers an immediate upside of 21% to an incoming investor on the value per share of Rs. 32.70 derived from a combination of DCF and Forward PER valuation. JAT also intends to maintain a dividend payout ratio of 40% at a minimum. At an implied PER of 10.3x on FY22E earnings, the IPO price is at a 40% discount to the current adjusted peer PER of 17x

The dividend yield (post-IPO) is expected to be between 3.5%-8.7% over the forecast period.

Gunawardene also was confident that JAT's earnings will rebound after a temporary slump in FY20 and FY21 with the latter severely impacted by the COVID pandemic. In the past five years, JAT revenue and net profit were highest in FY19 at Rs. 6.5 billion and Rs. 885 million. However, revenue came down to Rs. 6.3 billion in FY20 and to Rs. 5.3 billion in FY21. Net profit declined to Rs. 712 million in FY20 and to Rs. 599 million in FY21.

A fortnight ago, despite economic conditions, compounded by a month-long islandwide lockdown, JAT reported what it described as outstanding performance in Q1 of FY22. Revenue was a record Rs. 1.4 billion wherein FY21 it was Rs. 485 million, amidst the peak of the pandemic, and Rs. 1 billion in FY20, in the aftermath of the Easter attacks.

Consolidated Profit After Tax (PAT) for 1Q of FY22 was Rs. 161 million, against losses of Rs. 107 million and Rs. 7 million for the same quarter in FY21 and FY20, respectively. As such, the trailing 12 months consolidated PAT of JAT Holdings came in at Rs. 869 million, of which Rs. 782 million accounts for the last 3 quarters, whilst Rs. 86 million relates to the second quarter of FY21 which was a subdued quarter due to pandemic conditions. JAT said it was in line to achieve a PAT of Rs. 301 million in the corresponding second quarter of FY22.

Growth drivers for JAT include the construction and real estate sectors in key geographies poised for strong growth post-pandemic; Rapid urbanisation giving rise to a growing middle class with rising disposable incomes to drive demand and strong real GDP growth forecast for South Asia and Africa (JAT's core markets) between 2021 and 2025. JAT also enjoys the number one position for furnishing solutions for large real estate projects.

JAT's partnership with the renowned wood coatings brand 'Sayerlack' spans over 25 years, with JAT having been recognised as the number one partner globally for Sayerlack. Since 2010 Sayerlack has been a part of The Sherwin-Williams Company, a multinational paints and coatings player and global market leader for wood coatings. In addition to JAT's strong positioning in Wood Coating, the company represents other globally renowned brands such as; Harris, Herman Miller, Knauf and SEA Bauformat.

Ahead of the listing, JAT also bolstered its good corporate governance stance appointing four Non-Executive Directors to the Board, increasing the age and gender diversity of the Board. JAT Chairman is Dr. Siva Sellia (Non-Executive Director/Independent) and the rest of the Board comprises of Managing Director Aelian Gunawardene, Devaka Cooray, Hussain Akbarally, Girish Patil, Priyanthi Pieris, Joyce Gunawardene, Anika Williamson and Richard Gunawardene.