Importers say effortto enact new Customs law not proceeding as fast as expected
Hope authorities will expedite process, promote paperless trade
Praise steady progress on automation of Customs procedures
Say trade deals require transparent, broad-based consultations
Appeal for fast- tracking of policy implementation, believe external environment increasingly challenging
By Maleesha Sulthanagoda


Fast-tracking new Customs legislation, greater stakeholder engagement and speedier implementation of Government policy is imperative for Sri Lanka's economy to adapt to an increasingly challenging environment, a top official said recently.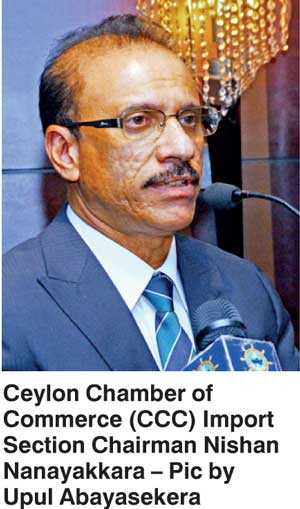 Ceylon Chamber of Commerce (CCC) Import Section Chairman Nishan Nanayakkara, speaking at the organisation's 83rd Annual General Meeting (AGM) on Friday, recapped the difficult environment importers had to tackle in the past year and put forward policy suggestions on what could be done to mitigate some challenges.


"The year under review was an extremely challenging one for importers. Escalating global prices, domestic tariff changes, currency depreciation, an increase in fuel prices and adverse weather conditions not only had negative implications on our economy but also hurt the competitiveness of our exports. Expenditure on imports increased by 9.4% to $ 20,980 million in 2017, recording the historically highest value for imports, mainly due to higher fuel ports," he said.


As per the Central Bank Annual Report, expenditure on non-fuel imports increased by 5.1% to $ 17,552 million.


The increase in import expenditure was mainly driven by the increase in the imports of intermediate goods. Expenditure on the imports of intermediate goods, accounting for about 55% of total imports, amounting to $ 11,436 million in 2017, reflected a year on year increase of 15.9%.


Nanayakkara also called for the Government to fast-track proposed new legislation, including a new Customs Act, as it would increase efficiency.


"Since the Government took a policy decision to enact a new Customs Act in place of the existing customs ordinance, the Import Section has been working very closely with Sri Lanka Customs to bring about reforms to suit the present day requirements in international trade activities. Sadly, the progress has not been to the expectations of the trade. We hope that the authorities will expedite the process without further delay as some of the key proposals need to be amended to enable facilitation of paperless trade and even pre-arrival clearances."


"However, I am happy to note that Minister Mangala Samaraweera's proposal to advise the Legal Draftsman to draft the proposed amendments in the Customs Ordinance was approved by the Cabinet of Ministers. This will enable the operations of services at one combined service counter in order to facilitate business activities. We also see that there is steady progression in the automation of the customs procedures."


The CCC Imports Section has also engaged the Government on trade agreements by serving in high-level trade consultative committees and making submissions based on the principle that such agreements should be anchored to the country's national and strategic interest. Any agreements should only be forged after transparent board-based consultation with the private sector, Nanayakkara emphasised.


"Today we see that policies are rolled out without much stakeholder input. Yet those that get past the first tier more often than not don't get implemented. Our call to expedite reforms within certain key institutions unfortunately isn't heeded. I wish to make a special request from the policymakers to engage the trade in discussion, use the level of expertise available within and not depend too much on external help, consider the proposals and suggestions made by associations such as ours, proposals that will derive long-term benefits for our country, ensure policies will be followed through and most importantly, that they are implemented so that the desired results will be achieved."