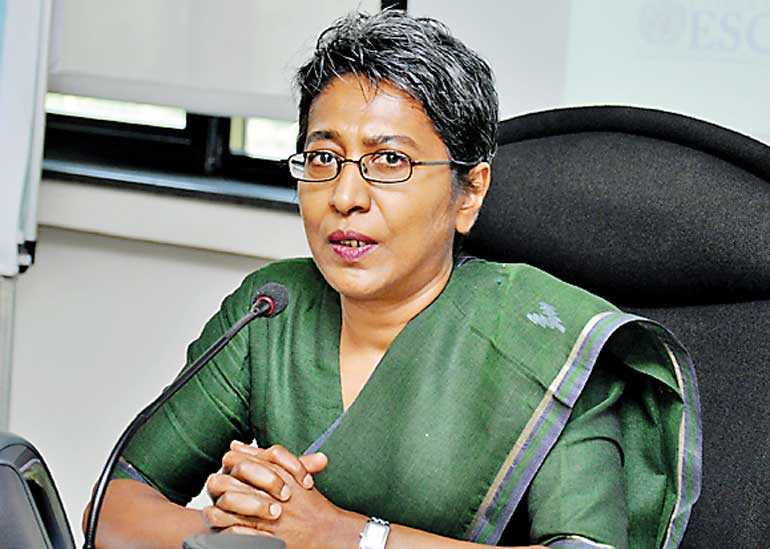 Institute of Policy Studies Executive Director Dr. Dushni Weerakoon - Pic by Lasantha Kumara
Says many Budget proposals don't reach implementation stage

Govt. lacks policy consistency and outcomes, already deviated from Blue-Green economy to a new theme

Sri Lanka's economy clearly underperforms growth outlook compared to other Asia Pacific countries

Insists investment in education, health critical to ensure SL Is on track to meet SDGs by 2030
By Charumini de Silva

Institute of Policy Studies Sri Lanka Executive Director Dushni Weerakoon says the implementation of Budget proposals is crucial midst mounting pressure on the fiscal side and challenges to revive economic growth.

"Despite the wide range of spending particularly targeted at improving social sector, there are concerns as to how much of these Budget proposals will reach the implementation stage by the end of the year," she told at 'Policy Dialogue on the UNESCAP Economic and Social Survey of Asia and the Pacific 2019' organised by IPS last week.

She also pointed out that the Government lost its focus on the 'Blue-Green Economy' before it even reached the implementation stage while they had already moved to another theme which shows that there is lack of consistency in policy and outcomes.

In terms of the survey she said that by and large, the report argues that the region is fairly well poised for a period of stable economic growth as well as macro stability, but there are pressures with regards to fiscal situations in many of the countries and in sub-regions of the Asia Pacific including Sri Lanka.

Weerakoon said the survey has looked quite comprehensively to the economic prospects of the Asia Pacific region in the context of economic challenges in global economy at large and the bilateral trade issues emerging as a major policy issue that needs to be resolved.

Looking at Sri Lanka's performance against the countries in the Asia Pacific, she asserted that the country was clearly underperforming in terms of the growth outlook.

"Sri Lanka is a very poor performer in terms of the revenue side. All we can do in the interim is try and spend better. Overall investments and efficiency are some of the things we should focus on the interim until we can get the revenues up to a reasonable level," she added.

She also said the country was burdened by a heavy overhang of debt. "Given the fact that Sri Lanka has 85% debt to GDP, the Government must think about additional spending as large chunk of the debt repayments are in foreign currency, which makes Sri Lanka much more vulnerable to external shocks," she said.

According to her, the average debt to GDP in Asia Pacific countries is about 45%, while in Sri Lanka it is as high as over 85% of the GDP.

Highlighting another risk factor that has been pointed out in the report, she said that Sri Lanka has fairly limited short-term foreign debt cover considering the total reserves the economy has in hand.

With all these macro challenges, Weerakoon stress it was critical for us to look at investing in education, health and other areas in order to ensure that Sri Lanka was on track to meet sustainable development goals (SDGs) by 2030.

She said that one message that clearly highlights is that although there has been a reasonably good growth in the region, it has not always lead to equitable outcomes.

"The estimates that the UNESCAP report has come up with in terms of what additional sources of funding are required to make SDGs a reality. There is a very clear need to look at these fiscal pressures these countries are faced with and address them," she added.
China outlines fresh tax cuts to lift economy
BEIJING, AFP: China has unveiled tens of billions of dollars' worth of tax and fee cuts as part of a drive to kickstart the stuttering economy, extending pledges worth $300 billion announced last month.

With growth at a near three-decade low and the economy struggling under the weight of the US trade row and a soft global outlook, leaders are looking to grease the cogs by getting the country's vast army of consumers to start spending.

The State Council, or cabinet, said late Wednesday it would reduce electricity and internet costs, port and railway charges, and a variety of fees for individuals and businesses to cut their annual burdens by about CNY 300 billion ($45 billion).

For businesses, the Government will lower average electricity fees by 10% and cut broadband fees for small- and medium-sized businesses by 15%, the official Xinhua news agency reported.

It will also cut trademark registration fees, the State Council said.

For individuals, China will cut a variety of bureaucratic red tape, like fees on postal imports, real estate registration, passport issuance and mobile internet rates.

"Tax and fee cuts are our key measures to tackle the downward economic pressure this year," said Premier Li Keqiang, according to Xinhua.

The announcement follows promises last month to cut company taxes and employer social insurance contributions by nearly CNY 2 trillion ($298 billion), with the first batch of cuts kicking in 1 April.

The meeting Wednesday also outlined new draft amendments to beef up the foreign investment law passed last month, with a provision for 'non-discrimination' in administrative licensing as well as measures to improve the protection of trademarks.