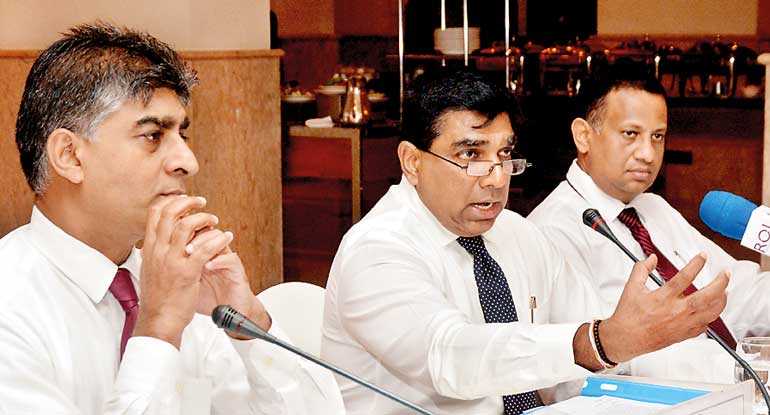 Hayleys Director and Hayleys Advantis Managing Director Ruwan Waidyaratne (centre) addressing the media yesterday. Others from left: Hayleys Advantis Directors Asanka Ratnayakeand Amal Rodrigo – Pic by Upul Abayasekara
---
Import of used household spring mattresses for processing and re-export is permissible by law

Denies mattresses were used by hospitals or should be treated as hospital waste

Shipment imported by unrelated party Ceylon Metal Processing Corporation and contract awarded by freight forwarder ETL Colombo; Hayleys Free Zone was only consignee as per Commercial Hub Act like similar to 100 other clients

Of 130 containers imported under free zone status, 29 exported as fabric, felt, sponge, and steel after processing mattresses

Financial difficulties of importer one of reasons for delay in completing order

Hayleys says it has nothing to do with 102 contentious containers idling in Colombo Port imported separately by Ceylon Metal Processing Corporation

Regrets misinformation and baseless allegations tarnishing most diversified blue chip biggest by turnover
By Nisthar Cassim

Sri Lanka's most diversified and exports-dominant blue chip company Hayleys yesterday categorically denied any wrongdoing by its free zone operations and disassociateditself with 102 containers lying at the Colombo Port, both incidents which have raised widespread controversy partly based on misinformation.

"We are not the importer of used household mattresses which is permissible by law for processing and re-export. The spring mattresses are certainly not used by a UK hospital or could be treated as hospital waste. As per the Commercial Hub Regulation Act, all imports for processing and re-export must be consigned to logistics services operator and media has accused and implicated Hayleys unnecessarily," Hayleys Plc Director Ruwan Waidyaratne told journalists. The importer was an unrelated party Ceylon Metal Processing Corporation Ltd., and the contract for processing and re-export was awarded to Hayleys Free Zone Ltd., by freight forwarder ETL Colombo Ltd.

Waidyaratne said the contract involved 130 container loads of used mattresses which were to be re-worked and re-exported (which is a global business) as items such as fabric, felt, sponge, and steel after processing as per the clients order.

"What we were doing in fact was recycling which is environmentally friendly. As per the law, all imports for free zone must be re-shipped," he added.

Hayleys had processed and re-exported 29 containers out of 130 with the last shipment executed in December2018. As the importer faced financial difficulties, there was a delay in payment by the freight forwarder forcing postponement of re-working of mattresses in other containers. In the meantime, due to the delay, the Board of Investment, which regulates commercial hub operations, last year had requested Hayleys to avoid taking fresh orders of same kind (not due to health or environmental issues but due to the complex nature and it being labour-intensive and time-consuming).

Hayleys said BOI had approved subsequent shipments, but in keeping with its wishes and in the light of the current situation, Hayleys has taken a decision to expedite the re-working of mattresses and re-export at its own cost. This will be done by taking financial ownership of the consignment as a mitigation measure. "In undertaking this processing and re-export order we had followed all procedures under the law," added Waidyaratne who is also the Managing Director of Hayleys Advantis of which Hayleys Free Zone Ltd is a subsidiary.

Whilst assuring its operations are environmentally-friendly and that Hayleys, which is the largest corporate entity by turnover and accounts for 3.5% of Sri Lanka's exports with a higher share of local value addition, will work closely with the Central Environment Authority to ensure that the remaining mattresses stored on in its Free Zone premises does not pose any risk.

Hayleys Free Zone Ltd.Director AsankaRatnayake said free zone operations is key for Sri Lanka's maritime and logistics hub aspirations harnessing the strategic location. ETL Colombo is one of the 100 clients currently being serviced by Hayleys Free Zone Ltd., which re-exports over 8,000 containers per annum. Director Amal Rodrigo said that 50% of Dubai's popular port Jabel Ali's business accounts for free zone services whilst Singapore port is entirely operated as a free zone.

The 29 containers re-exported were for buyers in different industries in the Middle East, Australia and India.

Hayleys with an investment of Rs. 2 billion is one of the six approved free zone operators and one of the three multi-user and logistics services providers.

Waidyaratne also categorically stated that the controversy over 102 import containers idling in the Colombo Port have nothing to do with Hayleys nor was it the consignee or the logistics service provider. He suspects Hayleys was dragged in to that controversy since the importer was the same unrelated party Ceylon Metal Processing Corporation Ltd. Hayleys said it has no idea about the contents of those idling containers meant for domestic use.

"Hayleys is a socially responsible corporate with a history of over 140 years, employing over 30,000 and working with thousands of farmers and small businesses and generating valuable foreign exchange via exports. It is sad that people are trying to destroy a company such as Hayleys via misinformation and baseless allegations," Waidyaratne opined, claiming that some with sinister motives could be responsible.