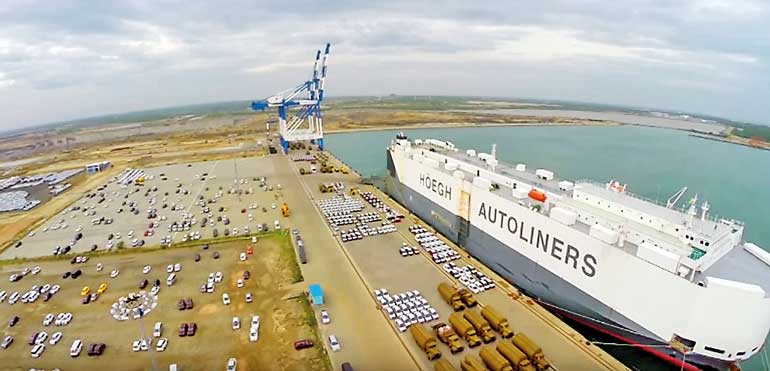 Gazette outlining tax concessions to be presented to Cabinet today
Parliamentary debate on tax concessions for H'tota Port expected Friday ahead of port handover on Saturday
By Skandha Gunasekara

As the days tick down for the official handover of the Hambantota Port to Chinese investors on Saturday, the Government is likely to rush through a crucial gazette detailing tax concessions granted to the divested Hambantota Port by seeking approval from both the Cabinet and Parliament over the next four days.

Party leaders yesterday decided to debate the gazette notification issued by International Trade and Development Strategies Minister Malik Samarawickrama under the Strategic Development Act of 2008 on Friday, before approval was granted, JVP MP Vijitha Herath told the Daily FT.

The gazette notification will be presented to the Cabinet for the discussion of any amendments and final approval today, the Daily FT learnt. The subject minister is to table the gazette notification on Thursday (7) to obtain parliamentary approval, Herath explained.

"The subject minister wanted approval without a debate, but we objected to that as we are not aware of the contents of the gazette. So we have requested a two-hour debate on Friday evening on the gazette. Depending on the content and the debate we can ask for a vote," he said.

In November 2017 Minister Samarawickrama issued the relevant gazette notification in consultation with the Ministry of Finance granting the project company China Merchant Port Holdings a 25-year tax exemption in addition to being exempt from the payment of withholding tax for seven years and tax on dividends following approval by a resolution of Parliament.
The official agreement between the Government and China Merchant Port Holdings was signed in July 2017.
Expatriate staff of the project company will also be exempted from PAYE and the company will not have to pay VAT, PAL, Cess, as well as other taxes for seven years.

The management of Hambantota Port is set to be transferred to China Merchants Ports Holdings (CM Port) on Saturday (9).

Last month, in a move to fast-track payments from the $ 1.2 billion handover of the Hambantota Port, Cabinet approved the amendment of the Concession Agreement (CA) to revise the payment schedule between the Chinese investor and the Sri Lankan Government.

Accordingly, the CA for the Hambantota Port, through a public-private partnership between the Sri Lanka Ports Authority (SLPA), Sri Lankan Government, China Merchants Ports Holdings Company Ltd. (CM Port), Hambantota International Port Group Ltd. (HIPG) and Hambantota International Port Services Ltd. (HIPS) executed on 29 July 2017, was amended.

Meanwhile, over the weekend Labour Minister John Seneviratne waded into the issue of 458 workers employed by the Magampura Port Management Company (MPMC) being issued a controversial circular by the Sri Lanka Ports Authority (SLPA), with him arguing that it was tantamount to a termination of service, while the SLPA countered that the document was simply "misunderstood."

Labour Minister John Seneviratne and the SLPA were in disagreement after it emerged last week that the SLPA, which controls the MPMC, had released a circular instructing Hambantota Port workers not to report to work after 30 November.

The circular also prohibited workers from entering the premises of the port without prior permission. The worker controversy comes as preparations are being made for SLPA to hand over operations of the port to China Merchant Port Holdings (CM Port) on 9 December.

The circular also states that workers who have applied for the Voluntary Retirement Scheme (VRS) before 27 November will be issued relevant payments on or before 7 December. However, Magampura Port Workers Union Secretary Gayan Sandaruwan alleges that both the VRS and the banning of entry by the SLPA are against labour laws, as the case is now under arbitration.

However, the SLPA maintained that the circular had been misunderstood.

The MPMC is to wrap up its work at the Hambantota Port and hand it over to the SLPA. The official stressed that the MPMC would cease to exist after the port is handed over to the new management under the public-private partnership agreement signed with CM Port.

The workers, worried about losing their jobs after the new management takes over, are demanding that they be absorbed by the SLPA. The matter has been referred to the Labour Minister for arbitration.

Further, a statement issued by the Ports Authority explained that "MPMC has no work to offer but has nonetheless assured employees that their salaries will continue to be paid as stated above."

The statement also claimed that "it is inaccurate and deliberately misleading to state that SLPA and/or MPMC have acted contrary to the law."