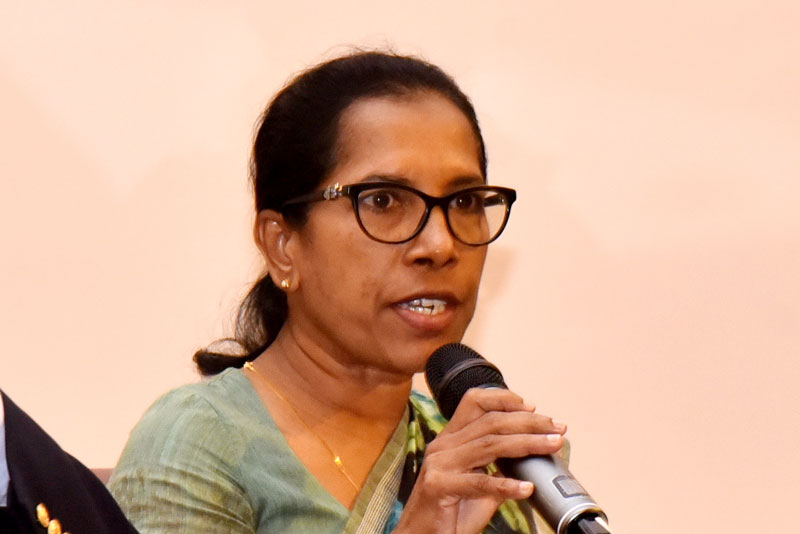 Finance Ministry Tax Policy Advisor Thanuja Perera - Pic by Lasantha Kumara
---
By Charumini de Silva
---
Finance Ministry Tax Policy Advisor Thanuja Perera said the Government is poised to implement enforcement measures due to the persistently low voluntary compliance of the public in paying taxes.

"Only 5% of the total population or less than 300,000 individuals have contributed to income and other taxes as of 2022. But if you look at the number of companies registered, it accounts for 600-700," she said at the CA Sri Lanka post-Budget forum on Tuesday.

Expressing concern over this stark statistic, she emphasised that the current level of voluntary compliance falls significantly short of the 20%-25% needed to meet the targeted tax revenue.

"To address this issue, a Gazette notification was issued, making it mandatory for people to fulfil their tax obligations. Unfortunately, voluntary compliance is very low in Sri Lanka," she added.

On 31 May an Extraordinary Gazette was issued making it mandatory for professionals belonging to 14 categories to register themselves with the Inland Revenue Department (IRD). Accordingly, employees whose monthly contribution from both employee and employer to any Provident Fund exceeds Rs. 20,000 are also required to register with the IRD.

In addition, any individual who does not belong to any of the aforementioned categories, but is aged 18 years or more as of 31 December 2023, or attains 18 years on or after 1 January 2024, is also required to register with the IRD.

Despite the Government's call for voluntary participation, Perera said the response has been inadequate so far, prompting the need for more assertive action.

"Now, we have to move forward with enforcement because there's no time for waiting," she added.

She said the Government is determined to meet the tax revenues and fiscal targets.