Sources confirm Finance Minister to secure
$ 1.5 b credit facility from India during his two-day visit
Govt. pins optimism to 10% YOY export growth, resumption of tourism, and pent-up demand for foreign employment
Hopes foreign exchange crisis will ease within next 6 months to manageable level
Expanded trade deficit over decades, lost revenue from tourism and worker remittances, increased prices of global fuel prices cited key reasons to depleted foreign reserves
---
By Charumini de Silva
---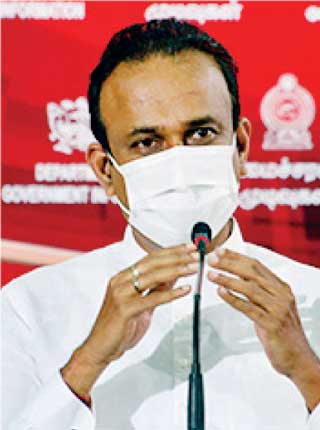 Cabinet Co-Spokesman Dr. Ramesh Pathirana
---
The Government yesterday said it was exploring different avenues to generate foreign exchange, whilst hoping that the gradual resumption in tourism and worker remittances will help avert a possible economic crash.
"The foreign exchange crisis has been a developing scenario over decades. Our trade deficit has reduced gradually over a period of time. Each year, we have imported more than our exports and this has reflected in a deficit over time. We are exploring different avenues to generate foreign exchange," Cabinet Co-Spokesman Dr. Ramesh Pathirana said in response to a query at the post-Cabinet media briefing yesterday.

"Last year, the trade deficit was $ 6 billion, and it was higher in 2018 and 2019. Since we took office in 2019, the Government curtailed the non-essential imports such as vehicles to retain the foreign exchange needed for economy.

However, with no tourism earnings and worker remittances, the situation got worse," he explained.

The average tourism earnings are around $ 4.5 billion per annum and that foreign exchange income was missed for two years due to the adverse impacts of COVID-19, whilst worker remittances dipped significantly due to pandemic-induced travel restrictions keeping them grounded over last year.

Dr. Pathirana said the global fuel price increase also added to the foreign exchange crisis.

"When we came into power, the price of crude oil barrel was at $ 42, and it has now soared to over $ 80. Despite the travel restrictions imposed from time-to-time, the fuel consumption had increased, thereby compelling the drain of much-needed foreign exchange," he claimed.

However, the Government pins optimism to the export sector, which saw a 10% year-on-year (YOY) increase despite the challenging economic conditions, and is hopeful that the revival of tourism this winter season till April, and the pent-up demand for overseas employment will ease the foreign exchange crisis in the next six months.

"This is not a unique situation to Sri Lanka. All economies are faced with unprecedented challenges. We are hopeful of a better situation over the next six months to a manageable level with the revival of the tourism and worker remittances," he added.

Meanwhile, Finance Minister Basil Rajapaksa today went to India for a two-day official visit and sources confirmed that the Minister is hoping to strike a deal to secure a $ 1.5 billion credit facility to counter the depleting foreign reserves.

The main Opposition Samagi Jana Balawegaya (SJB) on Monday claimed that the country's net foreign reserves had plunged to an all-time low of $ 1.2 billion and warned of a looming dark future.