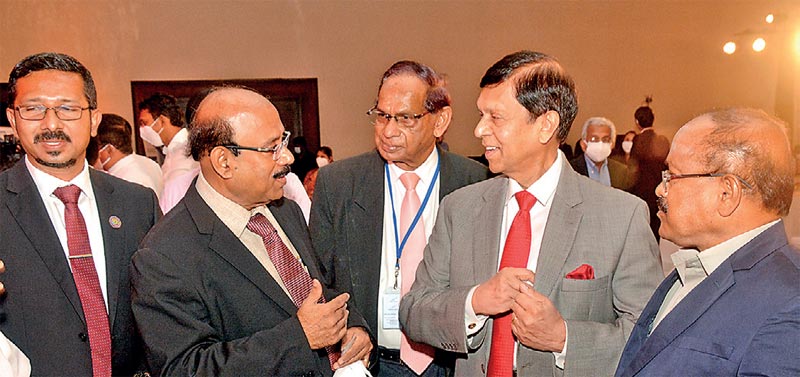 Foreign investors with Central Bank Governor Ajith Nivard Cabraal and State Ministry of Urban Development, Waste Disposal and Community Cleanliness Secretary Sirinimal Perera – Pix by Upul Abayasekara
---
UDA hosts first post-pandemic investor forum 'Investment Opportunities 2022'
Nearly 50 projects in 9 sub-categories with equal opportunities for foreign and local investments
State Minister Dr. Nalaka Godahewa says investment policies are supported by growth strategies to ensure confidence to prospective investors
CB Chief Cabraal describes mega real-estate is going to be a game-changer
Commends UDA for leadership, says initiative is four times bigger than $ 1.4 b initial investment in Port City
Urban development veteran and State Ministry Secretary Sirinimal Perera opines last chance for investors to grab prominent plot of land or property in Colombo
Embarks on resolving mid-income housing projects, 3,000 houses under construction in 26 cites
---
By Charumini de Silva
---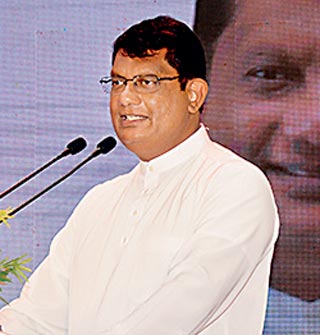 Urban Development, Waste Disposal and Community Cleanliness State Minister Dr. Nalaka Godahewa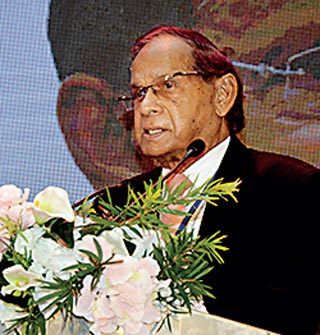 State Ministry of Urban Development, Waste Disposal and Community Cleanliness Secretary Sirinimal Perera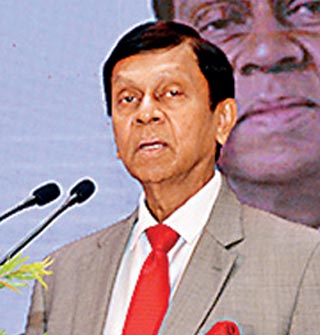 Central Bank Governor Ajith Nivard Cabraal
---
The Government yesterday unveiled the country's biggest real-estate push with plans to attract over $ 6 billion local and foreign investments to promote the post-COVID growth trajectory of Sri Lanka.

The key planning and implementation body — the Urban Development Authority (UDA), listed out around 50 projects in nine sub-categories providing equal opportunities to both foreign and local investments. Real Estate and Township, Hospitality and Leisure, Logistics and Business Parks and Residential Apartments are the main clusters which will be implemented hand-in-hand with investors on the basis of 99-year, 55-year and 30-year lease or Public-Private-Partnership (PPP) in the coming years.

Speaking at the first post-pandemic investor forum of the UDA titled 'Investment Opportunities 2022', Urban Development, Waste Disposal and Community Cleanliness State Minister Dr. Nalaka Godahewa said Sri Lanka is looking forward to creating an investor-friendly environment with the focus on further opening up the economy to attract both foreign and local investors.

"The 2022 Budget has clearly outlined the desire of the Government to get the private sector involved in the infrastructure development of the country. With such clarity in the policy direction, we hope the inflows will witness an unprecedented increase from global and local investors," he said.

He also said that the State Ministry has access to a lot of Government-owned land and properties that can be used for development purposes.

"We are currently looking for potential investors for some of these properties, in collaboration of other Ministries and PPPs. There are many benefits to the investors when choosing UDA as their project partner. Access to lands that are situated in prime locations across the country, necessary utilities and infrastructure and faster approval process for projects would be some of them," he added.

"Our investment policies are supported by growth strategies to ensure confidence to prospective investors," Dr. Godahewa said.

Central Bank Governor Ajith Nivard Cabraal said the mega real-estate initiative of the UDA is going to be one of the game-changers in laying a sustainable pathway to build on the economy for the next several years.

"From a Central Bank's perspective, this project will ensure that our debt situation becomes more manageable. As you'll bring in foreign exchange which we don't have to pay back, it will help our economy enormously to restructure our overall debt portfolio. Secondly, all these State-owned properties, which were underutilised, will now be positioned to provide new impetus to the economy," he added.
The Central Bank Chief also said that if Sri Lanka make use of the $ 6 billion coming in to the economy as a result of the 50 projects underscored by the UDA — it would generate an enormous amount of economic potential that will lead to growth, employment, sustainable position.

However, he acknowledged that it is as easier said than done.

"I know it is not going to be an easy challenge. You will also encounter many localised challenges as well. In Sri Lanka we are used to someone else being asked to implement everything. Everyday, I get a lot of free advice as to what I should be doing or what the Central Bank should do. But only a handful of people come and say "I will do it", and "This is the way I will contribute to the economy." This is what we need from you as well. Someone must step forward and be encountered and the Government will support you," he said.

Commending the large gathering of foreign and local investors in the audience, the Governor pointed out that they were significant contributors supporting the growth and sustainability of Sri Lanka's post-pandemic economic stability.

"The Port City project is a $ 1.4 billion investment, but what you are envisaging is four times of that. It is massive investment. If that investment is going to come, it will lay the platform for the next wave of development in our country and the impacts of that will be spreads across all parts of our economy, Cabraal stressed.

Urban Development, Waste Disposal and Community Cleanliness State Ministry Secretary Nimal Perera made a strong case on the capability of the UDA to attract over $ 6 billion investments under the unveiled masterplan, whilst incorporating past experiences.

"Under the leadership of President Rajapaksa, who was then the Urban Development Ministry Secretary, as the Chairman of UDA from 2010 - 2014 timeline, Sri Lanka attracted nearly $ 25 billion worth of investments. We attracted the globally renowned hotel chain Shangri-La, the Altair investment, One Galle Face, ITC and made significant contributions to the urban development activities of Sri Lanka during these four years," he said.

During this period, the UDA also restored many iconic properties in the Colombo city, such as the old Dutch Hospital, Racecourse building, Arcade building and launched the first floating market and the important Asian Development Bank (ADB)-funded project on Metro Colombo Urban Development and Flood Mitigation initiative.

The urban development veteran also said that this is the last chance for investors to grab a prominent plot of land or property in Colombo, as real estate in the metropolitan is scarce.

Some of the key Colombo land plots include, the 40-acre Welikada Prison land in Borella, nine-acre Charmers Granaries land in Fort, five-acre Airforce land in Slave Island, seven-acre Agriculture Department in Narahenpita, three-acre Battaramulla Town Centre land, Trace City land in Maradana, SLECC land in D.R. Wijewardena Mawatha. On the other hand, the five-acre Visumpaya property in Union place is listed for a high-end boutique hotel project, whilst the 37-acre land in Meethotamulla, 13-acre Gregory Lake land in Nuwara Eliya, seven-acre Bogambara Prison land in Kandy and 12-acre Oaklay Cottage in Nuwara Eliya are listed under hospitality and leisure development category.

He also said that city beautification initiatives have now extend to the suburbs, and currently, the UDA is focusing on 100 cities around the countries.

Perera assured the projects will get the necessary clearances from the UDA's one-stop-shop to expedite the process.

"We are focused on making Sri Lanka a hub for global business across diverse sectors and invite all foreign firms to establish their presence in our country to make the most of this opportunity," he said.

Noting that one of the key missions back then was to clear all the shanties and slums in Colombo, Perera said 68,894 shanties spread across Colombo 1-15 municipal councils, where 68,000 families occupied lands extending to over 650 acres in Colombo, were liberated.

"We have liberated most of these lands and relocated over 20,000 of those families at present," he pointed.

Having solved the low-income housing issues, he said the Government has now embarked on sorting out the middle-income housing difficulties in Colombo, and currently, 3,000 middle-income houses are being built in 26 cites.

"This is the key reason why I affirm that the UDA is capable of attracting investors, with commitment to resolve and enhance business competitiveness in these projects, which will add value to our economy," he stressed.