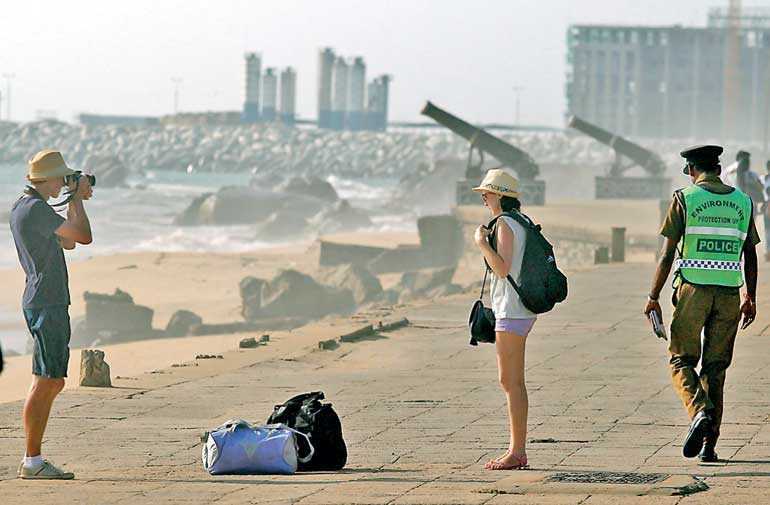 A tourist takes a photo as a police officer walks past them at Galle face beach in Colombo - File photo
---
SLTDA, SLTPB and SLCB to come under single agency as Sri Lanka Tourism

Minister to submit Cabinet paper next week to amend Tourism Act No. 38 of 2005

Focuses on converting SLITHM into degree-awarding university under UGC
By Charumini de Silva

The Government is planning a new model to boost tourism in Sri Lanka, ensuring greater coordination, maximisation of resources and delivery of efficient and effective services.

The new idea is to establish a single agency consolidating the Sri Lanka Tourism Development Authority (SLTDA), the Sri Lanka Tourism Promotion Bureau (SLTPB) and the Sri Lanka Convention Bureau (SLCB). A single agency steering tourism development and promotion was the status quo for a long time until the early 2000s when a new Act segregated the functions. Tourism Development Minister Prasanna Ranatunga told the Daily FT that he hoped to next week submit a Cabinet paper for approval which is slated to amend Tourism Act No. 38 of 2005.

"The new agency will be named Sri Lanka Tourism. With the necessary amendments to the Act, we hope the consolidated agency will be in a better position to provide an efficient service to all stakeholders of the industry," he added.
Ranatunga pointed out that Tourism Act No. 38 of 2005 had divided the entire tourism sector into four main institutions, which include the SLTDA, SLTPB, SLCB and Sri Lanka Institute of Tourism and Hotel Management (SLITHM).

In addition, the Minister said that the Government was also focusing on transforming SLITHM into a degree-awarding university.

He further noted that the Higher Education Ministry and the University Grants Commission (UGC) were presently conducting a feasibility study to identify whether it would be transformed into a university under the purview of the UGC or a locally- or foreign-affiliated university.

SLITHM has primarily focused on hotel management and hospitality during the past 50 years, staying in line with the Tourism Development Ministry's broad national objective of providing a range of training opportunities for industry stakeholders to grow their tourism-related businesses through better operational knowledge, skills and competencies.

"The objective behind converting SLITHM into a degree-awarding university is to further enhance the quality, standard and recognition of the institute and its education. The lack of real-time hardcore learning and development for employees in the industry and at the company level has been a great concern which was not addressed for many years. This will help us to build a steady workforce to cater to the growing employment needs of the tourism sector," Ranatunga stressed.

He also said that this would help turn the brain drain into a brain gain and make tourism-related employment more attractive.