Targets suggest Govt. aiming for higher growth than previously witnessed
Plans to keep National Export Strategy
Stronger focus on value-added agri products, boat building and shipbuilding industries
Exporters told to convey issues to EDB, report expected soon
Minister assures no disruption to projects in run-up to General Elections
By Charumini de Silva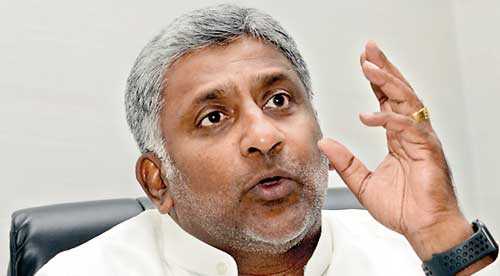 Tourism Minister Prasanna Ranatunga

- Pic by Shehan Gunasekara
The Government is keen to increase Foreign Direct Investments (FDIs) to $ 2.5 billion and exports to $ 13.5 billion this year aided by improved policy stability, business confidence, tax cuts and a wide-ranging stimulus package.

While final data for 2019 FDI and export performances is still pending, the 2020 target suggests expectations of growth higher than what has been seen in the preceding years.

In the first 11 months of 2019, exports amounted to $ 11 billion, marginally up by 0.8% from a year earlier. FDI as per Central Bank data was $ 772 million in the first 11 months, down from $ 1.6 billion in 2018.


"We are confident of increasing both exports and foreign investments," Industrial Export and Investment Promotion Minister Prasanna Ranatunga told the Daily FT.

He said the Government led by President Gotabaya Rajapaksa would continue with the National Export Strategy (NES) to enhance performance.

"There is no need to change the NES because it was put together after much consultation with experts in the field. Just because the Government changed, I don't think this should be discontinued. However, considering the global trends in trade and exports, if there are amendments to be made we will do it," the Minister stressed.


He said the Government would also explore new markets and products, while also looking at strengthening the existing export basket.

"We want to help the existing exporters first and encourage new enterprises to reach markets. The Government is confident of achieving a $ 13.5 billion export target this year," Ranatunga added.

The Minister also said the Government hoped to focus on agri-based value-added exports and the boat building and shipbuilding industries as they believed there was high potential to grow these two industries.


He also pointed out that he had discussions with the Export Development Board (EDB) and exporters and gave instructions to convey their challenges to the EDB so solutions could be sought. The report is expected within the next few weeks.

The Minister noted that he had offered leadership to establish a strong foundation for all the institutions under his portfolio to be able to continue projects even in the run-up to the General Elections, with expectations to upscale them following the polls.