Small hotels and homestays get Rs. 500,000 interest free loan
Loan tiled "Sancharaka Podda" under Enterprise Sri Lanka scheme
Treasury predicts relief will cost Rs. 1.5 b
Finance Ministry says other measures also focus on informal sector
Minister says willing to discuss with other sectors affected by attacks but refuses to roll out relief measures for all
SLTDA releases details of how stakeholders can access Govt. assistance
By Uditha Jayasinghe

Finance Minister Mangala Samaraweera yesterday said a new loan scheme will be introduced to assist informal tourism sector stakeholders to recover from the Easter Sunday attacks.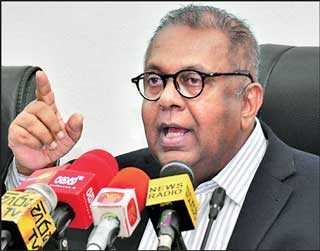 Finance Minister Mangala Samaraweera

– Pic by Sameera Wijesinghe


Speaking to reporters at the Finance Ministry, Samaraweera said that the Government had already agreed to a range of relief measures for the formal tourism industry but officials felt that the informal sector also needed assistance. However, as a new measure the Finance Ministry also said that the Regional Development Bank (RDB) has been instructed to launch a new scheme titled 'Sancharaka Podda' for a maximum of Rs. 500,000 interest free loan with a one-year moratorium.

Earlier loan schemes for tourism industry stakeholders to purchase buses and taxis, as well as other measures under 'Enterprise Sri Lanka', remain intact, the Minister said.

"The informal sector makes up a large part of our tourism industry. These people have also taken loans to build small restaurants or add a new room to their homes and join the industry, and we have to try and assist them as well because their livelihoods have also been hit," he said. Minister Samaraweera said these stakeholders could be seen in areas such as Mirissa or Ella, and the government was assisting these smaller operations through the new loan scheme.

"Borrowers will get a one year grace period. We know that the industry will get back to normalcy in a year," Samaraweera said.

The "Sancharaka Podda" loan will have to be repaid in three years with the ability for initial instalments to be adjustment to as little as Rs. 8,000 to Rs. 12,000 per year.

The Finance Ministry had therefore issued a circular providing a relief period till 31 March 2020 to all loans linked to the tourism industry. Non-banking financial institutions will provide the same relief. A moratorium has also been given to people who have obtained the 'Jaya Isura' and 'Green Loan' schemes under 'Enterprise Sri Lanka'.

"To help day-to-day operations the Government has allowed anyone to obtain working capital loans up to Rs. 250 million. The amount will be decided on the turnover of the previous year and it has a preferential interest rate of just 3.46% and the borrower can take two years to repay it," the Minister said.

Other provisions introduced to the formal tourism sector such as the reduction of VAT and duty free import of security equipment will also available to the informal sector but they would have to register with the SLTDA under current provisions.

Responding to questions, Minister Samaraweera assured that the Finance Ministry would continue discussions with other industries that had been affected by the Easter Sunday attacks but insisted that it was not possible to give relief to all of them.

Referring to the construction industry, he noted, "The building industry was struggling before the Easter Sunday attacks and we will have discussions with them but everyone cannot get on the bandwagon and ask for relief packages from the Government. We can't make everyone happy."

Meanwhile, tourism service providers can now avail themselves of the financial relief package by the Tourism and Finance Ministries, the Sri Lanka Tourism Development Authority (SLTDA) said in a statement.

Considering the prevailing situation in the tourism sector, the Government has offered several relief measures, which include a relief period for capital loans and interest till 31 March 2020, reduction of VAT component up to 5% for a period of one year from 21 May 2019, a loan for working capital with low interest under the 'Enterprise Sri Lanka' loan scheme and duty-free facility for importing security equipment.

Individuals and companies that have registered with SLTDA and have obtained an SLTDA license for the year 2018/19 are qualified to apply for the relief measures. They will also have to make a financial request to their bank or finance company via a letter. Non-registered individuals and entities with SLTDA can download the application from www.sltda.gov.lk and email the SLTDA to register themselves.

Applications by SLTDA registered entities can be made to any licensed bank, financial company or specialised leasing company.