Alleges country failing due to sheer mismanagement
Claims SL is in a crisis of equilibrium
---
By Darshana Abayasingha
---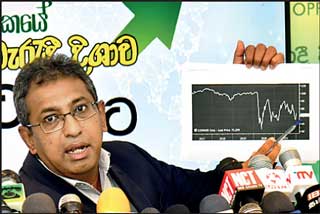 SJB MP Dr. Harsha de Silva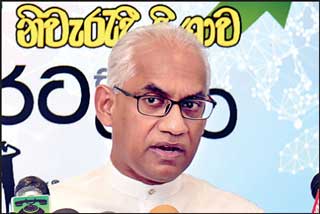 SJB MP Eran Wickramaratne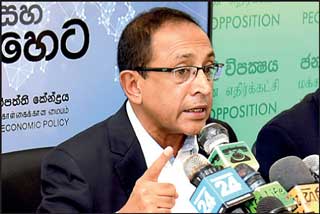 SJB MP Kabir Hashim
---
The main Opposition Samagi Jana Balawegaya (SJB) yesterday charged that the Government is caught up in a vicious circle of its own lies and the country is going from bad to worse due to its sheer mismanagement.
Addressing the weekly economic briefing, SJB MP Dr. Harsha de Silva averred that he is baffled why the Government is not considering restructuring the country's debt repayments given its perilous state. He stated the Opposition is at no point saying the Sri Lankan Government must default, but instead restructure the debt and this has even been recommended by the same investors and analysts. Yet the Government and the Governor of the Central Bank are too arrogant to consider reality, de Silva charged.

He also rebuked the Central Bank Governor's claims that Sri Lankan bonds are trading on par in the secondary market, and quoted three Bloomberg reports that showed Sri Lankan bonds trading far below parity levels. A bond maturing in July this year was trading at $ 70 versus $ 100, whilst the bond maturing in March 2025 and 2030 were trading at $ 50 and $ 48 respectively.

Pix by Ruwan Walpola

"We are in a crisis of equilibrium. When the economy is in such a dire situation, why are they not considering restructuring our loans. The secondary market is a reflection of the international sentiment and confidence of our repayment capacity. Even the investors are saying to restructure. There is a shortage of essential items, there is a shortage of raw materials for industry. But the Governor of the CBSL is saying no we will not restructure.

"The Government says up to $ 170 million of the bond holders in the upcoming payment are Sri Lankans. Who are these Sri Lankans? Is this repayment being pushed through to benefit these Sri Lankans? If these bonds were bought one month ago, there is a benefit of over 200% because the value drops. This brings to question why there is so much commitment to meet this payment in this situation when we must consider our citizens first," de Silva said.

Joining the discussion, SJB MP Kabir Hashim said the Government that came to power promising not to sell national assets is doing just that to meet its debt payments. Hashim noted that Finance Minister Basil Rajapaksa, had confirmed Sri Lanka must make $ 6.9 billion in debt payments this year. In a Cabinet Paper dated 3 January, the Finance Minister claims that Sri Lanka will earn $ 32 billion from exports during this year, he added.

"This is a lie and a complete fabrication. We cannot hoodwink the country every day by manipulating numbers and fooling the people. In 2018 we achieved the highest ever exports of 20% of GDP, the value of which was $ 20 billion. How is the Finance Minister claiming we will earn $ 32 billion? Sri Lanka only earned $ 12 billion in 2020 from exports. This is a complete lie.

"Why are they spewing more lies when we are in a really difficult situation, we are on the brink of bankruptcy. When we don›t provide fertiliser to the agriculture sector, and when production is so low, how can we talk about increasing exports? How are we facing up to this challenge? We have not received an answer," Hashim charged.

He added that the Cabinet Paper also shows the Government is looking to sell the country's resources and quoted a section of the paper which alluded to the UDA providing long-term leases on identified high value properties and buildings, to raise $ 1.5 billion. Such projects included the power-generation sector, ports and unutilised Mahaweli land.

Dr. de Silva added that these properties have been on sale for a long time, but they have not been picked up as investors are waiting for the fire sale, when the situation gets desperate. Commenting on the Governments averseness to go to the IMF, de Silva added the IMF does not impose conditions, and instead a country must provide a debt sustainability analysis that does not hamper the public, which would be discussed and agreed between officials.

"Now the President has requested to restructure the Chinese loans. However, China has only agreed to review and restructure its interest free loans, which is a very small amount. We mostly have loans at commercial rates from China. China won't be prepared to restructure our loans and help Sri Lanka repay investors from Wall Street US. Why is the Governor of our Central Bank so keen not to restructure payments on International Sovereign Bonds?" De Silva asked.

Speaking at the event, MP Eran Wickramaratne asked whether the top officials in Government understand how to manage the country. He pointed to the Government budget proposals of 2022 in November, and the welfare package announced in January which was outside the budget and costs an additional Rs. 20 billion. "They don't know how to manage this.›»

"As per our information Sri Lanka has $ 1.6 billion in reserves as opposed to the $ 3.1 billion espoused by the Governor. The Government says this is all a result of the pandemic. That is a complete lie. This is due to wrong policies and bad management. The responsibility lies with the President and senior members of this Government. All other Asian countries have grown their reserves including Pakistan, Nepal and Bangladesh.

"Sri Lankan reserves have dropped 80% when others have grown up to 48%. We cannot commit to more loans without fixing our means of income. They keep talking of swaps, but it's a short-term tool with which you can't grow your reserves. Plus, they don't come free.

"This is our country, and we cannot let it fail. Why are they lying and mismanaging the situation? The Central Bank must be run by professionals. Economic management is not about creating beggars and providing them handouts, but that is what the Central Bank and the Government has done," Wickramaratne said.