Says there is no taboo against anyone investing in Port City
Insists strategic location makes SL attractive to investors
Prof. Peiris says Parliament holds sole authority over administration of Port City public funds
Cabraal says Colombo Port City will definitely be a turning point for economy
Justice Minister reveals plans to set up Investment Court within Commercial High Court
MP Weerasinghe responds to Opposition; recalls UNP's Greater Colombo Economic Commission allowed numbered accounts, inviting global fraudsters to bring in illegal money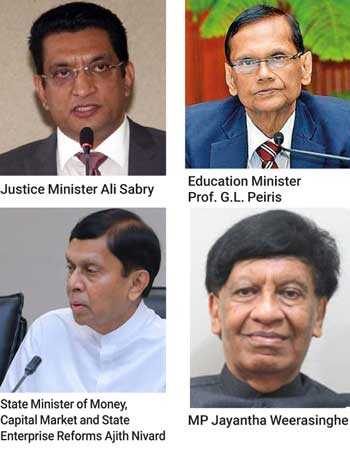 By Charumini de Silva

The Government yesterday urged international and local companies to invest in the Colombo Port City, taking advantage of Sri Lanka's strategic location, improving business climate and incentives on offer.

Following the approval of the Colombo Port City Economic Commission Bill by an overwhelming majority on Thursday, several Government Ministers and MPs yesterday spoke of the potential benefits of the country's iconic development project.

Promoters of Port City, China Engineering Harbour Corporation (CHEC) estimate the reclaimed land area could draw investments worth $ 15 billion over the next five years.

"Investors must make use of this great opportunity. It is comparable with any of the world-class facilities offered in the region and beyond. Sri Lanka's strategic location is one of a kind and that is why there is so much of interest for this project," Justice Minister Ali Sabry told journalists yesterday.

He was joined by Education Minister Prof. G.L. Peiris, Money, Capital Market and State Enterprise Reforms State Minister Ajith Nivard and MP Jayantha Weerasinghe.

Sabry also assured that there was no taboo against anyone investing in the Port City. "Investment is open for all. There is absolutely no limitation for any country or company. As long as you bring investment, you apply for a licence, you can obtain the license and invest in the Port City," he added.

The Justice Minister clarified that the Commission had the sole authority to grant licences and the Port City Company had nothing to do with granting licences.

"The Port City Economic Commission is appointed by the President and the President is appointed by the people of the country and he is accountable to the Parliament. There is absolute sovereignty vested with this Commission and the President to do what is right for the country," Sabry pointed out.

Despite the heavy criticism, he assured that there was absolutely no reason to worry because normal Sri Lankan laws completely applied for the entirety of the Colombo Port City, except for those which were specifically exempted and certain incentives could be granted.

"There are three schedules in the Act. The first schedule gives a description of the Port City and the boundaries. The Supreme Court upholds that the Colombo Port City is Sri Lankan territory and Sri Lanka has become bigger by 296 hectares, which otherwise would have been a part of the Indian Ocean. The second schedule outlines the enactment and how exemptions or incentives may be granted. There are certain Acts in terms of which fiscal, custom and tax incentives are given; in keeping with the world trend and our old local trend. The third schedule enactment highlights no application within the area of authority of the Colombo Port City such as the Urban Development Authority (UDA), Municipal Council Ordinance, Commercial Mediation Centre, Town and Country Planning. This is to prevent the investor going from pillar to post. Instead of that the Commission will serve as a single window opportunity," he explained.

He also said that most of the contracts would be governed by arbitration.

The Justice Minister said he intended to establish an Investment Court within the Commercial High Court to ensure safety of their investments. "Investments exceeding $ 100 million will be taken at Investment Court," he added.

Sabry said with the Port City project Sri Lanka would experience a gradual improvement in the Doing Business Index as well.

"Sri Lanka's current Doing Business Index rank is 99 and in time taken to enforce a contract it is at 165. The Government is interested in making Colombo Port City a clean and safe haven for pure and good international investments. We want to make Sri Lanka an attractive destination for investments and make it mutually beneficial to the Government and investors," Sabry added.

Minister Peiris said Colombo Port City was a comprehensive project that the Government had embarked on to attract Foreign Direct Investments (FDIs) without further intensifying the debt burden.

Denying all criticism, he pointed out that as per Article 148 of the Constitution, the Parliament held sole authority over the administration of public funds, whilst adding that this authority had not been undermined by the Port City Bill under any circumstances.

"If there is a need for investments, tax incentives should be granted. FDIs cannot be attracted without providing tax concessions. However, these tax incentives should be granted subject to the regulations imposed by the Parliament," he pointed out.

Prof. Peiris also said that all the money obtained through taxes would be deposited to the Consolidated Fund, which would be vetted by the Auditor General and thereby categorically dened allegations of money laundering opportunities in the Port City.

Cabraal said there were 5,000 similar economic zones in 146 countries, but only around 100 of them were successful, insisting that it was critical to have better management of such zones.

"These special zones must have speedy, efficient systems to be single window opportunities – it is only then that they are attractive to investors. The Colombo Port City Economic Commission was established to ensure efficiency," he added.

The State Minister also said the initial construction of the Port City would bring in $ 15 billion and would house a financial centre and other services businesses and residences, generating over 200,000 jobs when complete.

"It would add around $ 4.5 billion to the Gross Domestic Product (GDP) of our country in the first few years and thereafter at a rate of around $ 12 billion of additional GDP. This would make a vast difference to our $ 80 billion GDP country. People of our country will be able to work inside the Port City and will be able to earn in dollars without having to leave for overseas jobs," Cabraal said.

He also pointed out that there would be major impetus for tourism, entertainment, and leisure conferences with additional 5.7 million square meters of buildable space.

"Colombo Port City will definitely be a turning point in our economy," Cabraal added.

MP Weerasinghe described the passing of the Colombo Port City Economic Commission Bill as a collective victory of all Sri Lankans in favour of the growth of the country.

He recalled that those opposed the Bill at Parliament on Thursday were once members of the United National Party (UNP) that created the Greater Colombo Economic Commission which was a brainchild of late President J.R. Jayewardene.

"The Greater Colombo Economic Commission allowed numbered accounts, which are inviolate in any court and institution of the Government of Sri Lanka and other governments. Anyone revealing information with regard to numbered accounts can be put behind bars for five years. Therefore, those who make money laundering allegations should rather study the Greater Colombo Economic Commission as their party leaders opened up avenues and invited people to bring their illegal money (black money) to the country," he charged.

MP Weerasinghe also pointed out that it was then President and now Prime Minister Mahinda Rajapaksa who brought in the Anti-Money Laundering Act in 2006.