By Nisthar Cassim
Foreign investor interest is back in Sri Lanka and last week's mega deal worth Rs. 22.7 billion on premier blue chip John Keells Holdings (JKH) is being flagged off as a big boost.

Consultant to the broker to the deal CT CLSA Securities Marianne Page confirmed to the Daily FT yesterday that several foreign investors were keen on buying into JKH though the 10.7% stake was snapped up by Citigroup Global Markets Ltd., Agency Trading Prop Securities A/C. The seller was Malaysia's sovereign fund Khazanah Nasional Berhad.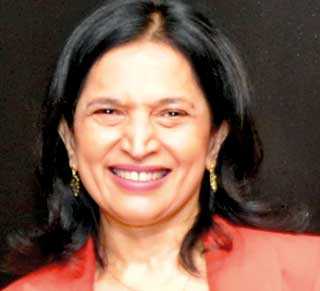 Marianne Page, Consultant CT CLSA Securities the broker to the JKH deal
"We didn't do a global roadshow on JKH stake but the market got wind of it and there were several inquiries. Locally too there was interest. All those for were smaller parcels instead of the entirety," said the Singapore-based Page though declining to be specific.

Page said that the price at which the deal happened (141.8 million shares at Rs. 160 each) was "fair" for both the seller and the buyer. The transaction took place midst tensions in the Middle East and its spillover effects to rest of the world.

"The fact that Citig-roup Global Markets Ltd., Agency Trading Prop Securities A/C picked up the big block in full reflects the confidence on JKH and in Sri Lanka. In that context the transaction is a big boost," said Page who has been promoting equity investments into Sri Lanka for several decades.

She opined that the Colombo stock market had been oversold and valuations are attractive going forward.
"I believe foreign investor interest will gather momentum post General Elections. Post Presidential Poll, signs have been encouraging," Page added.

Market analysts linked the account to the Toronto, Ontario-based giant Fairfax. HWIC Asia Fund, linked to Fairfax was already owning 3% stake prior to Thursday's mega acquisition and its latest stake is near 14%. The seller was Northern Trust Co S/A Broga Hill Investments Ltd., linked to Khazanah.

The deal in deed boosted investor sentiment and propelled the turnover at CSE to Rs. 23.6 billion, highest since 2008. After suffering a 2% dip on Wednesday (sharpest in over two months), the ASPI on Thursday shot up by 85 points or 1.44% and the S&P SL 20 Index moved up 64 points or 2.3%. On Wednesday, it fell by 2.6%.

Fairfax Financial is a financial holding company engaged in property, casualty, insurance and reinsurance, investment management, and insurance claims management.

Fairfax first entered Sri Lanka in 2013 via HWIC Asia Fund, accumulating a 15% in JKH subsidiary Nations Trust Bank. In 2015, Fairfax bought 78% of JKH-linked Union Assurance's general insurance business for Rs. 3. 7 billion. A year later, it acquired 100% of Asian Alliance General from Softlogic Holdings for Rs. 1. 2 billion.

Market analysts claimed that Fairfax was negotiating the block for several months whilst others said Khazanah has been looking to exit JKH for over a year.

Given its stature, business sectors and liquidity JKH remains the proxy for Sri Lanka's equity market. On Thursday JKH share price increased by Rs. 1.70 (1.06%) to close at Rs. 162.80, though it closed the week down Rs. 1.30. Its 52-week highest price is Rs. 172 and the lowest is Rs. 134.80. Net asset per share at Group level was Rs. 158.67 as at 30 September 2019.

The acquisition by Fairfax also enabled foreign holding on JKH remain intact at 598.3 million shares or 45.4%.

Sohli Captains and related parties own 20% stake in JKH followed by Harry Jayawardena-linked Melstacorp at 9.8%.