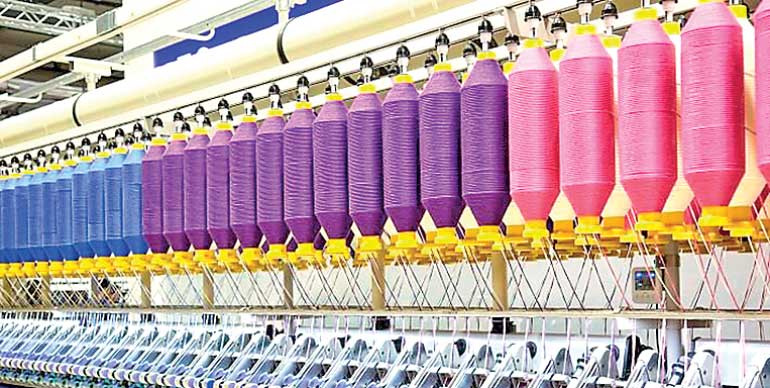 Warns serious damage over CB's new rule that apparel exporters must pay in local currency for suppliers who are deemed exporters
Says move will erode forex earnings base, thereby crippling ability to source foreign inputs and machinery and force apparel industry to resort to foreign fabric and accessories
Fabrics and accessory industry worth $ 750 m, saves apparel industry's forex expenditure by half
Opines CB move contrary to both Government and BOI's objectives, puts proposed Eravur Fabric Park in jeopardy
---
The $ 750 million worth local fabric and accessory manufacturers have expressed serious concern over the Central Bank (CBSL) requiring apparel exporters to pay in local currency for supplies from the industry.

The fabric and apparel manufacturers are considered 'deemed exporters' for their contribution in saving foreign exchange via local production of inputs to the $ 5 billion apparel industry.

However, a fresh move by the CBSL requiring apparel exporters to use only local currency for domestically sourced inputs has caused a furore across the biggest foreign exchange

earning sector.

The Fabric & Apparel Accessory Manufacturers Association (FAAMA), which is the governing body of fabric and apparel accessory manufacturers in Sri Lanka and a subsidiary association of the Joint Apparel Association Forum Sri Lanka (JAAF), has expressed its concerns and recommendations in writing to the CBSL Governor Nivard Cabraal.

The FAAMA members sell their products directly to apparel exporters (locally and overseas) hence their businesses are classified as 'deemed exporters'. The entirety of industry invoicing to apparel exporters has always been in USD, Euros or Sterling Pounds.

"The raw materials we require for our produce, such as yarns (both cotton and synthetic), dyestuff, chemicals etc., including machinery and spare parts, are not available locally and have to be imported from different countries around the world. The payment for such materials and machinery needs to be settled in USD," FAAMA sources said. Approximately 75-80% of its expenditure is the same for which it needs to have USD/foreign currencies readily available.

Sources said that whilst the CBSL's latest move provides allowances for direct exporters to retain USD to meet their USD expenses, this does not seem to be the case for fabric and accessory manufacturers/deemed exporters, where the latter are required to invoice local apparel exporters in LKR even though it must honour suppliers in USD.

"This issue is of serious concern and can be detrimental for manufacturers individually and to the industry as a whole," FAAMA sources added.

Fabric and accessory manufactures are urging CBSL to retain the status quo and allow invoicing in and payment in USD as they are deemed exporters.

"Fabric and accessory manufacturers need to maintain foreign currency such as USD in order to procure the required raw material and machinery we require," they added.

"If we were to adhere to the gazette and convert all our revenue from USD into LKR upon receipt of the same, we will incur immense losses on the exchange rate and the industry will be in turmoil with the danger of several manufacturers having to even shut down operations."

It was also pointed out that the new move would encourage apparel manufacturers to import fabrics and accessories rather than sourcing locally. "This will hinder the survival and growth of the local fabric and accessory industry, which is contrary to both the Government's and Board of Investment objectives."

FAAMA has been maintaining that by encouraging growth of the apparel supply chain in the country, Sri Lanka can become the destination of choice for global brands for their apparel sourcing needs.

The blow by CBSL comes at a time when the overall export and deemed export industry is facing serious challenges in logistics, both in terms of cost and lead times. Additionally global apparel brands are pursuing an 'in-country verticality' strategy for sourcing their products.

"With brands intentionally reducing their sourcing exposure in Far Eastern countries due to various reasons, we are well poised to secure that revenue into Sri Lanka. This will enable the industry to grow significantly and make projects such as Eravur Fabric Park a success," FAAMA sources pointed out.

Admitting the need to retain foreign currency reserves to ease the economic crisis, sources said this could be achieved only by extending support to fabric and accessory manufacturers.

"We believe by encouraging the local apparel and textile industry, the industry has potential and is poised for certain growth if the environment remains conducive. This in turn will surely support the economic needs of the country."

The apparel industry in 2019 recorded an export revenue of $ 5.3 billion but in 2020 it reduced to $ 4 billion due to the pandemic. The Export Development Board last week said Apparel and Textile in October increased by 43% year-on-year (y-o-y) to $ 509 million, with strong performance in exports of Apparel (43.4%), Woven Fabrics (86.6%) and Made-Up Textile Articles (116.3%). In the first 10 months, apparel and textile exports grew by 21% to $ 4.4 billion.

The CBSL set a target of $ 6 billion for apparel and textile exports in 2021. However, industry estimates overall exports likely to be $ 5 billion, inclusive of locally produced fabrics and accessories amounting to approximately $ 600-700 million and imports of fabrics and accessories is in the range of $ 1.8 billion.