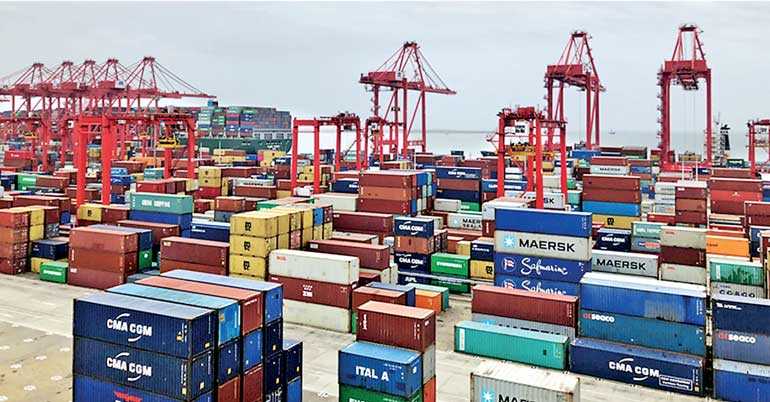 Exports are a key part of Sri Lanka's economy and is expected to earn $ 16 b in 2021
---
New Gazette orders exporters to immediately convert 25% of earnings
Exporters concerned rule will increase costs and cash flow issues
Insist move could "kill golden goose" at challenging time
Appeal for more consultative approach on policymaking
25% mandatory conversion comes as reserves dip to $ 4.8 b
Follows CB directive for banks to sell 10% of converted remittances
---
By Uditha Jayasinghe
---
Exporters yesterday raised concerns over a new Central Bank order to immediately convert 25% of forex earnings through licenced banks, insisting such a policy could increase costs and place more pressure on an already struggling sector.

The Central Bank yesterday released details of a Gazette notification published on Thursday that called for exporters to immediately convert into rupees 25% of foreign exchange proceeds they earned. The latest Gazette continues the 180-day repatriation rule as well. Sri Lanka has set a goal of $ 16 billion earnings from exports for 2021.

"Every exporter of goods shall, immediately upon the receipt of such export proceeds into Sri Lanka as required under this Rule, convert 25% from and out of the total of the said exports proceeds received in Sri Lanka into rupees through a licenced bank," the Gazette said.

"The requirement of converting the aforesaid 25% from and out of the export proceeds received in Sri Lanka shall continue until any other percentage as may be determined by the Monetary Board from time to time," the document added.

"All licenced banks shall be required to mandatorily monitor, strictly, the receipts of exports proceeds in Sri Lanka within the period as stipulated and the conversion of such proceeds as required in this Rule, and shall maintain all documentary evidence relating or in connection thereto," the Gazette stated.

Exporters, however, criticised the move, insisting the new regulation would increase costs and limit flexibility for business decisions in an environment already severely constricted by COVID-19 and its linked economic fallout.

"This idea that exporters hold onto forex outside of the country is a complete fallacy. Most exporters work on credit and they diligently bring their earnings into the country. Typically they use their forex earnings to purchase imports that are needed as intermediate goods to manufacture more exports. Unfortunately, what this directive will do is force exporters to convert their funds into rupees and then reconvert them for imports, significantly increasing costs and hassle," a top exporter told Daily FT on conditions of anonymity.

He went onto say that most exporters also only need local currency to pay wages and other auxiliary requirements, which are usually less than 25% of their forex earnings. He also appealed for the Government to take a more consultative approach to exporters and "not kill the golden goose with short-sighted policies".

These views were echoed by National Chamber of Exporters Secretary-General and Chief Executive Officer Shiham Marikar, who acknowledged that the move could pose challenges to the sector.

"We fully believe in supporting the Government, but at a time when the sector is struggling with so many shocks and uncertainties, this regulation could pose cash flow issues to companies. We are very willing to engage with the Government and hope they will make policy decisions taking our challenges into account," he said.

The new rules, which came into effect from 18 February, follow on Sri Lanka's reserves dipping to $ 4.8 billion in January, increasing worries over pending debt repayments. Subsequent to multiple downgrades by international rating agencies last year, Sri Lanka has been facing growing pressure to shore up reserves and improve market confidence on its debt repayment abilities.

Yet the Government has steadfastly refused to seek assistance from the International Monetary Fund (IMF) to avert a balance of payments crisis and insisted that the situation is well in hand. The country has to repay an estimated $ 4.3 billion in 2021, and the Central Bank has said it is working on two swap arrangements with India and China for $ 2.5 billion and a loan from China Development Bank for an undisclosed amount.

The Government has also insisted its ongoing import restriction measures will reduce the trade deficit and assist to protect reserves.

The latest rule to convert 25% of forex earnings comes after the Central Bank last month ordered licenced banks to sell 10% of converted remittances to the monetary authority.