Charter airline SkyUp to fly in 215 Ukrainians today to Mattala airport; Ukrainian Intl. Airlines to fly in tomorrow with similar number of tourists
Nearly 3,000 Ukrainians scheduled to visit Sri Lanka for holidays between today and 24 January 2021
Move as a 'pilot project' spearheaded by former Lankan envoy to Russia Udayanga Weeratunga and backed by President, PM, Basil and Tourism Minister
Aeroflot which received approval to fly and bring tourists puts off plans for official announcement, clarity, assurance from Lankan Govt. and greater awareness in Russia
Lacking comprehensive info, tourism industry cautiously welcomes pilot project 
Specific COVID-19 health and safety guidelines for broader entry of tourists still pending
---
By Charumini de Silva
---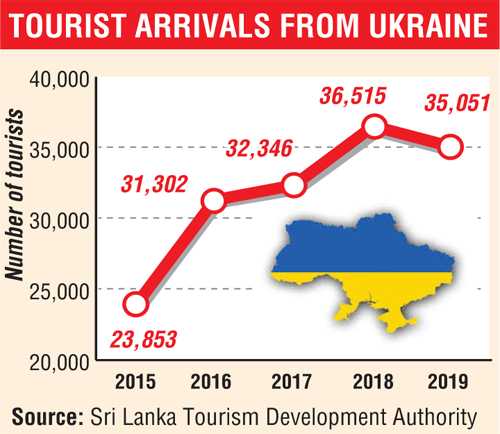 Sri Lanka is scheduled to see the arrival of the first set of international tourists post-COVID-19 from Ukraine today.

Industry sources said that the first flight by charter operator SkyUp Airlines is scheduled to arrive at 2:40 p.m. today at the Mattala International Airport with 215 passengers from Kiev, capital of Ukraine.

Sri Lanka had not allowed global leisure travellers since the closure of the Bandaranaike International Airport (BIA) in late March as part of the measures to contain COVID-19.

 As per the itinerary seen by the Daily FT, 12 flights are scheduled between today and 24 January 2021 with each bringing 215 Ukrainians. 
The flights are operated by SkyUp Airlines and Ukrainian International Airlines.

To ensure smoother operations, quick turnaround of aircraft and efficient rotation of crew, SkyUp has said before each flight its crew will be tested in medical facilities certified by Ukraine Health Ministry and obtain PCR test certificates. Upon arrival all crew members will comply with health guidelines and regulations set by Sri Lanka's Health Ministry. SkyUp Airlines began its operation in May 2018 and flies to 33 destinations.

The breakthrough pilot project was championed by Sri Lanka›s former Ambassador to Russia Udayanga Weeratunga and fully backed by President Gotabaya Rajapaksa, Prime Minister Mahinda Rajapaksa, Presidential Task Force for Economic Revival and Poverty Eradication Chairman Basil Rajapaksa and Tourism Minister Prasanna Ranatunga.

Weeratunga also wooed tourists from Russia but its national carrier Aeroflot cited lack of clarity, awareness and assurances on the reopening of borders and COVID-19 health guidelines. Aeroflot had wanted official communication from the Sri Lankan Government to Russian Government.

Aeroflot had originally received clearance to fly to Sri Lanka with tourists from Civil Aviation of Sri Lanka on 14 December.

However, Aeroflot had assured once communicated formally and widely publicised among tour operators in Russia, the carrier will commence flights to Sri Lanka within three weeks. 

Though largely in the dark in terms of comprehensive information, the industry has welcomed the resumption of tourism via this pilot exercise. 

Its success is likely to give confidence to the Government to fully open up the country for tourists interested in enjoying a holiday in Sri Lanka from mid-January onwards. 

The pilot project comes whilst industry and health authorities have been busy finalising specific COVID-19 health and safety guidelines for tourists. 

Letting Ukrainian tourists to come sans proper guidelines even prompted Sri Lanka Tourism Chairperson Kimarli Fernando to fire a letter to relevant officials on Friday, despite it being a public holiday due to Christmas, requesting for suspension. However some of the concerns were resolved yesterday at a high powered meeting of the Government involving health, tourism and aviation officials. 

Sri Lanka's plans to open up the country also comes when several other nations have begun imposing bans on entry by foreigners on account of the new strain of COVID-19 in the UK. Japan is the latest nation whilst globally most countries have banned flights to and from the UK. This development has posed fresh challenges to an early recovery of the tourism sector locally and globally, industry analysts said. 

Weeratunga was not available for comment despite repeated attempts by Daily FT to reach him but Sinhala media quoted him as saying Ukrainian tourists will be staying only at seaside tourist hotels in Bentota, Beruwala and Koggala. 

He added that tourism activities will be carried out in a manner without mixing with the local public and arrangements have been made for these tourists to engage in one-day trips to Yala, Pinnawala and Galle Fort.

---
---