Insists it's critical to rekindle entrepreneurial, trading spirit to boost exports
Govt. to abolish 7,000 para-tariffs in next three years
Suggests banks adopt more advanced techniques to expand credit for export-oriented SMEs
Says credit schemes are no long-term solutions but a signal of concern
By Charumini de Silva

State Finance Minister Eran Wickramaratne this week said that budgets alone could not change the destiny of a country, insisting that there were many hard and soft factors involved in changing the ecosystem of an economy.

Stressing that the Enterprise Sri Lanka Budget concept would empower Sri Lankans to take their future into their own hands, he added that it was critical to rekindle the entrepreneurial and trading spirit to boost exports to reach out to the global marketplace.

"We have to bring new companies to the export chain and find a way of getting smaller companies to link to the export markets. To facilitate SMEs to the global market, we have to make the export procedures smoother and less cumbersome," Wickramaratne said while addressing the National Chamber of Exporters (NCE) Post-Budget Forum 2018 on Wednesday.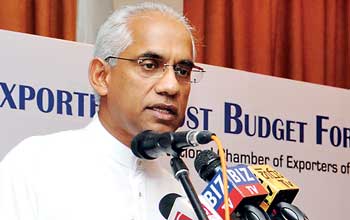 He assured that the Government intended to remove those 7,000 lines of tariffs over the next three years. "You all look surprised, don't worry even I had the same reaction the first time I heard that. In the first phase with 2018 Budget we are abolishing 1,200 lines of para-tariffs immediately." Adding that Sri Lanka's export structure was typical of a lower middle-income country, where there is very little diversification on products and markets, he described it as a classical problem and noted it was imperative to propel a country's exports as a percentage of GDP to grow and break out of this composition.

"There are countries that have 100%, 150%, 175% of exports to the GDP and we are thinking that 33% is a big achievement — but even just to get there by doubling our exports, which is a challenge, we have to break the current structure of our exports," he said. "You can say that we have lost to some extent our sense of enterprise and our tradition as a trading nation with 'protectionist' policies.

This has made our economy weaker and less dynamic," he said.

Although the SME sector is the backbone of country's economy, the State Minister agreed that constraints in accessing affordable capital were an issue that had hindered development. Therefore Enterprise Sri Lanka credit schemes mentioned in the Budget he said had subsidised loans at 6.5%-8% to enable these SMEs, including export-oriented SMEs.

Claiming that banks were reluctant to facilitate loans to SMEs without collateral, Wickramaratne asserted it was not easy to figure out how they could actually overcome it, but suggested that with more advanced techniques, bankers need to take this onboard to expand credit for the export-oriented SME sector.

Given the increasing volumes of debts that are resulting in high external liabilities with declining foreign inflows, he said it was challenging to provide financial assistance to all sectors. "I think the Government is doing what I would call is a bit of a patch or a plaster on a problem by providing credit and things. These are not long-term solutions. But this sends a signal that we are concerned."