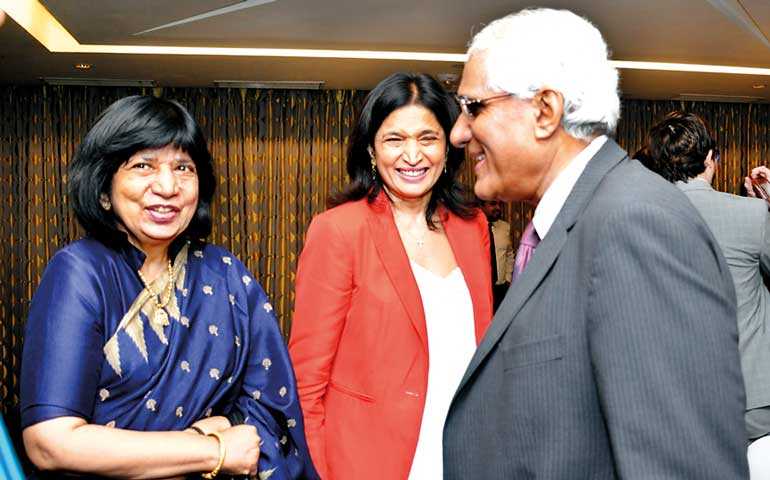 Central Bank Governor Dr. Indrajit Coomaraswamy with CT CLSA Securities Chairman Cecilia Muttukumaru (left) and Consultant Marianne Page - Pic by Lasantha Kumara
---
By Nisthar Cassim

Central Bank Governor Dr. Indrajit Coomaraswamy yesterday declared that though the Easter Sunday attacks were a setback to the economy, they have not thrown macro fundamentals off-track, nor is there any basis for growth to dip below 3% in 2019.

He gave this assurance to foreign fund managers gathered in Colombo for the two-day CT CLSA Asia Frontier Forum, which kicked off yesterday.

"The 21 April attacks have had and will have an impact, especially on tourism, but it was 'manageable' as a larger part of production capacity of the economy such as manufacturing, exports and agriculture hasn't been affected.

"Sri Lanka needs to redraw on its resilience of the past. Economy can keep ticking in the coming months. However sentiments and confidence need to improve," he added. The Central Bank Governor noted that the original forecast for GDP growth in 2019 was 4%, but since the 21 April attacks it has been revised to 3% as against 3.2% in 2018.
"The original upturn envisaged in 2019 will not take place due to the 21 April setback. However, given the fact that much of the production capacity remains unaffected, there is a possible upside too," he said, noting that exports in March achieved their highest ever monthly figure, and in the first four months the growth was 4.5%.

"This, along with less stress on external account owing to lower imports, as well as sound macro fundamentals, make us to believe that there is no reason for growth to slip below 3%," Coomaraswamy added.

It was revealed that the forecasts of IMF and the World Bank were more optimistic at 3.5%.

He said that the impact on tourism, following the extremist terror attacks on Easter Sunday on three churches and an equal number of five star hotels, killing 250 including over 40 tourists, is estimated to be a foreign exchange earnings loss of $ 2.3 billion, and lower income of employees in the sector could curtail aggregate demand. However, the Central Bank Chief said a quicker recovery is possible in tourism, with most of the tourist-generating markets having softened their travel advisories.

It was pointed out that in the worst case scenario, the impact would be a hit of around $ 2 billion on capital account on account of drop in tourism receipts, outflow of foreign investments from Government securities market, and a dip in foreign direct investment. "We envisage reserves to be down to $ 6.26 billion from an original forecast of $ 8 billion," he said. "This may not be healthy, but neither are we at a crisis level, since we have had much lower reserves in the past," he emphasised, adding that the quality of reserves were also far better.

"From a medium-term perspective, the view on Sri Lanka is a 'great upside' with a booming Indian economy and Sri Lanka's strategic location in China's Belt and Road Initiative," the Central Bank Chief stressed.

The CT CLSA Securities' flagship Frontier Markets Forum is being held for the fourth consecutive year.

CT CLSA Securities Chairman Cecilia Muttukumaru said: "We are keen to showcase Sri Lanka's resilience and determination in these difficult times, and are encouraged by the presence of FIIs at our forum. We believe Sri Lankan corporates offer good value for long-term investors. CT CLSA remains committed to all our clients and will continue to invest in promoting Sri Lanka as an attractive investment destination."

Despite challenges and travel advisories, FII delegates from Africa, Asia and Europe will join over 20 institutional fund managers from Sri Lanka to access 19 top tier Sri Lankan corporates and six leading corporates from Bangladesh and Pakistan at the forum this year.

In addition, the main track will have keynote presentations and panel discussions featuring Central Bankers, key politicians, multilateral lenders and independent economists. FIIs attending the forum this year have been long-term investors in Sri Lanka, with some of them invested for nearly 20 years. Alfalah CLSA, Pakistan is a partner of the 2019 forum.

CT CLSA, which celebrated its 25th anniversary in 2017, is a leading stockbroker in Sri Lanka and a Member of the Colombo Stock Exchange (CSE). CT CLSA has been ranked No. 1 for total market turnover on the CSE for 17 years, including seven consecutive years since 2012.

A pioneer in organising corporate access forums for institutional investors, its highly successful annual Sri Lanka Investor Forum has been held continuously since 2010. Setting a benchmark in 2016 by hosting the first-ever South Asian Frontier Forum in Sri Lanka with corporates from Bangladesh and Pakistan, CT CLSA ventured further in 2017 by including corporates from Vietnam to host the first-ever CT CLSA Asia Frontier Forum.

CT CLSA Securities is a fully-owned subsidiary of CT CLSA Holdings, a joint venture between Sri Lankan conglomerate CT Holdings group and Hong Kong-headquartered CLSA. CLSA is Asia's leading capital markets and investment group and the international platform of China's largest investment bank CITIC Securities. CT CLSA Holdings is also engaged in investment banking and asset management via fully-owned subsidiaries CT CLSA Capital and Comtrust Asset Management.